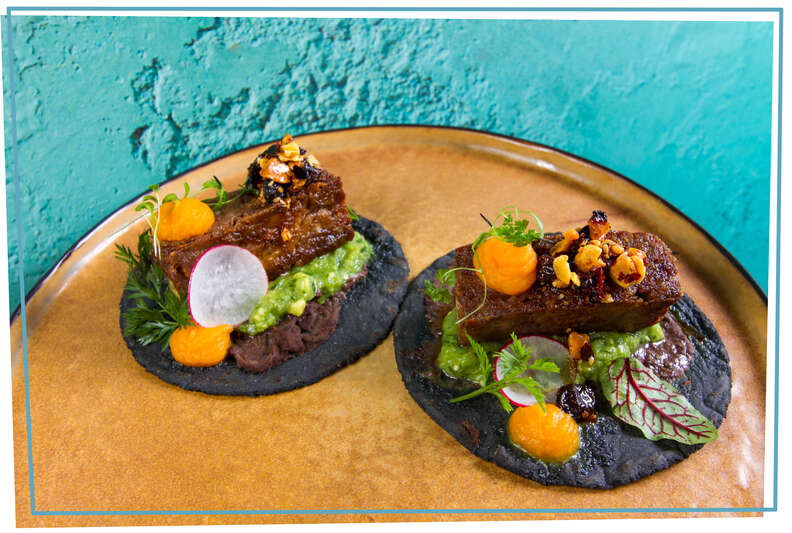 Xochi
Xochi
Taco trucks on every corner? Welcome to Houston. Now, let's talk tacos.
In their 2016 book entitled The Tacos Of Texas, taco journalists Jarod Neece and Mando Rayo explored the taco cultures around the state. Their research found that South Texas and the Rio Grande Valley specialized in barbacoa tacos and breakfast burritos, Austin and San Antonio are the co-capitals of breakfast tacos and Tex-Mex BBQ, and Dallas was the leader in New American fusion tacos. But what about Houston's taco identity?
The answer lives within the origins of the taco cooks and vendors. Many of the taco truck and restaurant owners originate from either Monterrey, Nuevo Leon, or Mexico City and its surrounding districts. Others represent the Texas border towns along the Rio Grande and the adjacent state of Tamaulipas. The recipes of taco staples such as pastor and trompo, fajita and carne asada, and barbacoa and carnitas share the traditions of all of these regions...
Long before the food truck craze began in the mid-2000s, traditional taco trucks were already prominent on the streets of Houston. Stopping into the neighborhood Mexican bakery, meat market, or cafe for a cheap and hearty breakfast is a Houston ritual, and eating dinner at your local taqueria is second nature. However, the realest Houston taco is the late night taco. Unwrapping a bundle of tacos on the hood of your car or tailgate of your truck is a rite of passage. Combine that with a styrofoam cup full of charro beans and a Mexican Coke, and you have the quintessential Houston taco experience.
Let's get to the good stuff -- where to find Houston's best tacos:
South Houston
Once named the best food truck in all of Houston by the Houston Press, this center of taco excellence serves up amazing street style tacos, tortas, quesadillas y mas until 3:30am during the week, and 24 hours all day on the weekends. It's hard to miss this big green taco bus that offers some of the best carne asada tacos this side of the Rio Grande.
Near Northside
The trompo served at this popular taco truck is one of the best in Houston, maybe even in the whole state of Texas. It combines the adobado spices from Mexico City with the expertise of the trompo tradition of Monterrey, Nuevo Leon. Plus, you can also order a Trompi Burger, which is a traditional Mexican hamburger with a generous amount of trompo between the beef patty and the bun.
Downtown
Great tacos are not just reserved for the street. Xochi is a fine-dining, upscale Mexican restaurant that offers the best pork belly chicharron and cabrito tacos in the city. It has been named one of the top ten new restaurants in Texas by Texas Monthly, as well as the best restaurant in Houston, mainly for the fresh ingredients used and creative cooking techniques that spotlight the cuisine of Oaxaca. Try the $24 lunch menu for an alternate to the pricier dinner offerings.
Montrose
By becoming a part of the community that it serves, a business ensures loyalty and repeat visits from it's customers. Such is the case for Maria Samano and her Tierra Caliente taco truck, which has been operating for almost 20 years. La Señora Maria serves everyone with a smile, happy to share her cooking with the Houstonians of the Montrose neighborhood where she parks her truck. Her food is a treasure for all taco lovers, like her popular barbacoa tacos topped with avocado. Plus, the low prices make it one of the best deals in the city.
Humble
This family-run restaurant is supremely welcoming and well worth the wait in line. From papas con huevo to carne guisada, everything they offer is made in-house with hot, fresh ingredients (the tortillas are especially good). Many customers like to sit inside,where the walls are painted with a diverse group of pop culture icons such as Vicente Fernandez, Bruce Lee, and Selena.
East Downtown
There might be a line, but Brothers has the taco game down to a science. Their steam table is full of breakfast and guisado taco fillings, ready to be placed on a warm and fresh flour tortilla. From chorizo and egg to asado de puerco, this is the perfect spot to secure the taco bag for yourself, your family, or your office.
Little York
Parked in between two tall palm trees on Airline Drive just steps away from La Tia Pancha flea market, this truck serves savory fajita, trompo, pollo, and bistek tacos for just $1.50 apiece. Their menu also includes huaraches, sopes, gorditas, quesadillas, and tortas, all hot and made to order. But the go-to here are the Tacos Estilo Matamoros, which is an order of five mini tacos topped with queso fresco and slices of avocado. They also provide a free cup of hot charro beans to complete your meal… no matter what you order.
Downtown
When he opened La Calle in the fourth quarter of 2016, owner Ramon Soriano Tomka had a vision of providing Houston with an authentic Mexico City street food experience. Since then, he has sold almost one million tacos at his restaurant, and has even added a cantina in the adjacent storefront. Colorful décor combined with fast and friendly service makes this a popular stop while visiting Downtown. Plus, the tortas are equally as delicious as the tacos.
Midtown
It is a scientific fact that food tastes better when music is playing over the loudspeakers. Luckily this taco truck is painted to look like a large old school boombox, and the food is equally as creative. The truck is run by a former DJ known as Senior Jukebox, who mixes up a great menu of tacos accompanied by a lively playlist. Here's what sets his tacos apart: they're inspired by the owner's family in his hometown of Querétaro in Central Mexico. His extended family are all butchers and taqueros by profession, leading to perfect carne asada steak and pastor served on his rolling kitchen. From mushrooms to chayote, avocado and cheese, every taco here is a winner.
Washington Avenue
This Mexican meat market and grocery has a secret: It just might be the best taqueria lunch counter in town! Beginning from the absolutely amazing flamed-kissed fajitas, to the smokey barbacoa, juicy carnitas, as well as the life-giving menudo, this is as close as you will ever get to taco heaven. Pro-tip: add rice and beans to your fajita taco for a whole meal in every bite.
Near Northside
A taco truck permanently parked on the side of a tire repair shop, this business has been a Houston taco institution for more than 20 years. Perfectly seasoned and grilled fajita along with tender, juicy trompo are the favorites here. Add charro beans and a cold Mexican Coke for the perfect taco experience. If you pull up after dark and see a long line, you've come to the right place.
Marco Torres is a freelance photographer & taco journalist based in Houston. He has documented his city's rich music, art, and taco scene since 2004 and was the principal photographer of the Tacos Of Texas book, which was published Fall 2016 through University of Texas Press. The Tacos Of Texas documentary series is now available on YouTube. Follow him on Instagram.