Though it's pretty awesome that we could have made this entire list about tacos, we're not going to do that, because 1) you live here, so you already have your favorite taqueria, and 2) we don't feel like getting yelled at for not including it. So without further ado, here are the best sub-$5 foods this city has to offer (don't worry, there are SOME tacos):
Tamales
Pretty much anywhere
Hit literally any Mexican eatery or market along places like Airline or Navigation for tamales better than your abuela makes. And you should always be on the lookout for the Texas Tamale Company at pop-ups and festivals, where five bucks will get you a half-dozen of them.
Recommended Video
Debatable: Is Shake Shack Really Fast Food?!?
Maw Maw's Gumbo
BB's Cafe (address and info)
Montrose
A fiver will earn you a cup of BB's dark-rouxed gumbo crammed with chicken and sausage or shrimp. Whoever's Maw Maw made this bit of Creole paradise, thanks for sharing her.
Short stack of pancakes
Fountain View Cafe (address and info)
Galleria
The $3.95 double stack of pillowy, crisp, whipped butter-soaked pancakes makes an equally excellent breakfast, lunch, and pre-dinner snack.
Spicy double cheeseburger
Tornado Burger (address and info)
Stafford
They may be teeny, but with garlic, jalapeños, and spices injected right into the meat, these patties pack a punch. And for $4.75, a double stack with cheese can be all yours.
Breakfast tacos
Laredo Taqueria (address and info)
Washington
In Houston, the breakfast taco is king. Stand in line at Laredo or head to any of these places to have the BEST MORNING EVER.
 
Spicy Szechuan-style dumplings
Xiong's Cafe (address and info) or Mala Sichuan (address and info) 
Chinatown/Montrose
Plump, delicately wrapped Szechuan-style dumplings come swimming in a plate of seriously hot red chili oil for less than a Lincoln at both of these Chinatown heavyweights. And now with Mala's newly opened Montrose location, city dwellers won't have to (gasp) leave the loop to get in on the action.
Houston's finest fried chicken
Frenchy's (address and info)
Multiple locations
So you can't afford a whole meal, but $5 is enough to get you a two-piece crisp and tender chicken breast, plus your choice of thigh or leg. Or screw it and go all leg and thigh, because it's cheaper and you're a leg man, anyway.
A specialty slice
Slices & Ices (address and info)
Pearland
If you're ever in Pearland (and don't have the cash to shell out for a meal at Killen's), hit up this NY-style pizza shop for a slice in the style of grandma's, Buffalo chicken, or mac & cheese. Every one is $3.49 and under.
Chili cheese coney
JCI Grill (address and info)
Multiple locations
James Coney Island (now JCI Grill because it's fancy like that) has been a Houston institution since 1923. Get the famous all-beef chili cheese dog for $1.89, or go for the footlong for $3.99 (because you fancy, too).
Very important bonus info: to celebrate its 92nd anniversary, original coneys will be $.92 on every third Thursday of the month through September 17.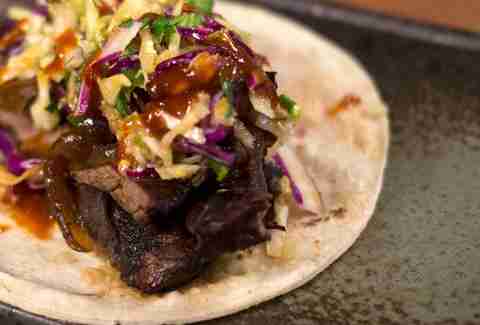 A globally-inspired taco
Fusion Taco (address and info) 
Downtown
Standard street tacos are taken to the next level with globally-inspired foodstuffs, including but not limited to tempura shrimp and wasabi aioli, short-rib vindaloo, and BBQ Berkshire pork. For less than $4 each, they make one helluva mid-bar crawl snack.
 
Donuts & kolaches
Hugs & Donuts (address and info)
Heights
If you play your cards right and hit the shop up when it has things like "kolache happy hour," you can snag a Gatlin's brisket kolache AND a chocolate-glazed, caramel-filled donut for under $5. But even if you miss something as amazing as that, everything on this menu is between $2 to $3.
A mammoth croissant
Common Bond (address and info)
Montrose
If you've ever wanted a croissant as big as your head (but fluffier!), hit this much-beloved bakery to get one -- available in flavors like chocolate and almond -- for $4 to $5.
 
Bánh mì
Cafe TH EaDo (address and info)
Chinatown
This fresh Vietnamese spot is a neighborhood hangout for a reason. And that's because (besides having one of the most awesome owners/front-of-house guys in town), the food is just as bomb as it is cheap. Locally sourced, impressively tasty French bread stuffed with things like pork meatballs, pate, and fried egg can be yours for $3 to $5 at lunch and dinner.
Exotic baked goods
Pondicheri Bake Lab (address and info)
Upper Kirby
Chili oatmeal and masala cookies, ginger clouds, chocolate and orange saffron brioche buns, and crack balls (yeah, you heard us right) are all $5 or less at this Indian-fusion bake lab.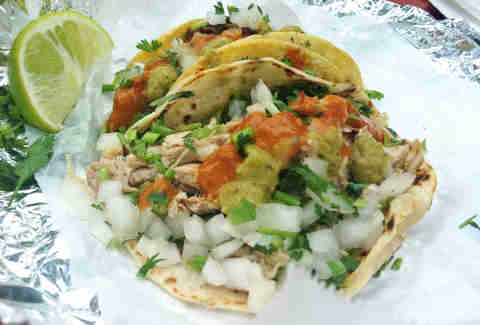 Alllll the tacos
Tacos Tierra Caliente (address and info)
Montrose
If there's ever a place where $5 will get you far, it's this permanent food truck parked across from West Alabama Ice House, where you can get fresh corn tortillas stuffed with fall-apart-tender barbacoa, lengua, huevo con chorizo, and no-joke fiery house salsa.
 
Falafel
Zabak's Mediterranean Cafe (address and info)
Galleria
Each fried to a crisp, moist, and crumbly falafel from this Galleria-area mainstay is just $.75. Get the full $5 worth or order a few stuffed into pita with l + t, za'atar spice, tahini, and hot sauce for $4.49.
Lunch Lady fries
Bernie's Burger Bus (address and info)
Bellaire
A regular order of this burger bus-turned-burger bus stop's roast beef-, cheese-, and gravy-loaded Lunch Lady fries will run you $4.75. Had these been available in any actual HS, we'd likely still be in 10th grade.
 
Churros (two ways)
Sunny Flea Market (address and info)
North Houston
In addition to the usual cinnamon-and-sugar-dusted, deep-fried sticks, get your fill of Guadalajara-style churros, which are more like cajeta-smothered beignets than regular churros. That can happen at this bustling flea market, where you'll find both varietals for a mere two bucks a pop.
Sign up here for our daily Houston email and be the first to get all the food/drink/fun in town.