Maybe it's the convenience of utensil-free dining. Maybe it's the fact that you're left with a convenient little weapon, should things get real as you're eating. Whatever it is, there's something undeniably appealing about eating foods (and drinks!) on sticks. Houston knows this, which is why it makes these delicious stick-centric vittles.
Recommended Video
Send Foodz: New York City Wine & Food Festival
Pan-Asian skewers
Lillo & Ella (address and info)
Shady Acres
The sexy sesame beef skewer above is just the start of Lillo & Ella's eats-on-a-stick game. You can get miso scallops, samba-raisin shiitake mushrooms, yogurt & curry shrimp, and green onion chicken livers, too. Pro-tip: Go during happy hour, when the skewers are $3 off (allowing you to eat at least twice the amount you normally would).
The Symphony Kabob
Perry's Steakhouse & Grille (address and info)
Multiple locations
This may be the most lavish thing-on-a-stick in town. Not only is it stacked with thick-cut filet mignon, grilled shrimp, AND lobster, it also comes hanging off a giant metal contraption that'll make you look like the most baller guy in the dining room. That is, once you take off that lobster bib.
Shrimp corn dogs
St. John's Fire (address and info)
Multiple locations
Regular corndogs are cool, but you know what's really cool? Corn dogs made with SHRIMP. This food truck batters up whole, tail-on shrimp and deep fries the creole-spiced suckers until they are golden brown and so good looking that you have no problem popping all five in less than a minute. Crap, you forgot there was a dipping sauce again.
Lobster corn dogs
Américas (address and info)
Multiple locations
Remember when we said shrimp corn dogs were cool? They are, but you know what's even cooler? Corn dogs made with LOBSTER SAUSAGE... especially because word is, that's what Carmelo Anthony ate when he came to town. The Latin eatery serves the carnival-style pops with lemon-Chardonnay aioli because they fancy, huh.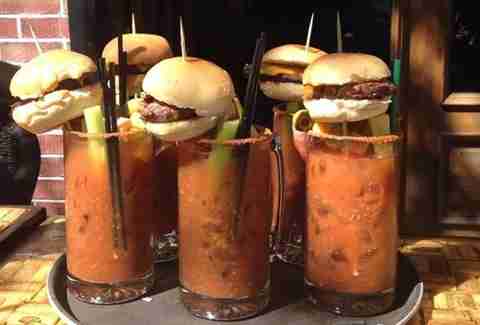 Bloody Mary with sliders on a stick
Mojeauxs Louisiana Drinkery (address and info)
EaDo
Because more beverages should double as a snack. Or a meal. 
Yakitori
Tiger Den (address and info)
Chinatown
Every bite-on-a-stick is better than the next at this izakaya. Stuff your face with puffed-up chicken skin, which tastes like a really cool Japanese version of pork rinds, to start. Then move on to things like baby octopus, caramelized pork jowl, and charred whole head-on shrimp. Oh, and there's hot & sweet chicken wings – note: wings, not breasts – on a stick, too.
Quail eggs on a stick
Kata Robata (address and info)
Upper Kirby
Which came first, the quail or the egg? Doesn't matter! Because Chef Manabu Horiuchi's Texas quail robata, complete with that adorable little quail egg skewer, is crazy good. Side note: there's also a glorious 72hr slow-cooked Kobe beef skewer.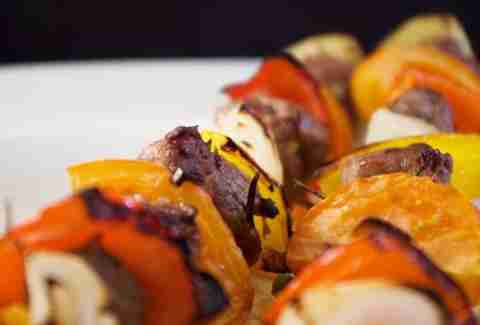 Lamb kabob
Aladdin Mediterranean Cuisine (address and info)
Montrose
The best part about the lamb kebobs at Aladdin, besides the fact that they're meltingly tender and freaking delicious, is that it's BYO -- which means you'll leave the place with a little thing called "wine & kebob mouth" – and you're going to love every second of it.
Sign up here for our daily Houston email and be the first to get all the food/drink/fun in town.