Maybe you have a special red you've been waiting to pop at a fancy restaurant. Maybe you just like to partake in nights that involve chicken Parm and a BTYF (that's a bottle to yo' face, ICYW). Either way, we called up (roughly) two billion Houston restaurants to find out who thought it was a good idea to let you BYOB, and then we listed them by 'hood. Cheers, playas.
Recommended Video
Where to Get the Best Waffle Fries You'll Ever Eat
District 7 Grill
Downtown
Bring your own six-pack and pop it for free or uncork a bottle of wine for $6 while you nosh on tuna tartar, pasta bowls, and truffle burgers at this American grill.
Andes Cafe
East End
This South American kitchen offers a small wine list, but they'll cork your own bottle for a $13 fee.
Cafe TH
EaDo
Locals flock to this Vietnamese spot for its great service, excellent fare, and $5 corking fees (dinner service is Thursday & Friday only).

The Cajun Stop
EaDo
Casual Cajun eats with no charge for BYO-liquor (wine and beer served at the restaurant).

Huynh
EaDo
Home-style Vietnamese with BYO-beer or -wine for $2 per person.

Kanomwan Thai
East End/EaDo
Spicy pad ka pao and Thai green curries call for a crisp white or hoppy brew.

Oxheart
Downtown
This hot resto offers an excellent beer and wine program along with a tasting menu, but you can bring a bottle of something special for a $20 corking fee.
Corelli's Italian Cafe
Galleria/Uptown
Awesome Italian eats with a $7.50 bottle fee.
The Brisket House
Galleria/Uptown
This BYOB spot has flat screens and BBQ. So it's heaven?

Cafe Pita Galleria
Galleria/Uptown
Excellent Bosnian fare with a no-fee BYO policy.

Jenni's Noodle House
Galleria/Uptown
Slurp all kinds of noodles and enjoy BYO-beers for free and corked wines for $4.

La Vista
Galleria/Uptown
This cool bistro has its own beer and wine list, but they'll pop your own bottle for a $10 fee.

Nazif's Turkish Grill
Galleria/Uptown
Don't let the strip mall front fool you. This Turkish spot with a free BYO policy is most excellent.

Palazzo's Cafe
Galleria/Uptown
Classic Italian eats taste better when you BYO-wine for $7.50 per bottle.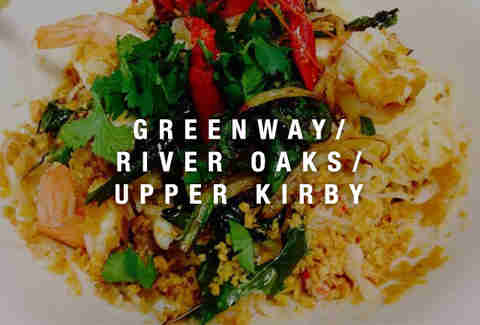 LA Crawfish
Greenway/Upper Kirby
Buttery Vietnamese crawfish will pair awesomely with that six-pack you brought.

Collina's Italian Cafe Greenway
Greenway
Cheap Italian eats and $1 per person BYO fee on beer, wine, and liquor makes for an awesome Tinder date.

Jenni's Noodle House
Upper Kirby
Slurp all kinds of noodles and enjoy BYO-beers for free and corked wines for $4.
Phil and Derek's
Upper Kirby
This jazz club and Creole restaurant gets funkier the more $10 BYO bottles you pop.
Revival Market
Heights
Breakfast beers, anyone? This neighborhood grocery, butcher, charcutier & café offers BYO from morning 'til night.

Bellissimo Ristorante
Heights
Get classic and upscale Italian with a $10 corking fee per bottle (750ml bottles only, so don't bring that giant Yellow Tail again).

Boil House
Heights
Hit this BYO Louisiana-style crawfish spot if you want to win life.

Collina's Italian Cafe Heights
Heights
Cheap Italian eats and $1 per person BYO fee on beer, wine, and liquor still makes for an awesome Tinder date.

Happy Fatz
Heights
It's free to BYO-beer, -liquor and -wine while you take down gourmet dogs and desserts.

Heights Asian Cafe
Heights
Eat allllllll the Chinese and Vietnamese food and down BYO beverages for a $3 cork fee per person.

Jenni's Noodle House
Heights
Slurp all kinds of noodles and enjoy BYO-beers for free and corked wines for $4.

Kraftsman Cafe
Heights
This casual café is always BYOB, but bring a bottle of bubbly to brunch and they'll provide the fresh juice for $9 + a $1/glass fee.

Lola
Heights
This modern diner won't charge a fee for the beer (or wine... or liquor) that you're downing alongside your CFS.

Ruggles Green
Heights
A dope cafe with green eats -- think high-protein hempenadas, local veggie pizzas, and all-natural burgers -- and a $5 corking fee. River Oaks location opening soon.

Thai Lanna
Heights
No-frills spot with authentic Thai fair and no-fee BYOB.

Thai Spice Asian Cuisine
Heights
A $1.50 BYO fee per person is a pretty fair price for an awesome Thai dinner.

Vietnam Restaurant
Heights
$2 per person fee for BYO-beer, -wine, and -liquor + Vietnamese food = fun.
Cafe Layal
Midtown/Third Ward
Hookah bar with Mediterranean fare and BYO-beer and -wine ($5 per person fee waived with purchase of food).

District 7 Grill Midtown
Midtown/Third Ward
Bring your own six-pack or pop a bottle of wine for a $6 corking fee to go along with your prime pork chop burger at this American grill.

Doshi House
Midtown/Third Ward
Casual vegetarian cafe with $5 BYO-beer and -wine.

Luigi's Pizzeria
Midtown/Third Ward
Pizza and wine. Does it get any better? Maybe pizza and beer. Either way, BYO and crack it open at no charge.

Luna Y Sol Mexican Grill
Midtown/Third Ward
BYO anything to go along with homestyle Mexican eats at no extra charge.

Reggae Hut
Midtown/Third Ward
Get eclectic Caribbean eats with no BYO fee in a cool, casual setting.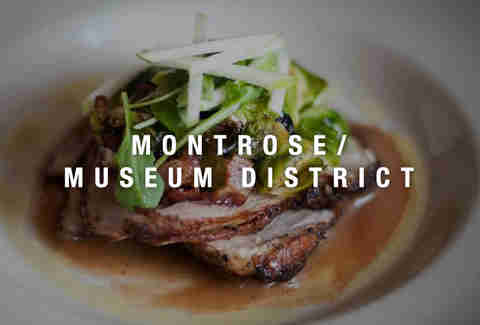 Just Dinner
Montrose/Museum District
Intimate date spot with an urban garden and a $10 corkage fee.

Aladdin
Montrose/Museum District
You'll dig the $0 corking fee just as much as the gyros, falafel, and overloaded Mediterranean combo platters.

Eatsie Boys Cafe
Montrose/Museum District
Because when you can kick it on the patio with your pet, eat crazy good foodstuffs, and BYOB, you do.

La Fendee Mediterranean Grill
Montrose/Museum District
Chill Mediterranean spot with great eats, hookah, and free BYO-beer or -wine.

Lucio's BYOB & Grill
Montrose/Museum District
Upscale American cuisine -- think beef carpaccio, sea scallop risotto, and smoked duck -- with an $8 wine prep and service fee per bottle.

Njoy Thai
Montrose/Museum District
Dig into some excellent Thai and pop a bottle for $7.

Paulie's Restaurant
Montrose/Museum District
This laid-back Italian spot has a nice beer and affordable wine list, but you can still bring your own wine for a $10 corking fee.

Underbelly
Montrose/Museum District
That's right. Though one of Houston's best restaurants has a killer wine list, they'll let you bring a bottle of your own and pop it for a $24 fee if you had something special in mind.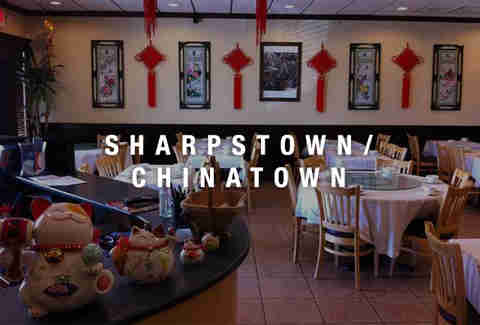 Mala Sichuan
Chinatown
This popular Chinese bistro has one of the best wine lists in the city, thanks to top somm Justin Vann, but BYO and they'll cork it for $10 a bottle.
Banana Leaf I
Chinatown
Malaysian fare with no fee for BYO-beer and -wine.

Crawfish Café
Chinatown
Crawfish gumbo, crawfish egg rolls, and crawfish boils go really well with free BYO.

Himalaya
Sharpstown
Authentic Indian & Pakistani fare with no corkage fee (requires purchase of one entrée and one naan per person).

Mamak Malaysian
Chinatown
Bring a nice crisp wine or beer to go alongside hot as hell curries and fresh seafood. $15 per bottle of wine; $1 per bottle of beer.

Shanghai Restaurant
Chinatown
Authentic Chinese with no BYO fee on beer or wine.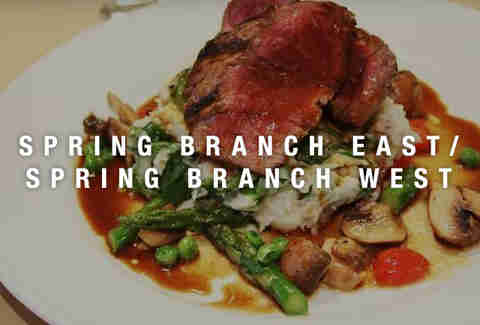 Hollister Grill
Spring Branch
Classy date night fare with an $8-per-bottle corkage fee.

Pampa Grill
Spring Branch West
Because parrilladas and $5 corking fees ($1 for beer) are a good time.

Tinto Grill
Spring Branch West
Head here to BYO as you smash Argentinean eats. Fees are $5 per wine and $1 per beer.

Vieng Thai
Spring Branch East
You'll need your free BYO beverages to wash down these spicy Vietnamese curries.
Jonathan's The Rub
Westchase
This awesome new American, Italian, and seafood spot charges a $12 fee per bottle or six-pack during dinner service ($9 at lunch).

Cafe Pita
Westchase
Excellent Bosnian fare with a no-fee BYO policy.

Collina's Italian Cafe
Memorial
No, seriously. Cheap Italian eats and $1-per-person BYO fee on beer, wine, and liquor makes for an awesome Tinder date.
LA Crawfish
Memorial
This original location is inside 99 Ranch Market. Bring some brews to chase down buttery-as-hell Vietnamese crawfish.

Pizaro's Pizza Napoletana
Memorial
The city's best wood-fired pizzas with a $3 corkage fee (per bottle or six-pack) or $1 per small bottle/bottle of beer. Montrose location coming soon.
Sign up here for our daily Houston email and be the first to get all the food/drink/fun in town.