Warm weather means crawfish season is coming a little early this year. Not only does that mean the mudbugs are already here, but it also means that later in the season, you can expect the little guys to be not so little, making some already amazing crawfish boils even better. With that in mind, we rounded up the best spots for you to get elbows deep in mudbugs. Twist. Suck. Peel. Pinch. Repeat. Starting right now.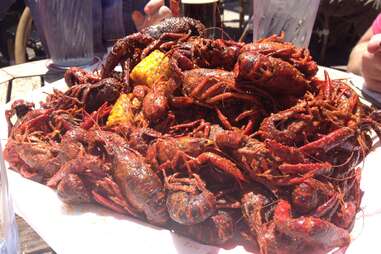 Tex-Orleans-style crawfish
Montrose (& other locations)
Texas meets Louisiana at this local favorite (take its roast-beef-gravy-and-queso-smothered take on poutine, for instance). And everyone knows you haven't truly partaken in crawfish season until you've got your hands and face messy with some of BB's quality, mouth-numbingly good beauties, served on a giant platter with all the proper boil accoutrements.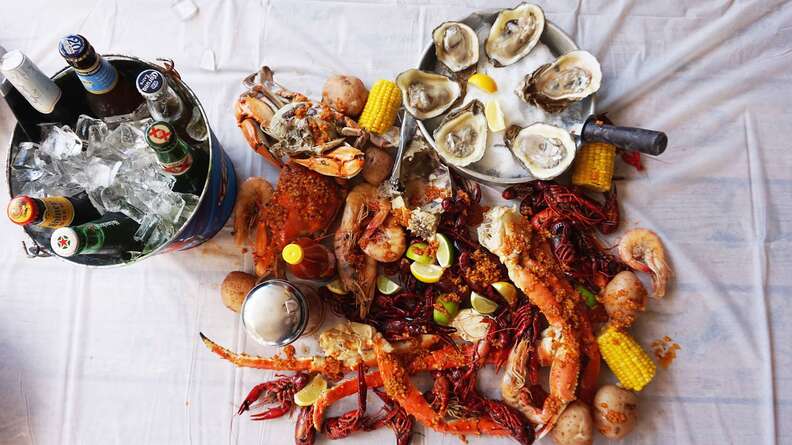 Spicy Cajun boil
Alief
Step 1: head to this Viet-Cajun spot and choose your spice level -- mild, medium, spicy, extra spicy, or suicide. Step 2: pick a flavor: Cajun, Garlic Blend, The "Kitchen" Special, or Thai Basil. Step 3: add crab legs. Step 4: demolish.
All-you-can-eat crawfish
East End
This cool kid beer and weenie joint is one of the chillest places to go mud buggin'. During the season, the guys crank out crazy-good all-you-can-eat crawdaddies in the yard. Suck 'em down pound by pound alongside a solid lineup of craft suds, but be prepared for a well-worth-it line.
Louisiana crawfish boil
Heights
This in-season-only crawdaddy shack reps its Louisiana roots to the fullest, as seen by the LSU flag parked loud and proud out front. The offense, however, is easily forgiven once you get your hands on some of its freshwater crawfish, fiery sausage links, and boudin egg rolls.
Cajun crawfish boil
Greater Fondren Southwest (& other locations)
Warning: following Lotus' Instagram account will cause constant seafood cravings thanks to sexy shots of fried lobster, smothered shrimp, and buttery crab legs (never skip leg day). But when crawdaddys are in season, you'll want to tack on dat Cajun-style boil and crawfish fried rice covered in crack sauce, too.
Meaux spicy boiled crawfish
Crosby
This mudbug shack has a cult following for a few good reasons. First, the price is right (get 'em by the pound for $5.95). Next, it's BYOB. And finally (and most importantly), its bold Louisiana-style boil and beyond-butter dippers are slap-yo'-mama good.
Garlic butter crawfish
Alief
Good thing there are paper towels on the table at this popular Vietnamese and Cajun staple, because your face is about to be dripping with piping-hot garlic butter and crawfish juice. Get a few hunks of bánh mì to soak up every last bit of goodness.
Hot boiled crawfish
Downtown
This Cajun eatery delivers with specials like fried catfish smothered with crawfish cream, but when the bugs are in season, you'll want the guys in their purest form: hot and boiled with corn and potatoes, as is tradition.
Asian-Cajun crawfish
Memorial (& other locations)
What started out as a modest Asian-Cajun joint inside 99 Ranch Market has exploded into a full-blown empire complete with things like crawfish pho, crawfish po-boys, and cheesy crawfish rolls. Do those, but also get the critters hot from the bag and soaked in garlic butter, Cajun seasoning, or sweet & sour sauce. Our advice? Come with a crew and order it all to make the ultimate Mutt City smorgasbord.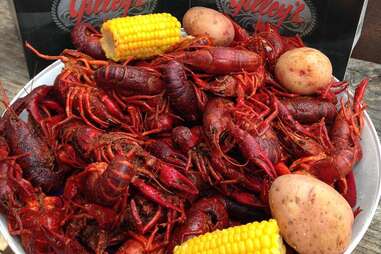 Louisiana Boiled Crawfish 
Shady Acres
After the Shady Tavern Ice House closed two years ago, it reopened as this totally airy seasonal Cajun seafood stop. The welcoming neighborhood vibe lives on, but the upgrades -- including tongue-tingling Louisiana-style crawfish & lobster boils and fresh, buttery étouffée that'll rival your maw-maw's -- make it way cooler than the original spot.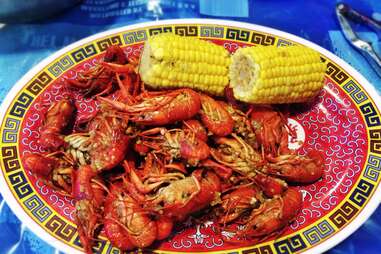 Garlic butter & wild Cajun-style crawfish
Westchase (& other locations)
Though this Vietnamese-run Cajun trio of boil shops pump out live crawfish all year-round, you'll want to go in season to get the critters in their prime. The big and juicy crawdads get tossed in a legit house garlic butter or served Wild Cajun-style, stir-fried with more garlic butter with green and yellow onions.
Kickin' Cajun boils
Chinatown
Crawfish egg rolls, Cajun shrimp, andouille, crawfish fried rice, and classic crawfish boils are all on the menu at this Hong Kong plaza crowd-pleaser. Hit it to get your crawfish positively dripping in your choice of sauce: Original Cajun, Kickin' Cajun, Garlic Butter, Lemon Pepper, Thai Basil, or The Mix (a mix of garlic butter and lemon pepper). Time to get suckin'.
Sign up here for our daily Houston email and be the first to get all the food/drink/fun in town.
Brooke Viggiano is a Houston writer who only believes in crawfish in its purist form -- soaked in butter and spices. Share your mudbug truths with her @BrookeViggiano.