Because there's nothing quite like a good old-fashioned fight, it's Rivalry Week. Keep tabs on simmering feuds across the country right here.
Truth be told, we secretly love Dallas, but truth be told again and more bluntly, it's mostly because we know we're way better than them in nearly every conceivable way, including but not limited to our spectacular food scene. Here's why:
1. Our Asiatown > their Asiatown
Part of being the most culturally diverse city in the NATION means having what just may be the best Asiatown in America. Live seafood dim sums. Incendiary Thai curries. Crawfish pho. You name it, we've got it.
2. Houston is where renowned chefs and restaurants want to settle down in today's world
In the past few years, Houston has drawn in the likes of elBulli-trained chef Luis Roger, welcomed home rising-star chefs Seth Siegel-Gardner and Justin Yu, and caught the eye of James Beard Award-winning chef, author, and restaurateur Bradley Ogden. And may we remind you where Uchi came first?
 
3. Even their best spots want to call us home
The Big D's best pizza spot Cane Rosso has already secured a spot in the Heights, Velvet Taco has made its way to Washington Ave, and Dallas soufflé restaurant rise nº1 is in the midst of opening a rise nº2 in BLVD Place.
 
4. Remind us where all their seafood is coming from, again?
Oh yeah, that's right. From us, but in a truck two days later.
5. Our proximity to NOLA means we have way better Cajun and Creole
When it comes to our food, we've got just as much soul as the Crescent City. As evidenced by the crazy-good, crawfish-adorned gumbo above.
 
6. #KolacheCulture
Ours is stronger. And more delicious tasting.
 
7. We're up-and-coming, they're old news
In fact, we've been touted as "America's next great food city." And with our projection to take over Chicago as the third-largest city in America by 2025, we only expect our culinary star to rise that much higher.
10. We win at Tex-Mex AND Mex-Mex
Not only can you stumble onto some pretty excellent queso and stiff frozen margs nearly anywhere you turn, but you'll also find everything from abuela-style taquerias to haute Mexican dining destinations. And who was it that mainstreamed fajitas? Oh yeah.
 
And we just got our third. Meaning we have triple the chance to get butter-soaked crabs and white sauce-smothered shrimp fried rice topped with fried lobster tail. And they don't. Sorry, we're not sorry.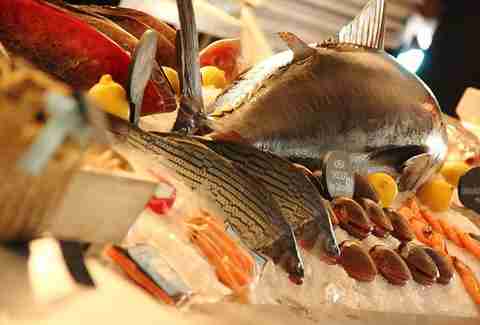 12. Because Houston's becoming known as a game-changer
Borderline genius tasting menus at The Pass and Oxheart. Whole-hog butchery at Underbelly and progressive American shared plates at PAX Americana. A new king of BBQ at Killen's Barbecue. And then there's PESKA Seafood Culture, which, by the way, has a SEAFOOD SOMMELIER. The list of boundary-pushing, outside-the-box, next-level-type stuff here goes on and on and on.
 
13. We'll just leave these accolades here
Not to brag, but we're ranked higher on the Best US Cities for Food, have a 'hood (yeah Montrose!) on the 18 Best Food Neighborhoods in America, and nabbed the top spot in Travel + Leisure's Best Cities List for three separate food categories: burgers, brunch, and specialty shops, earning Bayou City the No. 1 ranking overall by a poll that we can only assume to be extremely accurate. Not too shabby for an underrated city.
Sign up here for our daily Houston email and be the first to get all the food/drink/fun in town.
Brooke Viggiano is a Houston writer who now wants a brisket donut. Follow her on Twitter at @BrookeViggiano.