Indy's brunch scene used to be a bland landscape of over-easy eggs and white toast. In the last couple of years, diners have been asking for better breakfast food, and our city's chefs have delivered in a big way. You can still get those simple plates of bacon staples, but now bleary-eyed diners can also order a vegetarian breakfast burrito stuffed with a garden-fresh rainbow or a heaping plate of Sunday morning soul food. We're a real brunch city now, and we've got the coffee, cocktails, and (ugh) epic lines for tables to prove it.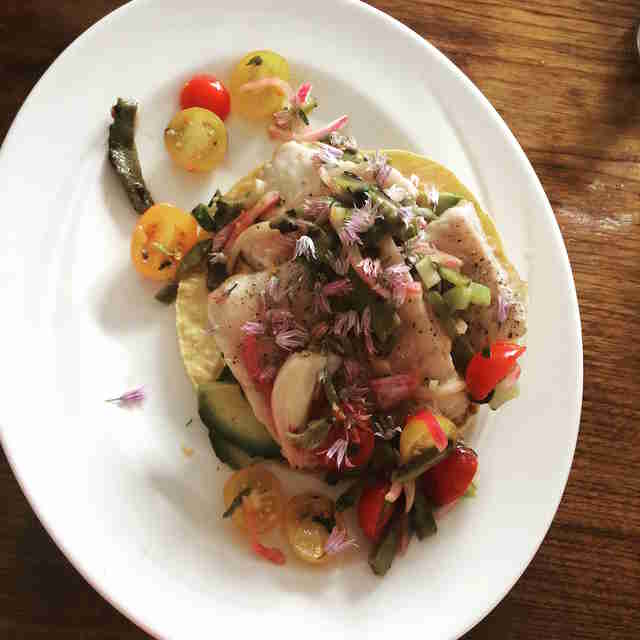 Fletcher Place
If you haven't heard of Milktooth outside of Indianapolis, you're probably not up on foodie trends. If you haven't heard of Milktooth inside the city, you might be in a coma. This airy converted car garage turns out inventive takes on comforting breakfast favorites, like the Dutch baby pancake with vanilla-rum parsnip puree and brown-butter hazelnut dukkah. Having a mighty burger craving? Upgrade to Milktooth's lamb frita, and make sure you get a little hair of the dog from the cocktail menu. Word to the wise: be prepared to wait a long time for a table here on weekends.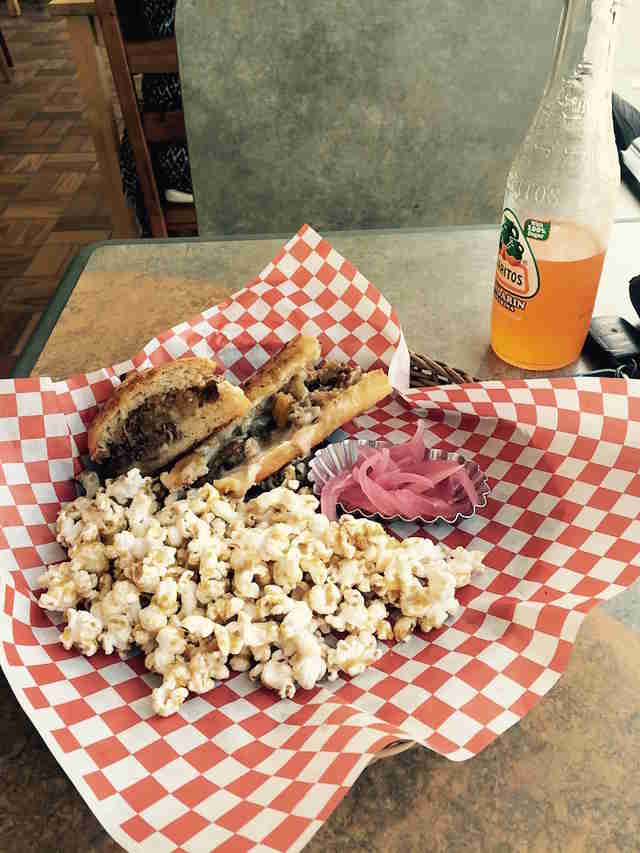 Pogue's Run
Biscuits and gravy is just about as Hoosier as brunch gets, and no one does B&G like Love Handle. Think silky mushroom gravy on top of flakey, tender biscuits, with a selection that changes daily. You can add some rich smoked pork belly or a jellied egg yolk to go with the pickled radishes that add crunch and cut the fat a bit. Love Handle perhaps is best known for its lineup of sandwiches featuring everything from farm-raised jowl bacon to pineapple mostarda, all served with pork-fat popcorn. Just make sure to save room for some coconut lavender cream pie from the sweets case.
Broad Ripple
The Venn diagram between hardcore vegetarians and juice-loving yoga fanatics overlaps at Garden Table. You might go in for a bottle of fresh juice and walk out with a gigantic burrito in your belly when you smell what they're cooking back there. It's also one of the few places in town where you should actually choose the salad option as your side -- it's the fancy field-greens Cadillac of side salads.
SoBro
The sister restaurant might be Italian, but this is an American diner serving up eggs and bacon with all the hot coffee you can drink. Some other influences make an appearance, like Hawaiian loco moco, a rice bowl layered with beef, eggs, and gravy. Of course, with "Mama" in the name, you should expect that this restaurant also serves up darn good eggs in purgatory and a criminally delicious (and messy) meatball sub. The wait is often long on weekends, but this spot'll at least let you pour yourself as much coffee as you need while you wait.
Meridian-Kessler/Everywhere
Cafe Patachou and brunch in Indianapolis are more or less synonymous at this point. Patachou has been serving dressed-up, farm-to-table omelets since the late '80s, and has since grown to five freestanding locations and one in the airport. The restaurant's tagline is "A student union for adults," which comes through with its self-serve coffee and dressed-down service that's easy like Sunday (or Saturday) morning. Chances are, if you're somewhere in a central neighborhood north of Downtown, you're near a Patachou.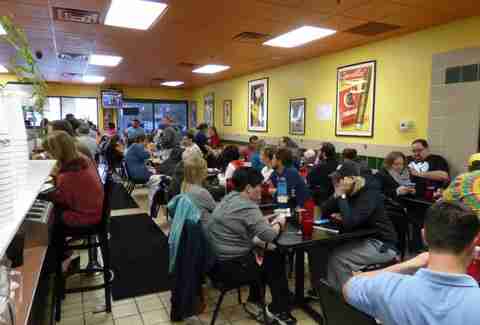 Broad Ripple
If you put a neighborhood greasy spoon in a blender with a Mexican restaurant, you'd get Biscuits. If you're really hurting, get a plate of spicy biscuits and gravy, a burrito, and some eggs, bacon, and hashbrowns and wash it down with a Tecate or gigantic mimosa. The worst time to try to dine in at Biscuits is the day after every major drinking holiday from 10am to 2pm. Luckily, it has carry out for just such a hellish occasion.
SoBro
Brunch is a new thing for Bent Rail, but it's more than welcome in SoBro. You can stop by the Broad Ripple winter farmers' market and then sit down for a simple plate of eggs and toast, or get a fancy waffle piled with toppings. If you're having a particularly tough morning, grab a pint or a Bloody Maria to soothe your pounding head.
Broad Ripple
Back when Indy wasn't awash with either vegetarian or brunch options, 3 Sisters was there with its veggie omelets and calico hashbrowns. Luckily the wait isn't eternal anymore, though Broad Ripple folks still pour in on weekends. You can still get plenty of meat options, but TSC splits the difference between indulging and eating smart if you need to fortify without clogging your arteries.
Zionsville
Way up in Zionsville, Cobblestone Grill makes a delicious fancy Sunday brunch that you should probably keep in mind for Mother's Day. The brunch is like Biscuits' sophisticated older brother, with Oaxacan-influenced flavors punching up proteins sourced from some of Indiana and Alaska's best small farms and fisheries, like grouper al pastor. Though it can be a bit of a drive, this Sunday brunch is absolutely worth the gas.
Downtown
If you didn't have the pleasure of growing up with a Southern grandma, let Georgia Reese play a convincing soul food stand-in. No matter what you get along with it, the only thing you'd be a fool to miss is the fried chicken -- especially if you're at the Downtown location. It's a standard flour breading, but a high-tech fryer at that location leaves it much crispier and craggier than your average KFC bucket. Even if you don't go to church, you can still have a religious experience at Georgia Reese's.
Midtown/Everywhere
The Katris family's mini-chain of pancake restaurants is proof that the American dream is still alive. George Katris left his home village in Greece at 13, nickel and diming his way to survival by working just about every restaurant job he could find. By 1985, George opened the first LSP in Kokomo, and eventually grew the business to 10 restaurants scattered around the city and surrounding suburbs. Expect good, honest diner food and bottomless coffee, as well as a few Greek classics like gyros and salads.
Sign up here for our daily Indianapolis email and be the first to get all the food/drink/fun in town.
Sarah Murrell contributes to Thrillist Indianapolis and Thrillist Sex & Dating, and is the owner and editor of The Sensualist. She will tell you the secret to the perfect omelet if you buy her enough mimosas and follow her on Twitter.