The Best Brunch in Your Indianapolis Neighborhood
Indy's brunch scene has what you're craving. Looking for old-school eggs Benedict with champagne mimosas? Check. An all-organic midmorning repast at a dairy farm? Got it. How about a morning-after bloody Mary that serves both as a beverage and main course? Yes. Oh yes. So much yes. No matter your midmorning mood, we've got you covered, and you won't even have to travel to get it. Just scroll down to find the best brunch spot in your neighborhood. (And after you finish your eggs, make a day of it and head to one of Indianapolis' best restaurants for dinner.)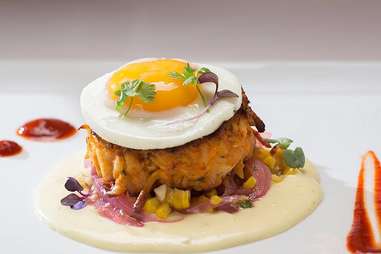 Mass Ave
Mesh
Classic dinner spot with forward-looking brunch
Though most patrons think of this Mass Ave perennial as an evening destination, they're short-changing themselves if they don't try its innovative brunch. Options include mushroom strudel, chorizo omelettes, a delicious breakfast burger, and the brunch Bloody Mary. There aren't too many "sweet" choices, so if you want pancakes, look elsewhere.
Irvington
Lincoln Square
Local chain with everything you could ever crave
This local chain of much-better-than-IHOP breakfast joints has spread across Indy quicker than a gravy stain on a silk tie. Founded by Greek expat George Katris in 1985, it's since grown to include roughly a dozen restaurants from Kokomo to Indianapolis. Enjoy all the breakfast standards (including half dozen iterations of biscuits and gravy), plus rarities such as breakfast nachos, Nutella crepes, and Greek options such as pitas. And though you wouldn't expect it in a joint like this, there's a fair amount of vegetarian choices.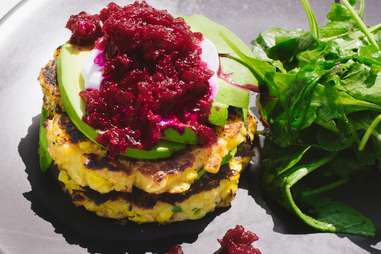 Meridian-Kessler
Cafe Patachou
Indy's premier brunch spot, complete with plenty of vegetarian options
The culinary empire of Martha Hoover has gained national attention, but her original restaurant, opened in 1989, still puts out the best brunch. Weekends you'll find long lines of patrons waiting for its toothsome specialities -- including a roster of vegetarian options. If you're feeling savory and lunch-y, try the chicken salad sandwich. If you want breakfast, you can't miss with The Omelette You Can't Refuse (bacon, white cheddar, sour cream and potatoes). And save room for the cinnamon toast.
Broad Ripple
3 Sisters Cafe
A quiet meal in the middle of the city's premier party district
Located in a Victorian home in the heart of bustling Broad Ripple, this decades-old spot is known for its innovative twists on morning standards, and also for its on-point vegetarian offerings. Try the biscuits and gravy platter if you feel traditional, or the dark chocolate Belgian waffle if you don't. An post-party excellent spot, 3 Sisters sits within crawling distance of Broad Ripple's numerous bars and pubs.
Fletcher Place
Milktooth
Never has a grilled cheese looked so good
Restaurateur Jonathan Brooks knows his way around a kitchen, and his skills are on full display at this establishment, where the morning lines are long but the food makes it worthwhile. The sourdough pearl sugar waffle (served with sweet cherry compote, salted honey corn butter, graham cracker crumble, and powdered sugar) is simply indescribable, as is the sausage croissant (spiced lamb, beef sausage, and maple fig jam). Or you could "just" have a grilled cheese. Perhaps the cranberry walnut with gouda and raclette, served with black truffle honey and a locally sourced sunny-side duck egg?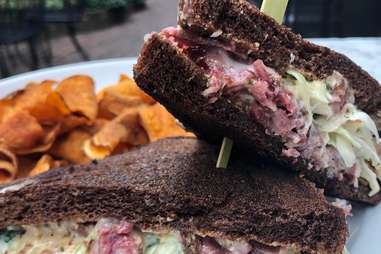 Zionsville
Cobblestone
Local institution for classics like steak & eggs
Though it's operated on Zionsville's cobblestoned Main Street since forever, this place is no culinary stick in the mud. Their lineup is prepared with locally sourced eggs, pork, and bacon (from places that are literally right down the road), and includes a surprising number of vegetarian items. The steak and eggs have been pleasing the locals for decades. If you're looking for something a little more current, sample the shrimp & grits or the duck tacos. If weather permits, definitely enjoy your meal and a mimosa on the establishment's patio.
Greenwood
Revery
Ever-changing lineup of old-school brunch goodies
This smallish Downtown Greenwood establishment likes to keep things simple and local. We're talking Indiana craft beers and Indiana-sourced produce, meats, and wild game. It's all incorporated into the restaurant's American-style cuisine, created by chef/owner Mark Henrichs. Unfortunately the lineup changes so often that there's no permanent menu. His past efforts include unique takes on everything from poutine to biscuits and gravy. One item that's pretty much always available is the fried pork tenderloin -- an Indiana staple that's sadly growing ever more rare these days.
Speedway
Charlie Brown's Pancake and Steak House
Traditional favorites in the shadow of the world's most famous race track
There's something to be said for a decades-old establishment that packs in the locals and offers all the traditional breakfast/lunch favorites. That's the sort of magic you'll find at Charlie Brown's in downtown Speedway, located within walking distance of the town's namesake, the Indianapolis Motor Speedway (home of the Indianapolis 500). The menu includes literally any item that could remotely be construed as breakfast-appropriate. Expect long lines on weekends.
Downtown
Granite City Food & Brewery
Hundreds of Bloody Mary options, not to mention the food
If you're feeling the least bit bleary or hungover, this might not be your first choice. Because participating in Granite City's "Lawless Brunch" requires you to make quite a few decisions. Want a custom donut? You can build one. How about an ultra-customized egg platter? You can assemble it from a long, long list of egg, bread, meat, cheese and veggie ingredients. And don't even get us started about the Bloody Mary Experience (something like 300 options). If you don't want to have this big of a hand in your brunch, there are also chef's specials available, along with a serving station offering readymade options ranging from bacon to Reggiano hash browns.
SoBro
Good Morning Mama's Cafe
Brunch with a retro Italian flair
Located next to its sister establishment, Mama Carolla's Italian Restaurant, this former-gas station gives off a retro diner vibe. And so do many of its brunch options. There's Elvis' Favorite (a grilled peanut butter, banana, and bacon sandwich), coffee-flavored Java french toast, and the Hawaiian Loco Moco (a bowl layered with rice, a beef patty, and a fried egg, and topped with gravy). For the less adventurous, there's plenty of eggs, pancakes, and mimosas.
Northwestside
The Loft at Traders Point Creamery
Go full organic at a working dairy farm
The exquisite dairy products produced by Traders Point are available throughout Indiana. But if you want to sample them in their natural habitat, visit The Loft, the creamery's on-site dining establishment. Brunch features all-organic fixins, from the house-ground pork sausage to the stone-ground corn grits. It's worth trying the cheese board, laden with varieties produced right on the farm. From there, graduate to the breakfast mac & cheese, french toast (with vanilla whipped cream and berry compote) or shrimp & grits.
Woodruff Place
Tick Tock Lounge
Home of the Bloody Mary that doubles as an entree
This quirky lounge's somewhat abbreviated brunch menu is nevertheless full of winners, including the Loaded Breakfast Tots and Meat Lovers Omelet. But the centerpiece is definitely the Bloody Mary, served in a pint glass laden with a homemade seasoning mix enlivened with two vodkas, one bacon-infused, the other hot pepper-infused. This crimson beverage is then garnished with tater tots, green olives, cheddar cubes, and a celery stalk, and topped with a slice of bacon. It's served on a plate, which you're definitely going to need. And probably some napkins, too.
Sign up here for our daily Indianapolis email and be the first to get all the food/drink/fun in town.
Sam Stall is a Thrillist contributor.