The Best (and Weirdest) Food Items at the 2017 Indiana State Fair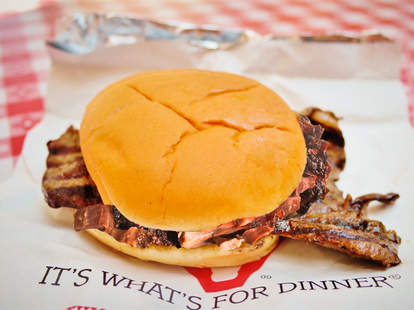 Courtesy of the Indiana State Fair
Before we begin, let's get something straight. The Indiana State Fair, which runs through August 20, is no place for dieters. During its two-and-a-half-week tenure, visitors will chomp through roughly 14,320 turkey legs, 7,416 corn dogs, and maybe three salads. So if you're game to sample the latest advances in junk food development (and aren't too worried about your cholesterol count), this is the place to be. The following culinary newcomers and old favorites should get you started -- or finish you off.
Cattleman's Choice
Many of the items on this list look like they'd take some time to get used to, but this offering from the Indiana Beef Cattle Association is a slam dunk. It's a grilled Indiana ribeye on a bun piled high with smoked brisket, a marriage made in carnivore heaven. Taste for yourself at the Indiana Beef Cattle tent, located just outside the West Pavilion cattle barn.
Peanut butter pineapple pork burger
It's hard to imagine how this combo -- a grilled pork patty topped with a smear of peanut butter and a pineapple ring -- could possibly work. Yet the Indiana Pork Producers, who put it all together, insist that "this tropical tasting sandwich is sure to be a hit!" Judge for yourself at at the Indiana Pork tent, which is located just outside the West Pavilion cattle barn.
Smothered Tater Tots
These tots come covered with sautéed ground bison, jalapeño cheese sauce, green onions, and house-made hot sauce. There's an even more intriguing, vegetarian version called Dirty Hippy Tots, featuring sweet potato tots served with deep-fried Brussels sprouts, jalapeño cheese sauce, house hot sauce, and green onions. Look for them at the Red Frazier Bison stand, near Pioneer Village.
Courtesy of the Indiana State Fair
Corn dog split
Think of this as a savory, meat-intensive homage to the traditional banana split. A turkey corn dog is sliced down the middle, then covered with mac & cheese and topped with chili and jalapeños. Be advised that you need to eat fast, because the thin cardboard box in which it's served quickly gets soaked. Get it at the Gobble Gobble stand, right outside the Department of Natural Resources (DNR) Building.
Deep-fried PB&J
The fair is a one-stop shopping spot for every sort of heart-clogging fried oddity, including (but by no means confined to) deep-fried Oreos, candy bars, and butter. Compared to those abominations, a deep-fried peanut-butter-and-jelly sandwich is the most intriguing, like a kid-menu version of a Monte Cristo. If you care to partake, you find it at the AP Concessions stand near the Indiana Young Farmers Building.
Root beer float shake
Why bother with the traditional version of this dessert/beverage fusion (a bottle of root beer poured over vanilla ice cream) when you can just mix the root beer straight into the ice cream and produce a super-thick shake? It's available at the Dairy Barn, next to the Administration Building. Be advised that while the lines at the Barn are long, it's well worth the wait.
Grilled bratwurst
Many of the stands at the fair are run by out-of-towners, but Judge's Bar-B-Que is a local favorite. These meat purveyors have been killing it at their West Michigan Street store for years, and for the fair they trot out their ribs, rib tips, pulled pork, and more. Everything's great, but the grilled bratwurst is like the best encased meat you'll ever have.
Courtesy of the Indiana State Fair
Egg cream soda
Unlike most of the stuff at the fairgrounds, Hook's Historical Drugstore is a permanent feature offering old-timey candy and a fully functioning soda fountain year-round. For the fair they're serving a traditional egg cream -- think of it as a scratch-made cream soda. Topped with whipped cream and a cherry, it's available in pretty much any flavor you can imagine, from orange to root beer to Dr. Pepper. But no eggs or cream -- in spite of the name, it contains neither. You'll find Hook's Historical Drugstore between the Exposition Hall and the Indiana Arts Building.
Mini funnel cake strawberry shortcake
For those who haven't savored one, a funnel cake is a traditional dessert made by running batter down a funnel into hot oil, producing a spaghetti-like mound of cooked dough that must be eaten immediately. Seriously -- funnel cakes have no shelf life at all. This year, Urick Concessions offers a version topped with powdered sugar, vanilla ice cream, and strawberries. Look for their stand outside the Kiddie Land Midway.
Turkey cheese balls on a stick
Does turkey make you think of healthy food? This dish will wreck that association forever. Mostly by wrapping ground turkey around plugs of mozzarella and pepper jack cheese, then deep-frying it into oblivion. Feel free to cover your balls with sides of Asian, spicy ranch, and barbecue dipping sauce. Available at the Gobble-Gobble stand, near the Department of Natural Resources (DNR) Building.
The Mousetrap
If you missed the 2016 Ultimate Grilled Cheese Sandwich competition, this is your chance to try a locally made version of the winner. The Mousetrap consists of slices of havarti, colby jack, and Cheddar cheeses slapped between thick slices of Texas toast, then grilled to melty perfection. You can get it at the Dairy Barn, next to the Administration Building.
Buffalo chicken gyros
Winner, winner, spicy chicken dinner. Imagine traditional Greek-style marinated grilled chicken topped with a sauce consisting of cream cheese, cheddar, and Buffalo sauce, and either ranch dressing or traditional tzatziki sauce on the side. Available at the AP Concessions stand near the Indiana Young Farmers Building.
Deep-fried BBQ bacon
Even if you're not part of the "bacon is life" crowd, this latest take on pork bellies sounds like more than just a novelty. The preparation is pretty straightforward: the bacon is deep-fried, then dusted with dry barbecue rub and glazed with sauce. It certainly sounds more toothsome (and more likely to stay down during a rollercoaster ride) than another porcine abomination available at the fair -- chocolate-covered bacon. Get it at the Goodwin Family Products stand in front of the Indiana Arts Building.
Sign up here for our daily Indianapolis email and be the first to get all the food/drink/fun in town.
No corndog is safe when Indianapolis writer Sam Stall and his son, James, run amok at the Indiana State Fair.