Amazing new restaurants are popping up left and right all over Indianapolis, proving that this city punches above its weight when it comes to foodie culture. No longer are we known for our chain restaurants, but rather a growing culinary scene that competes with -- and maybe even rivals -- bigger cities. Looking for authentic foreign eats? We got that. Seeking Top Chef-worthy wow-factor fare? We got that too. Check out the top 12 foodie neighborhoods that'll make you never want to cook at home again.
Recommended Video
This Pizza Is Covered in Fish Jerky
12. Carmel
Carmel's got its charm and and slew of underrated foodie spots (unless you're a regular, that is). Divvy and Matt the Miller's Tavern show off their goods in the same building, but venture out to Blue Moon Cafe or even Bub's Cafe for the famous Big Stack of 12 pancakes. Carmel folks are especially passionate about the farm-to-table grub at Local Eatery & Pub, where you can also get a cocktail or beer.
11. Zionsville
It's a bit of a hike, but once you're there, Zionsville has many places we just can't live without. Who wouldn't want to be a regular, slurping up oysters at Noah Grant's? The Salty Cowboy tequileria has the cleverest Mexican in town, where you can find authentic tacos and burritos served alongside burgers. The full Indiana farm-to-table experience is felt at Traders Point Creamery -- no matter the meal, make sure you get some of their famous cheese.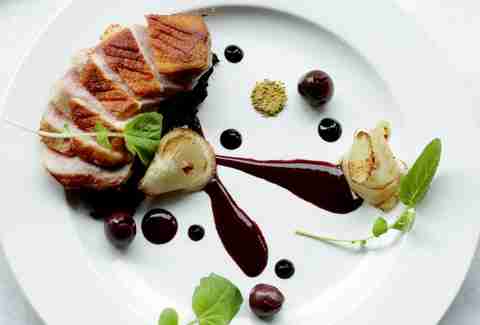 9. Speedway
As the Indy 500 rounded out the 100th running of the race, the Speedway neighborhood also took a big turn. Along Main St, you can just bounce from one great spot to the next. Start out on the corner at Big Woods for beers and burgers, get a(nother) beer sample at Daredevil Brewing, order a rack of ribs and mason jar cocktail a Barbecue & Bourbon, try a panini and a cappuccino at Lino's (where you can stick your head into the Dallara IndyCar Factory, too), and finally swing by Dawson's for steaks, seafood, and sandwiches.
8. Keystone/Castleton
Situated among the strip malls and a little spread out, you'll find some of the best gems in Indianapolis. Late Harvest Kitchen and North End Barbecue & Moonshine -- both owned by the same folks -- do it right on every plate, every time. Asaka has arguably the most authentic Japanese in town, while Oakley's Bistro is known for its passionate and classically trained chefs and smartly plated entrees.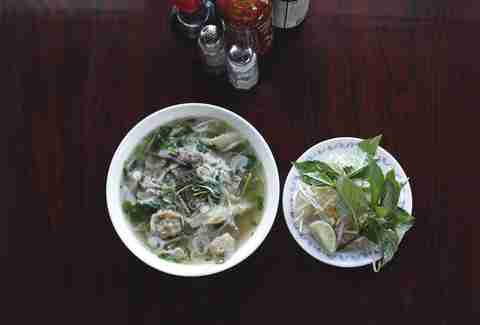 7. International Marketplace/Lafayette Rd & 38th
"Taste the World" is kind of the motto along Lafayette Rd. Small and often family-owned restaurants allow you to travel the globe without leaving the State. You've got Pakistani food at Chapati, authentic Vietnamese at Saigon, and Chinese at Sizzling Wok Hai. You'll find delicious Mexican food at Puerto Vallarta and La Guanaquita, Cuban cuisine Havana Cafe, and you can even enjoy Stateside specialities at Marble's Southern Cookery.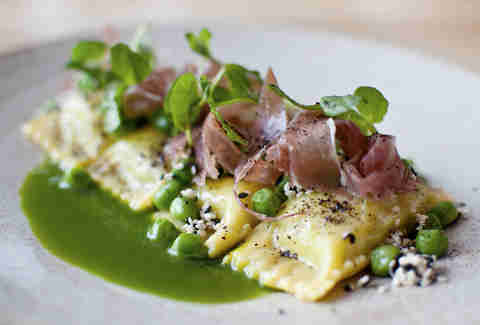 6. Downtown
Downtown is known as the place where the convention crowd dines, but the neighborhood has had a resurgence over the past few years that locals can enjoy, too. While St. Elmo's Steak House (and its fiery shrimp cocktail) has been a staple since what feels like the beginning of time, new spots such as Osteria Pronto, Spoke & Steele, and Cerulean pull in the foodiest of foodies over and over.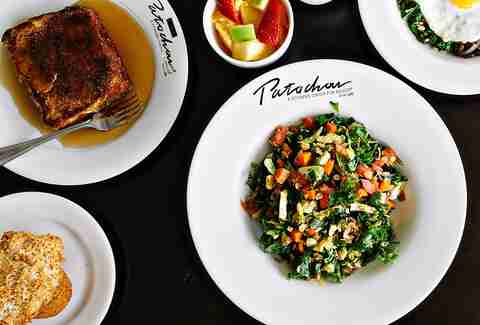 5. Meridian-Kessler/SoBro
Neighborhoody indeed. The Meridian-Kessler/SoBro (South of Broad Ripple) is super-residential but has many delicious spots hidden within. Check out South American cuisine at Delicia, or try Italian at Mama Carolla's (one of the best Italian joints in town). Head to Meridian for celebrations, Cafe Patachou for breakfast, or Open Society for small plates and cocktails. Gallery Pastry Shop offers fabulous macarons and truffles, while Locally Grown Gardens has the freshest vibe. OG restaurant Recess is located here too, and is historically known for starting the foodie movement in Indy.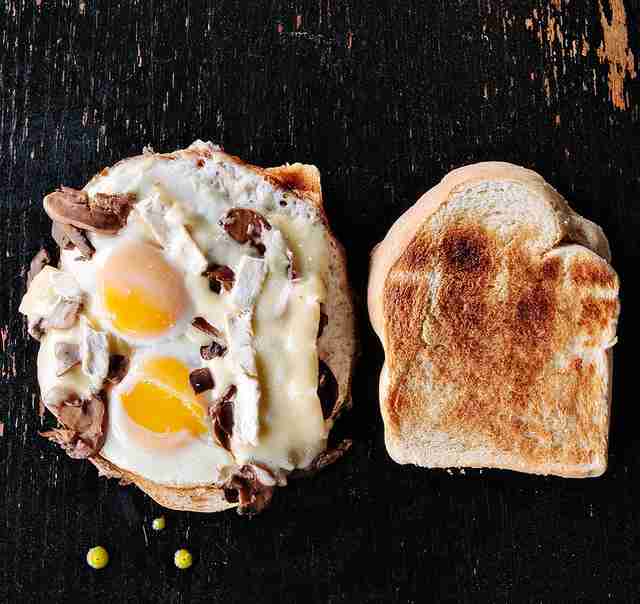 4. Broad Ripple
Jam-packed with options, you can find something that'll satisfy even the pickiest of eaters in Broad Ripple. Some spots are former houses, others have been standing restaurants for years. Sangrita Saloon and La Piedad compete for the best Mexican food in the neighborhood, while Canal Bistro feels like you're at the edge of the Mediterranean. Martha Hoover's Petit Chou has the best French cuisine, while her Public Greens offers the freshest and sustainable dishes. Mussels, steak, and frites at Brugge Brasserie are almost straight from Belgium, while BRICS and Cake Bake Shop take care of your sweetest tooth as you walk it all off along the Monon.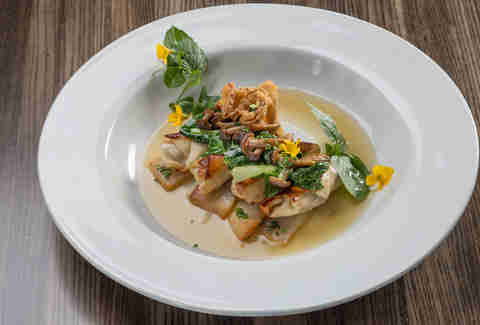 3. Mass Ave/Lockerbie Square
Just as the Ann Dancing art piece moves all day and all night, the food scene on Mass Ave and the adjoining Lockerbie Square keep their momentum. At broadcasting-themed Ball & Biscuit, small plates pair well with their spin on the Old Fashioned. Underneath Pizzology is Libertine, a modern speakeasy experience. Mesh caters to the ultimate romantics in the area, while Chatham Tap is known for the best wings in town (enjoyed while watching European footie). If you're feeling like the night's getting naughty, save yourself at church-turned-brewery and restaurant St. Joseph's. Try the Bloody Mary and candied bacon at The Eagle, the tacos at Bakersfield, and the famous arching cheese board at Union 50. At the area's newest addition Vida, check out the vertical hydroponic garden wall that the chef plucks from to complete your dish.
2. Fountain Square
Way more than just the home of a fancy fountain, Fountain Square on the southeast side will whisk foodies and their tastebuds away to happiness. Those craving a tiki-themed getaway should fly into Revolucion for uniquely filled tacos with a side of cocktails typically only found on the most exotic of islands. Heavy metal-themed Kuma's Corner serves up meaty burgers that'll rev up any Harley-Davidson lover. Expect to be indecisive when you have to choose between classic Greek and family-owned Santorini, or new the clever American Pioneer and Marrow. After dinner, head to Thunderbird for cocktails -- some adorned with little, plastic action figures -- and music that will rock the rest of your night.
1. Fletcher Place
A step over the highway from the hipster neighborhood, Fletcher Place wins when it comes to restaurants. It's where all the best dining options are thriving, waiting to entice you with creative culinary delights. Pop in for artisan cocktails and locally-distilled spirits at Hotel Tango Whiskey artisan distillery before heading out to Kurt Vonnegut-inspired Bluebeard (where the menu changes daily but the literary references live on forever). You'll also find the 1930s-themed Repeal which has the 12.05 Distillery within and a menu of American fare, or contemporary Asian pork buns at Rook. Nurse your food coma and hangover at the nationally revered and acclaimed Milktooth for the best brunch for at least 500 miles.
Sign up here for our daily Indianapolis email and be the first to get all the food/drink/fun in town.