It's no surprise that a state known for beef and hog farming is clustered with more than a few really good BBQ joints. We put together a list of 13 independent barbecue restaurants just inside the 465 loop alone that serve up a variety of styles, from Memphis to Kansas City to Texas. Because really, what would the crossroads of America be without a mashup of the best kind of regional food combined with honest Indiana pastured meat? 
Recommended Video
Send Foodz: New York City Wine & Food Festival
Northside (& other locations)
There are two restaurants inside the 465 loop and one just outside in Mooresville, and the growth of this local restaurant is no surprise when you get a taste of their brisket or rib tips. If you're in a rush, they have a fast and delicious lunch special every day that's usually less than eight bucks. But really, take some time to sit and order their pit sampler: you pick either two or three meats between brisket, rib tips, turkey, sausage, pulled chicken, pulled pork, or jumbo wings. Then, well, you'll probably want to take a nap.
25th & MLK
This place is one of the oldest and longest-running barbecue joints in the city, and the first restaurant my parents told me to hit up back when I first moved here. It's been a freestanding little shop serving up takeout ribs and rib tips on MLK for decades, and it doesn't seem to be going anywhere. Why? Because it's that. damn. good. Nowadays, you can eat out on the patio when the sun is out and order some takeout for nights when you don't feel like cooking... or had one too many cocktails.
Haughville
This place only opens to the public on Fridays and serves everything else from the catering arm of the business. But don't worry: you'll be able to sample some of their prime BBQ every year at the Indiana State Fair. Of course, if you're not going to the fair, you'll have to throw a party with 20 of your closest friends just to get a taste. But trust us, it's worth it. Better start vacuuming.
56th & Emerson
Another restaurant high on the list of Indy's best soul food spots, Garrett's makes unbelievably tender barbecue brisket. Whether you eat it on a sandwich or by itself, just make sure you eat it (because we will if you don't). The daily smoked selection is limited -- they're closed on Monday and Tuesdays -- but anything you get is damn delectable. Just be careful: if you're there during karaoke don't cover your ears when that thick BBQ sauce is on your fingers. That could get messy.
64th & Binford
If you're looking for anything from a brisket dinner to some barbecue on a bun, head north on Binford and hit up Black Diamond. The place is small, so take out might be your best bet here. Grab either a full or half slab of ribs and pair it with some usual BBQ favorites: baked beans, coleslaw, corn on the cob, etc. And if your appetite is really kicking in, order the whole chicken dinner for just $11.95.
SoBro
Don't let the name fool you: Fat Dan's does some of the best smoked meats in town, from wings to brisket. One of the best things you can get here is the smoked meatloaf sandwich, which you can choose to cover with barbecue sauce or leave plain. But really, we can't imagine a reason (or a world) where you'd rather leave it plain and not have it dripping in that sweet, sweet, sauce.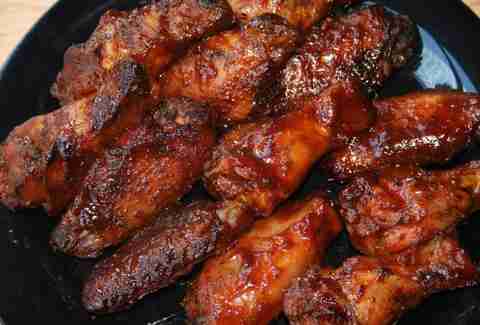 Downtown
The heart of Downtown has a lot of convenient food options for 9-to-5ers, but Dick's is one of few places taking their time. Thanks to its smoker, the best thing to try here are either the ribs or the wings, both of which come out with a nice layer of char and smoke and take little effort to remove from the bone. You can also use GrubHub if you're not up to getting it yourself. In which case, congrats, you've found yet another convenient food option.
16th & Tibbs
The ribs from King Ribs are indeed fit for a king. They're sticky and littered with sauce and a great layer of crunchy, smoky char. If you want to go a little lighter, the place also makes incredible barbecued chicken that you can buy a quarter at a time, or get a whole one for just shy of $10. If you're wise, you'll save room for a slice of pie.
37th & MLK
You might have guessed this one already, but Hank's does some pretty great brisket. On top of that, its smoked corned beef is pretty on point with the BBQ baked potato, brisket sandwich, and loaded fries topped with, well, more corned beef. It's a great place for dining in, but ordering some takeout and choosing a spot under an old tree at Crown Hill across the street is the real way to go.

Note: considering we mentioned corned beef twice here we're hoping you realize you shouldn't be passing it up.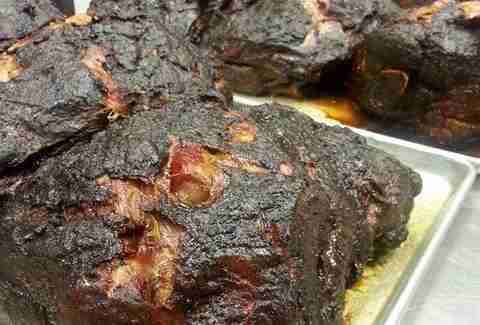 Nora
Pitmaster Mitch McDaniel is churning out everything from chickens to pulled pork to smoked Alaskan salmon at his Nora barbecue joint. Grab yourself some Moon Shine Punch or a recommended craft cocktail -- and sure, maybe some ribs -- after you're done jogging on the Monon Trail, just a few hundred feet away. Also, schedule another day of jogging: what you just did is pretty much useless.
Speedway
Drivers, mechanics, and locals alike finally have great barbecue in Speedway. They're serving not only Memphis-style ribs and sausage, but also a nice roundup of homestyle dishes like fried catfish and meatball subs. It's easy eating to go with an outstanding lineup of small-batch bourbons.
38th & Shadeland
Indianapolis has some great soul food restaurants, and His Place is definitely one of them. And just so you're not totally uneducated in their menu when you get there, here are two things you need to get: ribs and chicken and waffles. Oh, and the bourbon creamed corn... and the greens... and a BBQ fried bologna sandwich... and some yams. OK, maybe it's more than two things.
71st & Binford
Sure, this place is in a crappy strip mall in a nameless part of the Northside. Yes, it's kind of dark inside and the tablecloths are a little bit dated. But then you bite into those ribs, and none of that other stuff matters anymore because you've reached rib nirvana. If you're a fan of smokey ribs that are sauced, and enjoy the option for some heat, look no further than GT South's.
Sign up here for our daily Indianapolis email and be the first to get all the food/drink/fun in town.
Sarah Murrell is the writer for Indy's food and sex blog, The Sensualist, and she is going to eat two entire racks of ribs the minute this list is written. Follow her on Twitter to see the carnage.