The Best Sandwich Shops in Indianapolis
A great sandwich is a meaty invention with a variety of flavors, usually thanks to good toppings. But most of all, it's served fast, with no frills. Liz Lemon once wisely said, "I believe that all anyone really wants in this life is to sit in peace and eat a sandwich." Here at Thrillist, we couldn't agree more. We're all about the midday respite offered by local sandwich shops and their carbohydrated meat envelopes (which is what the perfect sandwich really is). So with that in mind, and 30 Rock's modern philosopher's words ringing in your ears, here are the best sandwich shops in Indianapolis.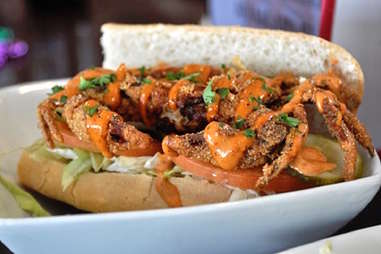 Fountain Square
If you have crusty French bread and a piece of Cajun-spiced fish, the only appropriate thing to do is make yourself a big fat po-boy. Or you could just have one made for you at B's whenever you're in the neighborhood. Think spicy fried oysters with shredded veggies and special sauce. Of course, you can't really go wrong with some BBQ pulled pork or that creole chicken salad, as well.
Pogue's Run
This little shop is great for a number of reasons, many of which have to do with the sandwiches and pre-made deli items. Another is that despite being a community co-op, they don't force you to be a member to shop there. It's a place that offers a variety of options for all types of sandwich lovers: vegetarian, raw, vegan, gluten-free, and whole-food. And believe it or not, the vegan food is delicious enough to convert your average lunch-grabber -- even for an hour.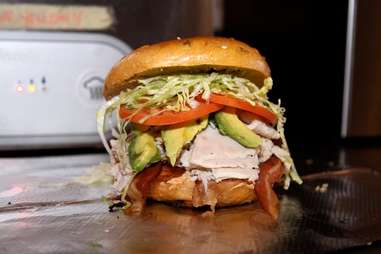 Broad Ripple
Just because they're on bread with a hole in the middle doesn't make the Ripple Deli's sandwiches any less deserving of recognition. In fact, the huge menu of combinations might leave you a little overwhelmed with choices, all of which are steamed to hot, melty perfection upon ordering. You could get fruit jam on your pizza bagel, or ham on your apple cinnamon. Whatever you're craving, the Ripple folks will make it up for you fresh.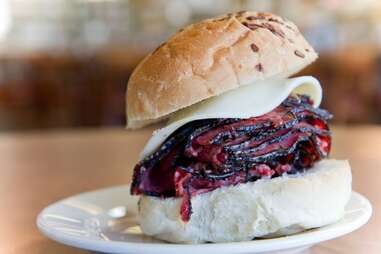 Downtown
There are a few things that are essential to the Indianapolis experience: basketball, racing, and Shapiro's. It's one of the most iconic institutions of no-frills dining, with cafeteria service on beige trays. The frills are all stuffed into the sandwiches: we're talking fresh-baked bread, house-made pastrami, and all the pie you can fit in your piehole. If you want a delicious sandwich and don't mind a dressed-down ambiance, Shapiro's is the place to go.
SoBro
Trying to tell someone which sandwich to get at Fat Dan's is like trying to tell them which adorable puppy they should adopt from the shelter: it's rude that you even have to choose. But if we must, we'd always pick either the smoked meatloaf or the Reuben as a safe bet. Wing lovers will also lose their minds for the fall-off-the-bone smoked chicken wings, which taste great alone or sauced.
Fountain Square
A few hundred feet away from the iconic Pioneer Fountain, Wildwood Market is serving incredible sandwiches out of a rehabbed car garage (literally). Since the selection changes every day, make sure you get in ahead of the lunch rush to grab a sandwich before this place runs out (because you may not see that exact one on the menu again). Like Goose, you can also stock up on gourmet groceries at this cute shop, or get some slightly ugly fruit out of the free bin.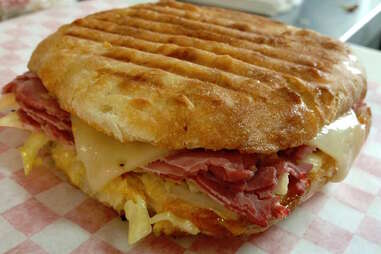 Downtown
This is a relatively recent addition to the Downtown midday scene, with a menu made for the lunch crowd. Get a hot, crunchy panini to go with a cup of soup or a salad, and find absolute bliss for a moment. "Subito" means "suddenly" in Italian, if that gives you any idea of how fast you can get in and out with a pleased palate and a full stomach. Or you could always take home some of the fresh baked rolls to make your own sandwiches at home.
Fletcher Place
Right in the heart of Indy's hottest dining neighborhood is a Mexican sandwich shop that never needed a comeback; this place has been around for years. All the sandwiches are named after celebrities, with tenuous-at-best connections to the sandwiches themselves. But it's a charming touch (think: the Salma Hayek, with chicken, ham, and mozzarella, or the Shakira, with breaded steak, mozzarella, and Mexican sausage). Even if the sandwiches were served with only numbers for names, they'd still be just as delicious.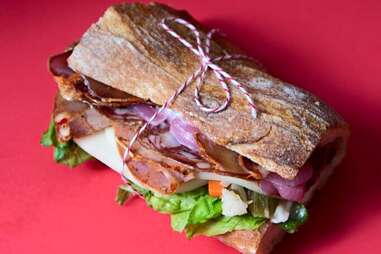 Reagan Park
If there's one sandwich shop you shouldn't miss, it's Goose the Market. The retail arm of Indiana's best artisan meat producer, Smoking Goose Meatery, serves hands-down the best Italian-style sandwich in the city. If you're a self-identified foodie, you should also peruse the meat case; it's packed with the same handmade charcuterie and meats that come on the killer sandwiches. And should you need a place to get a great breakfast and cup of coffee, Goose can hook you up on that end, as well.
Butler-Tarkington
It's hard not to find something to love at ISFE. It's the stalwart neighborhood shop to eat at whether you want to grab a sandwich and an iced tea or take home a huge pan of lasagna to bake for dinner. It's like the '90s never ended here, meaning you can still get sprouts on your sandwich if that's how you roll, or a simple, and delicious, grilled cheese.
Sign up here for our daily Indianapolis email and be the first to get all the food/drink/fun in town.
Sarah Murrell is the owner and singular writer for The Sensualist in Indianapolis. She is in complete agreement with Liz Lemon on the importance of sandwiches in life's greater zen. Follow her on Twitter if you are so inclined.