This past year saw a spike in the number of new local, independent restaurants in Indy, so it's no surprise if you've missed a few. Just in case you haven't meticulously kept tabs on all the new food and drink options that have popped up, we've got your CliffsNotes right here. Meet the most noteworthy openings of 2015.

Best new restaurant
Tinker Street
Address and Info
Herron-Morton
With just 34 seats (up to 75 during patio season), the place has a cozy, big-city vibe that's appealingly crowded and welcoming. Of course the complimentary glass of sparkling wine that diners receive might have something to do with that too, along with experienced owners, industry veterans Peter George and Tom Main. And then there's the creative menu from up-and-coming young chef Braedon Kellner.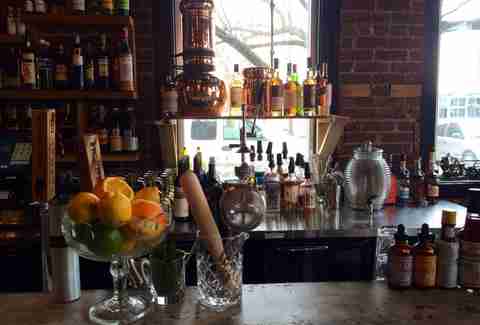 Best new cocktail bar
Bar Rev
Address and Info
Greenwood
The Southside upped its cocktail game when Bar Rev opened in Old Town Greenwood in the back of the still-new Revery restaurant last spring. The building, dating back to 1861, provides the requisite speakeasy vibe, and the joint got a strong start from opening manager Adam Hayden, formerly of the Libertine Liquor Bar. Since then, Bar Rev's gotten even more popular, as Southsiders have embraced its relaxed atmosphere and classic cocktails.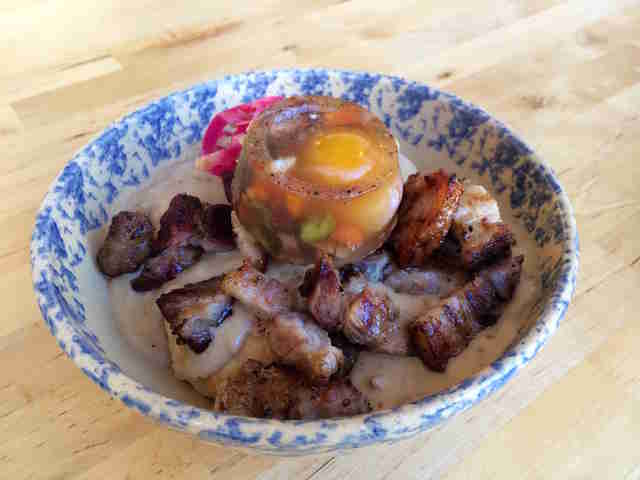 Best new brunch spot
Love Handle
Address and Info
Near Eastside
The latest darling of the local food crowd, this little breakfast/brunch/lunch spot from chef/owners Chris and Ally Benedyk has definitely earned all the affection with its friendly vibe and changing menu. You'll have earned your afternoon nap after downing the biscuits & mushroom gravy topped with pork belly and head-cheese egg yolk and a side of crispy trout skin chips.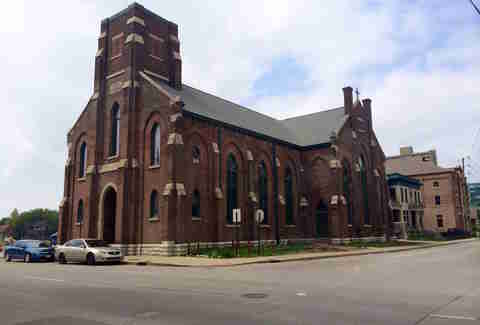 Best new brewpub
St. Joseph Brewery & Public House
Address and Info
Lockerbie Square
You can easily lose count of all the new breweries opening in Indy, but don't miss this one. Housed in a former Catholic church, the building has been beautifully renovated -- with the beer tanks in an appropriate place of honor right up front. Beer names like Confessional Pale Ale, Absolution Amber, and Sanctuary Saison play up the brewery's religious roots. The menu offers a wide range of elevated pub fare -- try the pork belly- and cheddar-topped Reifen burger.
Best new donut
Dancing Donut
Address and Info
Keystone-Monon
The same folks that brought you the Flying Cupcake, the city's original cupcake shop, expanded on their sweet success this year with the Dancing Donut, a whimsical SoBro shop with donuts adorning the exterior. The giant chocolate-glazed Jane Dough yeast version and the bacon-sprinkled Kevin Bacon are early favorites along with the Éclair Huxtable and the Strawberry Gibb.
Best new burger
Kuma's Corner
Address and Info
Fountain Square
Several burger joints opened this year in Indy. But for sheer burger devotion and a heavy-metal attitude, we like Kuma's Corner in Fountain Square, the first out-of-state location of the popular Chicago restaurant. With each burger named after an iconic metal band, feast on the likes of the Lair of the Minotaur, topped with Brie, pancetta, and bourbon-poached pears or go old school with the Led Zeppelin, which includes bacon, slow-cooked pork shoulder, and barbecue sauce.
Best new lunch spot
Back Room Eatery
Address and Info
Keystone-Monon
Local chef Tony Hanslits and his wife Rosa expanded their SoBro shop, Nicole-Taylor's Pasta and Market, to include the Back Room Eatery, where you can now sit down for a sandwich, soup, or salad created by the talented Hanslits. Or have an early dinner (it's open 'til 7pm) and try one of the pasta dishes. After all, they make more than 500lb of pasta each week for the shop and other local restaurants. Grab a table by the window that looks in on the pasta room and watch them make it.
Best new tacos
Indy Tacos
Address and Info
Keystone-Monon
The line to the door at lunchtime will let you know you made the right decision in stopping at this tidy little shop in a tired strip mall near Keystone Ave and 54th St. But not to worry: the line moves fast, the service is friendly, and the tacos are generous and flavorful -- we especially like the fish taco and the chicken mole. And since tacos start at $2 each, you can have lunch and still have change from a 10 spot.
Best new mac and cheese
Reata
Address and Info
Wholesale District
This new country-focused sports bar might seem an unlikely place for a chef-driven menu, but there's an appealing lineup of soups, sandwiches, burgers, and tacos. The mac and cheese is the dish you're looking for. This is a purist's mac and cheese -- nothing fancy -- a creamy, cheddar-y version (bacon is optional) that's rich enough to share... although we've heard of people ordering two just for themselves.
Best new carry-out
Subito
Address and Info
Downtown
This little shop (with a name that translates to "right away" in Italian) does a big business with its house-made soups and sandwiches. Chef/owner Chuck Brezina bakes bread daily for the shop's sandwiches -- try the torta with braised pork shoulder, or go basic with a grilled cheese and a scratch-made tomato soup.
Best new farmers' market
Broad Ripple Winter Market
Address and Info
Meridian-Kessler
Sign on for fresh produce and a beer. The city's newest winter market takes place on Saturday mornings at Bent Rail Brewery, so you can have a beer while browsing for organic greens and free-range eggs. You can also have breakfast -- try the sandwich with duck sausage, pimento spread, and a sunny egg from Bent Rail's new breakfast menu.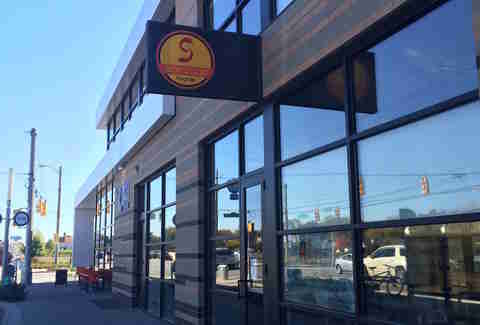 Best new brick-and-mortar location
Spice Box
Address and Info
Fletcher Place
Popular food truck operators Nitin Naidu and Tyler Wald opened a stand in the Indianapolis City Market in 2013, and now they've opened their own location in Fletcher Place. Fans love them for their tandoori tacos, spice wraps, Bombay boxes, and classics like chicken tikka masala and palak paneer. What to drink with a goat taco? Prosecco on tap, of course.
Best new specialty market
R2GO
Address and Info
Chatham Arch
Local chef Regina Mehallick stepped away from her award-winning restaurant R bistro to open the nearby R2GO market. In the newly renovated building at 11th St and College Ave you'll find lots of specialty foods, plus deli meats, fresh ready-to-go meals, and soups, as well as daily sandwiches and salads. Try Regina's bacon panini -- you'll thank yourself.
Sign up here for our daily Indianapolis email and be the first to get all the food/drink/fun in town.
Jolene Ketzenberger covers food, booze, chefs, and restaurants at EatDrinkIndy.com and is that person who's always taking photos of her food. Follow her on Twitter @JKetzenberger and on Instagram @joleneketzenberger.