Thunderbird's 'Culinary Cult Classics' Dinner & a Movie Is the Hottest Ticket in Indy
No doubt, this town has some highly sought-after tickets. Between the Colts and the Pacers, and Bulldog and Hoosier basketball, this town knows its sports. But the hottest ticket in town is in a league of its own.
That's right, tickets to something other than sporting events are selling out quickly. Thunderbird's Culinary Cult Classics -- "Dinner and a Movie" themed evenings hosted nearly every other month -- have earned a following among foodies and film buffs. At the event, the bar/restaurant will play a cult classic film and serve a themed prix-fixe menu that is timed in presentation with the movie.
"The whole concept is pretty amazing. We take a film, we build a food menu around that film," said Josh Gonzales, owner of Thunderbird, the Fountain Square gastropub that has made a name for itself with inventive craft cocktails.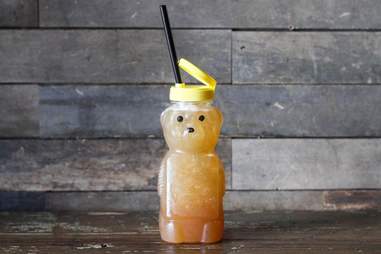 Courtesy of Thunderbird
Dinner that lets you know, "It's showtime!"
In October, the Thunderbird team relaunched the event with a screening of Tim Burton's 1988 classic, Beetlejuice. The event was hosted on the eve of Halloween and guests were seated with an artfully designed menu that looked eerily similar to The Handbook for the Recently Deceased featured in the movie.
"Hopefully there are food references in the film that we can run with, and then we time the serving of the dishes with scenes in the movie that are pivotal or representative of the dish that we're presenting," said Gonzales. "The cocktails are themed around the movie, generally the name, less so in terms of design."
Turning open the handbook revealed seven courses including dishes like the bone marrow with a beet salad ("My Little Accident"), a dry aged ribeye skewered above charcoal ("Recently Deceased"), and a trio of desserts filled with Pop Rocks, Chia seeds and chocolate goodness, named after and delivered at arguably Beetlejuice/Michael Keaton's most iconic part of the movie: "It's Showtime!"
"We like to have fun here and all the effort that we put into the place is done to immerse you in the film and make you feel like it's part of the dining experience," says Gonzales. "The menus are usually designed thematically, the physical aspects during the dinner are aimed to reinforce the dining experience with the movie."
The bar is decorated attentively with the film's elements and iconic cult artifacts and the staff dresses up (they could almost be considered extras in the film). Guests are also invited to wear costumes and get into the evening in a full attempt to engross and immerse diners in the film experience.
"We're trying to think of everything. And it allows us to show how creative we can be in the kitchen and at the bar," said Gonzales."It becomes a test kitchen of sorts; allows us at the bar to test drinks for the next menu that we have rolling out."
An event that premiered too early
This foodie ticket may sound vaguely familiar for those who've closely watched Fountain Square grow and establish itself as a strong contender for Indy's top foodie neighborhood. The Culinary Cult Classics is a resurgence of an event that may have become too popular too quickly.
A year after opening Thunderbird in 2014, Gonzales and his staff started flirting with the idea of a "dinner and a movie" series.
"We did American Psycho and it was awesome. Great movie, lot of food references in it, lot of beverage references in it," says Gonzales. "Stylistically it was easy to put together and it's got a great following."
Over the course of six months, the team hustled to put Cult Classic events together -- creating new menus, new drinks, and decorating the whole place. As one might expect from a major production, it went overboard.
"It became very apparent very quickly that it was difficult to pull off on a monthly basis, and sometimes the movies were sometimes not the best choice," said Gonzales.
The Thunderbird crew took a break from producing until August 2016. Before the show could go on, Gonzales had one stipulation: If they were going to do Culinary Cult Classics again, they would do them 100%.
The show must go on
The team is now hosting the Culinary Cult Classics about every other month, working for them logistically, but also allowing for excitement to build around the next event.  Another classic Burton film, Edward Scissorhands, will screen on Dec. 18, followed by The Princess Bride on Valentine's Day, the black comedy Heathers in March, and possibly a film like Steel Magnolias for Mother's Day.
Although Thunderbird has a kitchen, Gonzales originally planned to join forces with another restaurant's chef. So far, Thunderbird has chosen to highlight the in-house chef as the bar recently announced that it is now also open for lunch. However, there are plans to work with other culinary experts -- locally and regionally.
"We'll likely work with Carlos at Rook for one of the events in February, and I've talked to [Pizzology Chef/Owner] Neil Brown about an event after that," Gonzales said. "I've got some guest bartenders coming into town from other cities -- one is Louisville  --  to collaborate for different movies."
The tickets are limited to Thunderbird's capacity (after furniture is rearranged to see the pull-down screen along the back of the bar) and run about $50 -- which includes dinner but not drinks or tip. But Culinary Cult Classics isn't just about watching movies, eating, and drinking among crazy décor— the event is about everyone working together.
"We want to seamlessly create that's dovetailing into the film that you're watching," he said. "I don't think that anyone is doing it anywhere, but it's fun and we're having a fun time doing it."
Sign up here for our daily Indianapolis email and be the first to get all the food/drink/fun in town.
Carson Quinn is always after finding the next quirky thing is this city she loves. Send her ideas, and follow her on Facebook and Twitter.