Where to Get the Best Biscuits & Gravy in Indy
Those fluffy biscuits. That sausage-loaded gravy. The warm feeling in your belly that cures all ailments. Biscuits & gravy are so comforting that you'll likely find a version of the dish in every diner in every small town across the state. But this Indiana breakfast classic is also on the menu at upscale cafes and restaurants, where chefs have upped the ante with locally raised meats, cheddary biscuits, and kicked-up gravy. From basic hangover cure to swanky Sunday brunch, these are the best versions of biscuits & gravy around Indy that we've found.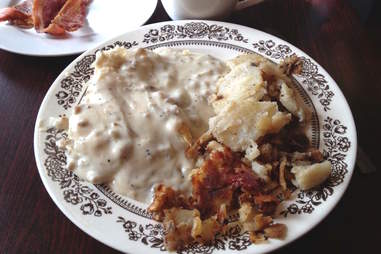 Jolene Ketzenberger/Thrillist
Lawrence
This is the plate you envision when you think of classic biscuits & gravy. Head over to Café Audrey and get yourself some fresh-baked biscuits and made-from-scratch sausage gravy (just like Mom used to make), all served with a side of fried potatoes and bacon. This place keeps the down-home feel going with friendly service, which is why it's so popular, and why you'll definitely be waiting for a seat on busy weekend mornings.
Pogue's Run
Love Handle may be small in size, but it serves up big flavor, and the community has taken notice. Run by chefs Chris and Ally Benedyk, this little 10th St diner has a lock on non-traditional B&G. The menu changes weekly, but expect the likes of tender biscuits covered with mushroom gravy and pork belly, then crowned with a jellied egg yolk.
Geno Musalek
Meridian-Kessler
SoBro (short for South Broad Ripple) is a funky café with a veg-friendly menu, global tastes, and a focus on farm-to-table eats that you can taste in its biscuits & gravy. The cafe sources its sausage for the traditional biscuits and gravy from an Indiana producer. The vegan B&G may sound like heresy, but if you can get past the unusual hue, the mushroom, veggie, and sage gravy is plenty tasty. Truth be told, it's almost as satisfying as the omnivore version.
Indianapolis City Market
The historic Indianapolis City Market is the home base for some top-notch local chefs, including Circle City Soups owner Roger Hawkins. Open all day, his stand does a brisk breakfast business, with such specialties as omelets and breakfast burritos, but his biscuits & gravy are a favorite. Hawkins spices up the traditional B&G with chorizo gravy and a cheddar biscuit, then serves 'em to-go style. Order up breakfast for lunch and take your biscuits & gravy to the market's upstairs dining area or the plaza outside.
Jolene Ketzenberger/Thrillist
Broad Ripple
The menu at this bright café with strong, tasty coffee is an appealing mashup of traditional breakfasts (pancakes, waffles, and, yes, biscuits & gravy, with the option of spicy or regular), diner-style lunches (sandwiches and salads), and Mexican favorites (burritos, quesadillas, and enchiladas). So if you'd rather have huevos rancheros, go ahead, but you'll be missing out on a solid plate of B&G. If you're feeling up to it, go with the spicy style.
Traders Point
This rustically elegant farm-to-fork restaurant at Traders Point Creamery is actually part of a working organic dairy farm. Grass-fed brown Swiss cows produce milk for the farm's award-winning yogurts and cheese, and the farm raises pastured chicken and pork as well -- all of which goes into the menu. That includes a delicious and hearty serving of biscuits & gravy with house-made sausage and rosemary biscuits, made with the farm's Fleur de la Terre cheese.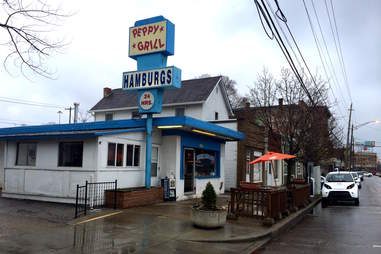 Jolene Ketzenberger/Thrillist
Fountain Square
It's not much to look at, but what Peppy lacks in finesse, it makes up for in consistency. Whether you're dining at 10am or curing drunk munchies at 2am, you can always count on a hot and filling plate of traditional biscuits & gravy to cure what ails you. While some local plates of B&G can top the $10 mark, at Peppy, you'll get change back from a five.
Meridian-Kessler
This cheery breakfast spot helmed by the owners of nearby Mama Carolla's Italian restaurant has gained a dedicated following since it opened in a renovated gas station, right off the Monon Trail. While the menu includes plenty of classics (including an especially good corned beef hash), the biscuits & gravy are worth talking about. Get a side of gravy and one biscuit, a regular serving with two biscuits, or the full boat: two eggs, fried potatoes, biscuits & gravy, and a side of meat. Then go home and have a nap.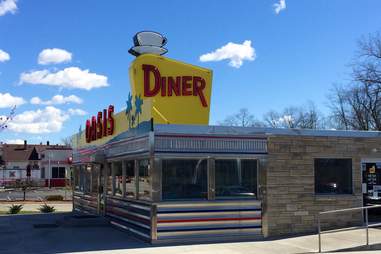 Jolene Ketzenberger/Thrillist
Plainfield
No, it's not in Indianapolis, but it is on US 40, so if you just drive west on Washington St, you'll find this classic diner restored to its aluminum-clad 1954 glory. It serves some excellent biscuits & gravy that are especially easy on the wallet -- two biscuits split and covered in well-seasoned gravy for just $3.50. Those biscuits, like all the breads and desserts at the Oasis, are made in-house.
Sign up here for our daily Indianapolis email and be the first to get all the food/drink/fun in town.