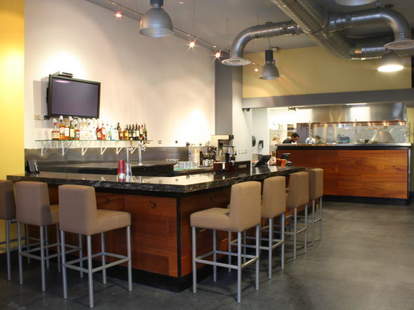 The dining options in Southeast are notoriously limited -- generally, it's pay $9 for a crappy sausage at the ballpark or $15 for a crappy pizza, and on top of that, you know Livan Hernandez is gonna want a bite. Finally giving you something more legit down and to the right: Justin's Cafe.
Opening tomorrow, Justin's is a cleanly-sparse, counter-ordering food n' drinkery serving "fast casual" grub from an open kitchen sided with dark cherry, all just a stone's throw from Nationals Park -- assuming anyone on the Nats is capable of actually throwing a stone. For pre-game pregaming, they've got a full liquor bar, eight wines by the glass/bottle, plus bottled suds like Duck Rabbit Milk Stout and Great Lakes Burning River, drafts that include Beer Republic's Racer 5 IPA and a Founders IPA called Red's Rye, plus cans like Dale's Pale Ale and Mama's Little Yella Pils, which would seem a whole lot more effective if not for that whole you-being-alive thing. Grubbing comes via a menu named after streets in Justin's hometown of Charleston, including sandwiches like the prosciutto/sliced figs/arugula/fontina "Cumberland" on ciabatta, and the grilled portobello/sweet onion/Parm "Ancrum" on 3-grain wheat, plus wood-ovened personal pizzas like the roasted eggplant/broccoli/goat cheese "Beaufain", and the grilled chicken/mushrooms/green peppers "Calhoun", which comes with a "ranch dressing base" so deliciously caloric, it'll lead you to the Final Floor.
If you insist on bringing girls to sporting events, they've also got pita-topped salads like the strawberries/baby field greens "Lilac", and the "Poinsette", with sliced granny smith apples and almonds that're toasted -- unlike Livan, who's probably even now getting torched.