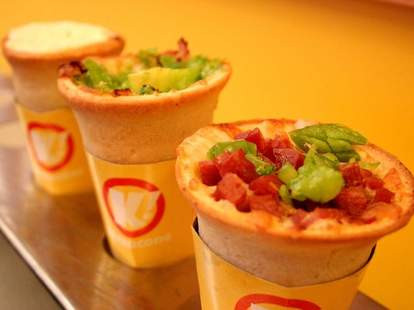 As one of the most popular foods in the world, it's no surprise that pizza's found its way into a variety of forms, like bagels, and rolls, and lifelong-complex-sparking high school insults. But you'll never guess what they've done with it at K! pizzacone, opening Monday.
A stupidly simple idea that took its sweet butt time to land in America's capital of 'za, K! does just what their name implies, stuffing fresh toppings into tasty dough and baking it all into a cone, like some sort of half-pizza/half-calzone hybrid you'd cleverly call a p'zone if Tommy Davidson wasn't standing right next to you...'cause he rents your futon. Build-yer-owns start with mozz & a choice of tomato or pesto sauce, then get filled with veggies ranging from standards like onions and green peppers to the uppity likes of spinach, jalapenos, and artichokes, plus meats including spicy salami, prosciutto, and even chili, which left hot dogs after it realized there was more to life than just having bun. Can't-be-bothered-with-picking-right-now pre-sets are also avail, like the self-explanatory Four Cheese, the 'shroom- & broccoli-slammed Vegetarian, the BBQ chicken-filled...BBQ Chicken, and even a scrambled egg and ham Breakfast Pizza, a name that does nothing to distinguish it from pizza pizza.
Dessert can't escape the cone-age either, with ice cream harboring, chocolate abetted doughy delights coming in two iterations: banana flambe, and mixed berries, a crippling high school nickname, but is it your fault they were different sized?