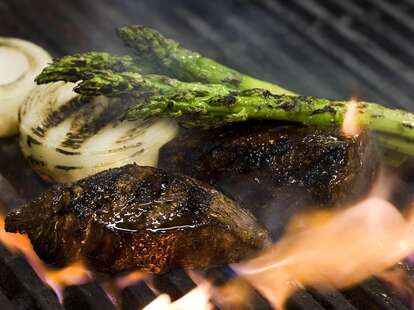 Echo & Rig
Echo & Rig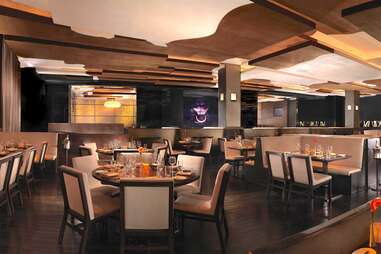 BRAND Steakhouse
On the Strip
It's easy to miss this Monte Carlo-based beef spot in your rush to the nearest slot machine, but don't spend all your cash trying to win the Megabucks, you'll need some of it (and a few friends) to take down their massive 120oz (yes, 120!) Ultimate Steak for Six.
Echo & Rig
Summerlin
Don't get thrown by the raw cuts of meat in the window at this new-ish spot in Tivoli Village. Those're from the in-house butcher shop downstairs, and are probably what you'll be eating on the second floor, where they've got Sin City's best selection of grass-fed steaks, and something even more rare than the stuff on your plate: an outdoor view.
Triple George Grill
Downtown
This Downtown mainstay definitely deserves your attention... and not just for the private booths that feel like studio apartments, but also 'cause it serves one of the most distinctive steaks in Vegas: a porcini-crusted ribeye made w/ a sweet-and-spicy mushroom rub. But seriously, did you see those booths?!
Sonoma Cellar
Henderson
Walking into this Sunset Station steakhouse feels like walking into a wine cellar, not least because everyone on the staff is required to take the Level 1 sommelier exam. It doesn't make 'em certified sommeliers, but it does mean they won't just say, "Um... something red?", when you ask what to drink with your sweet steak.
Strip House
On the Strip
The venerable (by Vegas's standards, anyway) steakery slings some of the most perfectly cooked cuts in Vegas -- tender, red centers and charred just the way you want 'em on the outside -- and if you need even more beef, they've got housemade jerky that'll make you feel like... waitforit!... a jerk for ever buying it at the gas station.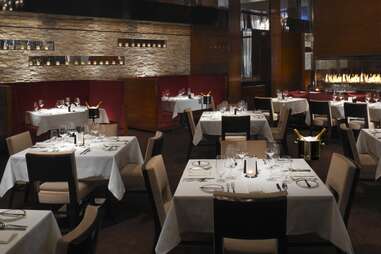 T-Bones Chophouse
Summerlin
This steakhouse inside the Red Rock resort is one of the few places off the Strip with dry-aged prime beef, and usually at least one grass-fed option on the menu, plus the table-side presentation of the Chateaubriand for two will totally impress your date… and maybe make her leave with the chef.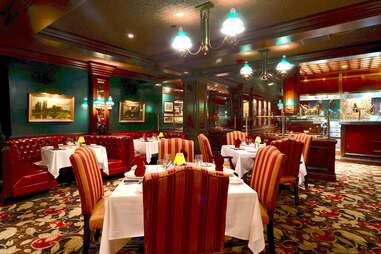 The Steakhouse
On the Strip
Circus Circus is old, worn down, and full of tourists who think a casino with a clown theme is the perfect place to bring their kids on vacation. Ignore all that, and head straight to this gem in the middle of it all with steaks dry-aged for more than 20 days and an old Vegas-vibe that will make you forget about the circus outside the front door.
35 Steaks + Martinis
Off the Strip
For years, the Hard Rock's been synonymous with wild pool parties, big concerts at The Joint, and your last chance to hit on girls with impaired judgement in the lobby before calling it a night. But, just steps away from the Pink Taco (?!), it's also got the perfect place to order up a 35-day-aged, 35oz bone-in Tomahawk steak that may have something to do with how the restaurant got its name.
Oscar's Steakhouse
Downtown
You walk past it all the time, you saw Robert De Niro and Sharon Stone argue inside it in Casino, and its distinctive dome-shaped dining room has the perfect view of Fremont St. But have you actually gone inside and eaten there? Sometimes the best things -- including ones that boast having "beef, booze, and broads"... yes, broads... who work the room and check on you throughout dinner -- are right under your nose.
Morels French Steakhouse & Bistro
On the Strip
No "freedom fries" here. In addition to a classic selection of dry-aged and wet-aged steaks… there's also an iced seafood bar as well as a cheese and charcuterie bar with more than 60 farmhouse artisanal cheeses, handmade salamis, and meats. Perfect for those who want protein with a side of protein while enjoying a view of the Strip from the Palazzo.