For his most recent Vegas joint, Gordon Ramsay is making burgers with a capital B... and weirdly, a capital G, and a capital R... in a hyper-modern, industrial-chic dining area with steel and concrete floors and a giant open kitchen specifically built so that you can berate the staff like Gordon does. Or watch them make your burgers or something

They're all cooked over a hardwood flame, including this Hell's Kitchen BurGR topped with Mexican asadero cheese, roasted jalapenos, avocado, and oven-roasted tomato, and served with fries made from Kennebec potatoes for a lighter, crispier taste

In lieu of weird British crap like jellied eels and tea and whatnot, The Britannia adds English sharp cheddar, arugula, and mango chutney

The Uber Cheese BurGR, with a trifecta of Fontina, Raclette, and goat

The Devil Dawg is in the details, which include jalapenos, avocado, chipotle ketchup, Fresno peppers, and onions

Wings offer up heat levels like wasabi and "hellfire", and come topped with little carrot shavings to make your stay in Vegas a healthy one

And then there're the Pudding Shakes, hand-spun milkshakes topped with creamy pudding that you'll have to agree are capital -- just capital!
Recommended Video
It's Worth Getting Sloppy For This Grilled Cheese Taco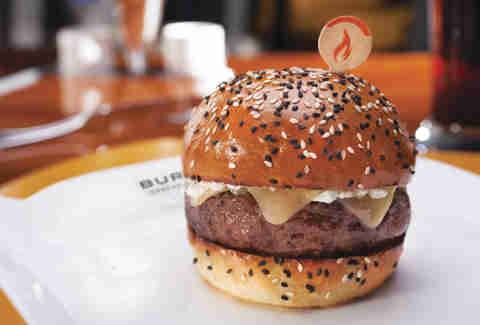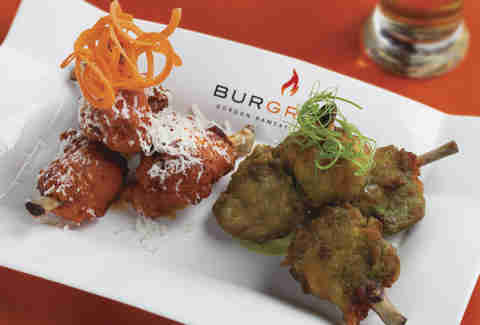 Previous Venue
Next Venue
Venue Description
1. Gordon Ramsay BurGR
3667 Las Vegas Blvd S, Las Vegas, NV 89101
Gordon Ramsay's eponymous burger eatery is a hyper-modern, brightly outfitted 200 seater located in the Planet Hollywood Resort & Casino. The menu here treats you to a roundup of classic and gourmet burger combinations, bar sides like jalapeno poppers and onion rings that get the upscale treatment under Ramsay's tutelage, and pudding-filled milkshakes that allow for an indulgent dessert experience. And for Ramsay fans, the giant open kitchen visible from the dining room offers the possible chance to catch his infamous TV antics in real time.