Following his successful Vegas emergence at Paris Las Vegas, Gordon Ramsay's now trying his hand at Caesars Palace with a Brit pub & grill creatively named... Gordon Ramsay Pub & Grill. Officially the first time you'll ever tell your buddy to "check out the Classifieds", hostesses are decked out in skintight newspaper shirts. They'll show you to any of 290 seats ambianced by a giant wall of kegs and flat-screens set inside those fancy, fire-engine-red English phone booths. Dishes that comes with French Fry Lincoln Logs include the above Yorkshire Ale Batter Fish & Chips, which'll pair nicely with Scotch cocktails and/or (don't choose "or") 36 tap beers including a SIXTY DOLLAR 2oz pour of Sam Adams Utopias, plus 24 fridge beers like Cockeyed Cooper Barley Wine and Widget cans of Hen's Tooth. There's also this mustard-basted Hanger Steak with Stilton cheese, a 32oz Big Rib Eye, and a Sauteed Scottish Salmon, which you totally would've kilt for, but will instead just order. Politely.
Recommended Video
Potato Skin-Breaded Queso Balls Will Make All Other Apps Obsolete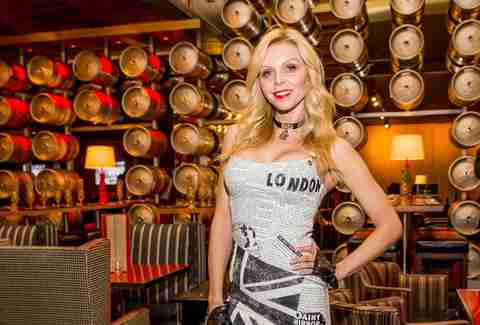 Previous Venue
Next Venue
Venue Description
1. Gordon Ramsay Pub & Grill
3570 Las Vegas Blvd S, Las Vegas, NV 89109
From the profanity-loving TV chef himself comes the appropriately named Gordon Ramsay Pub & Grill, housed in Caesars Palace. The 290-seater resembles an English pub experience, including eats like Scottish salmon and Cornish hens, drinks like 36 taps and 60+ bottled beers, and entertainment like soccer. Or football.