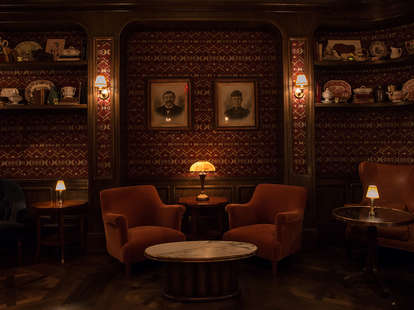 If the leather-covered entryway to Bavette's, set somewhat discreetly off the casino floor of the newly-remodeled and reminted Park MGM, doesn't immediately indicate to you that this is not just another steakhouse, you'll quickly come to realize this the moment you step inside. The lushly-appointed -- dare we say, sexy? -- lobby lounge welcomes you with walls fully lined with vintage art, sumptuous seating in the form of velvet wingback chairs, and illumination from softly (very softly) lit Tiffany lamps and chandeliers.
And that's just the lobby.
Bavette's (which first opened in Chicago in 2012) is a pure, unabashed throwback to the high-end steakhouses of yesteryear, with a healthy splash of today's worldly refinement. The gorgeous space is rich with exquisite detail: red velvet semicircular booths and banquettes, a glossy wood bar and dining tables, splashes of white marble and black leather, and Art Deco-style mirrors that make the already massive 10,000-square-foot space appear even larger. Lively jazz plays on the speakers at a comfortable volume, and the interior space is dark enough that your eyes need time to adjust from the bright lights and noise of the casino floor. Murals by renowned artist David Plunkert line the walls of the dining room, recalling the 20th century European avant-garde movement.
"The design of Bavette's evokes a golden era with glamorous lighting, plush seating, and a feeling of wonder as if you are the center of the show," Brendan Sodikoff, the owner of Bavette's, told us. "There's a long history of steakhouses in the United States and the word conjures a very specific kind of place with a very specific vibe. We wanted to have a little fun with that, and imagine what a steakhouse would be if a classic American steakhouse had somehow appeared in Belle Epoque France."
What is immediately obvious upon entering Bavette's is that it's something wholly unique in a dining climate currently dominated by fine dining restaurants masquerading as fast-casual joints -- those with reclaimed wood furniture, wait staff wearing jeans and ratty band tees, and mason jars as the fixture of choice. If those trendy restaurants are a product of their time and place, Bavette's is, in many ways, timeless.
As a throwback to the classic steakhouse, you'll find many such staples on the menu, but they include a little bit of a nudge and a wink, like the "Baked Goat Cheese (Circa 1992)" -- seriously, that's its full name. For appetizers, items include the traditional steak tartare and the beloved all-American baked crab cake, while the peppered duck and goat cheese terrine is a unique dish very much worth trying. There are oysters from both the East and West Coasts and a "Chilled Seafood Plateaux" in five variations, each a colorful work of art. Salads include more steakhouse staples -- like the wedge -- as well as their unique twist on a Caesar salad, which contains neither anchovies nor croutons (instead using smoked salmon and thinly-shaved potato crisps).
The selection of USDA Prime beef cuts ranges from a 6-ounce petite filet to the 22-ounce, 42-day dry-aged bone-in ribeye. If you want that robust, umami flavor beef can only get through dry aging in a smaller portion, there's a 16-ounce bone-in New York Strip; other options include the classic "Chicago Cut" 16-ounce ribeye. The steaks are all prepared the same way: brushed with salted butter and cooked under an exceptionally hot broiler, giving each steak an exterior crust that concentrates the beef's exquisite flavors while the internal temperature is served to your liking. It's a simple yet elegant preparation that can be further enhanced with add-ons like maître d' butter (made with parsley and lemon juice), Roquefort cheese, or roasted bone marrow.
Alternatively, there is also a double-bone Berkshire pork chop, lamb chops, a spiced fried chicken that may be some of the best you've eaten in your life, and even a burger because, as Sodikoff said of the menu, "We wanted it to be stylish and yet approachable, to have burgers alongside classic dry-aged beef." And don't skip the truffle mac & cheese -- it may be considered "basic" by today's dining standards, but you won't hear anyone complaining while eating it.
The whole experience is rounded out by a well-curated international wine list, strong cocktails rooted in the classics (including four types of Old Fashioneds, and six kinds of martinis), and a robust selection of whiskey, bourbon, and Scotch.
But the phenomenal food is only half of the experience at Bavette's. "The other half is a devotion to going above and beyond with service, into delivering unreasonable hospitality," according to Sodikoff. "All of our servers and bartenders have the freedom to do whatever it takes to create a memorable experience for our guests." That emphasis is obvious with each person you interact with, from hosts to bussers. Service is friendly without being overly relaxed, attentive but not overbearing, striking that rare note between the chatty casualness of places where servers are trained to explain how shared appetizers work and the off-putting fussiness of ultra-fine dining.
So set aside any preconceived notions of what a steakhouse -- or even fine dining in general -- is or should be. Bavette's is a singular experience, steakhouse or otherwise, where the performance is as important as the food. And in Vegas, where dining, like everything else, is theater, that makes for one choice show.