What's the one thing you need most after spending a wild weekend at Vegas's best nightclubs, checking out the best pool parties, and maybe enjoying a lap dance or two? Aspirin, presumably. But you could probably also use a great booze-filled brunch, so we picked the 10 best brunch destinations in Vegas, based on highly scientific criteria such as "Do they serve Cap'n Crunch Crusted French Toast?" or "Are there bottomless Bloody Marys?". Feast your eyes...
Overlook Grill
On the Strip
You've got a view of the Las Vegas Strip and, more importantly, girls in bikinis by the pool during their "Bubbles and Brunch" at the Cosmopolitan. The Blue Claw Crab Cakes Benedict is better than any other Benedict (suck it, Cumberbatch!), and as the name suggests, there's plenty of bottomless Champagne, but you should probably start with the Bloody Mary since it comes with shrimp, crispy bacon, blue cheese olives, and more.
The MTO Café
Downtown
They've got a reputation for creative breakfast and lunch eats; this popular spot should nail brunch no problem, right? Right. At least if their Spam Madame -- which may be the best thing you've ever had featuring canned meat -- is anything to go by.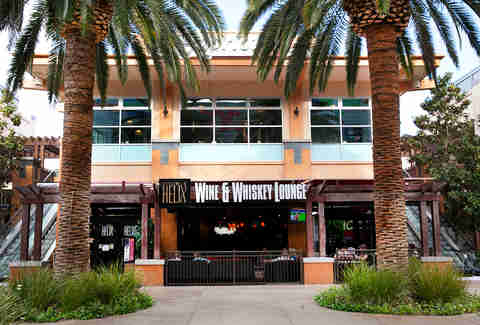 Double Helix Wine & Whiskey Lounge
Off the Strip
The Town Square lounge is known for its selection of cigars, wine, and whiskey but it also has an awesome "Liquid Brunch" featuring "almost bottomless" Bloody Marys and mimosas… which means you get as much as you want -- as long as you don't start acting up.
BLT Steak
On the Strip
The famous "Sterling Brunch" has returned to Bally's BLT Steak with a more high-end, sophisticated set of offerings, including fine caviar, lobster tails, fresh-shucked oysters, Alaskan king crab legs, and never-ending glasses of Perrier-Jouët Champagne.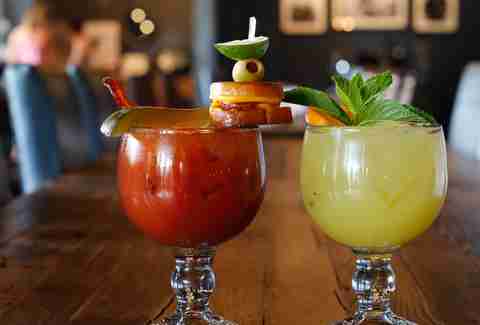 Culinary Dropout
Off the Strip
This edgy gastro inside the Hard Rock draws huge crowds with unconventional weekend eats like their Cap'n Crunch Crusted French Toast battered in cereal milk custard, which you should probably pair with one of two new brunch cocktails: The Queen Lady Hot Mess and Captain King Bloody Mary, both of which promise to cure your hangover... or get you started on the next one early.
Honey Salt
Summerlin
Honey Salt is one of the best spots in the West Valley for any meal, thanks to their emphasis on clean food and farm-to-table ingredients, and that's why the Breakfast Pizza is a much better move come morning than that cold leftover slice sitting in your fridge.
Buddy V's Ristorante
On the Strip
This Italian-style brunch is one of the best buffets in Las Vegas, and boasts a variety of eats stations scattered throughout the restaurant, though the meat and cheese options, including fresh-cut bacon, are probably enough to fill whatever space last night's alcohol has left in your stomach.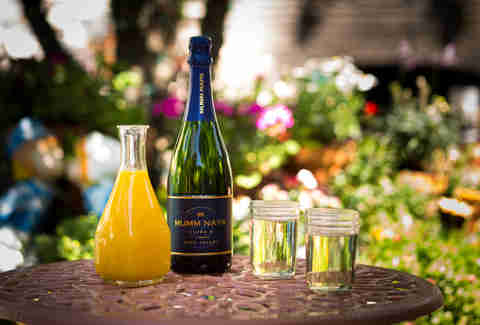 Park on Fremont
Downtown
Need an extra day? Park on Fremont starts serving brunch on Friday, so you can grab an outdoor seat with a view of Fremont East and order up the egg white omelet with a Skyy White Peach Sangria to wash it down before the start of your wild weekend. Or kick things off with the"Patio Pounder" -- a bottle of Mumm Napa and a carafe of OJ for $20 that's like having bottle service for breakfast.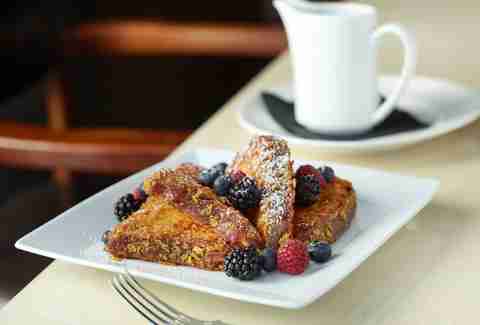 Simon
Off the Strip
Why bother getting dressed after you wake up? Chef Kerry Simon's "Sunday PJ Brunch" at his namesake restaurant inside the Palms boasts an all-you-can-eat menu of comfort foods that include corn flake-crusted French toast, fresh omelets & wood-fired pizzas; a Bloody Mary bar, and a decidedly casual atmosphere. Though you probably shouldn't actually show up in your jammies.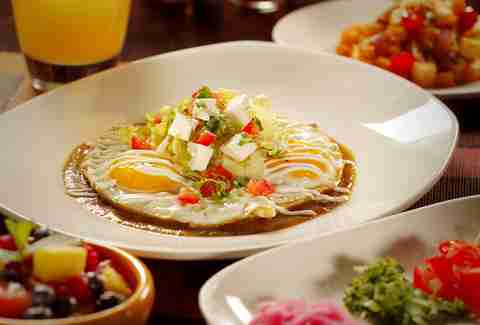 Tacos & Tequila
On the Strip
For some truly South-of-the-border breakfast, you've got to hit the Egyptian-inspired (?!) Luxor for T&T's Mariachi Brunch, where they've got two-for-one margaritas to go with classic dishes like breakfast burritos and Huevos Rancheros.