You already know about the best steakhouses, brunches, and even more steakhouses in Las Vegas. But do you know about the best restaurants in Las Vegas' Chinatown? Did you even know Vegas had a Chinatown? Well, now you do, thanks to our list of the 12 best eateries on what, until now, you've probably been calling that stretch of Spring Mountain Rd between the Strip and Rainbow Blvd.
The focus is less on sushi and more on creative yet traditional Japanese tapas. There are roughly 300 dishes available -- with about half on the menu and the rest posted on the wall. The honey toast with ice cream could be the best dessert in Chinatown and offers a sweet contrast to the grilled squid or mouthwatering meatball and chicken skewers.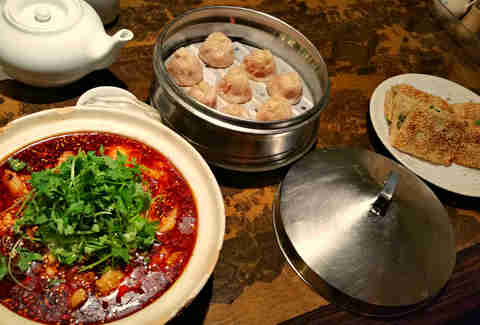 The dumplings are the big draw here and a great excuse to order juicy (pork) buns. Because who wouldn't want to say that out loud? However, the sliced fish in hot chili sauce could leave the biggest impression, thanks to a spicy hot kick that'll force you to swill about a gallon of their green tea.
This brand-new spot for Asian fusion has contemporary American décor and a sound system that plays bands like the Goo Goo Dolls and Linkin Park while you chow down on yellowtail sashimi fish tacos and other dishes that draw their inspiration from Japan, Thailand, and Hong Kong. The late-night hours are beginning to draw a crowd looking for something better than fast food while on their way home from the club.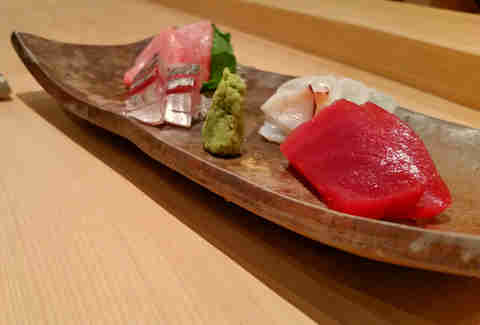 This is an intimate sushi house that's hard to spot and thrives on a word-of-mouth reputation. The menu isn't for the masses, it's for people who appreciate the traditional art of munching on raw fish. Here's what you will get: sashimi and nigiri sushi. Here's what you won't get: maki sushi or hako sushi. That means no fancy rolls or stuff that comes in a box.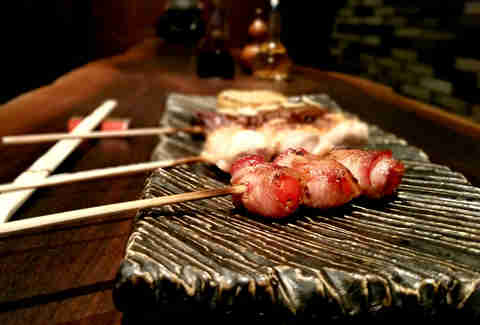 Choose your fresh fish and have parts of it grilled, fried, or prepared as sashimi… or go with a selection of small bites from the charcoal grill. Even the condiments are good, thanks to ones like a Japanese plum soy sauce and a green tea/seaweed/shiitake/sea salt combo, all of which are created in-house.
You wouldn't know it from the outside, but this small and unassuming restaurant is a popular destination for hipsters and industry professionals who crave a strong glass of vino to go along with their Thai-inspired small plates. The wine list is highly regarded and has a focus on affordability, so if you're thinking about getting a bottle... go ahead and get two.
This tiny noodle house is cozy, busy, and responsible for what is possibly the most authentic ramen in Las Vegas. It takes 12 hours each day to make the pork broth, and it's worth every minute. Just sign your name on the clipboard by the entrance and hang out on the sidewalk before you're called to be seated. You'll never go back to that microwave stuff again.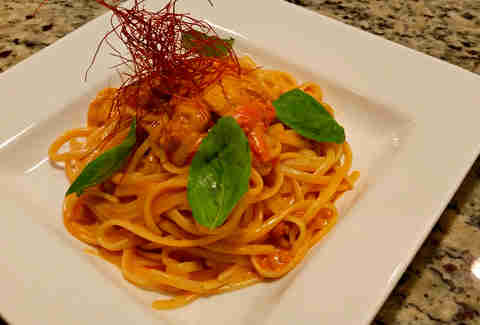 The name might not roll off your tongue, but this restaurant pushes the boundaries of fusion by blending the Japanese and Italian foods on its menu. If you're not sure where to begin, take a look at the "Big Ten" list on the wall for the most popular dishes -- including a sea urchin linguini with tomato cream sauce or spaghetti with squid ink.  
This no-frills restaurant is known for a bare-bones dining room and popular dishes that include the bestselling sautéed spiced lamb. Most of the stuff comes Szechuan style, which basically means they're hot. Spicy hot. Your mouth has been warned.
It may be in a strip mall next to a Big Lots, but don't hold that against this Korean barbecue. At the center of each table is a grill that's based on a traditional method of cooking meat on top of a rice pot lid. Around that grill? Either one of their all-you-can-eat deals, or if you're more adventurous, an order of intestines you can grill. Yes, intestines.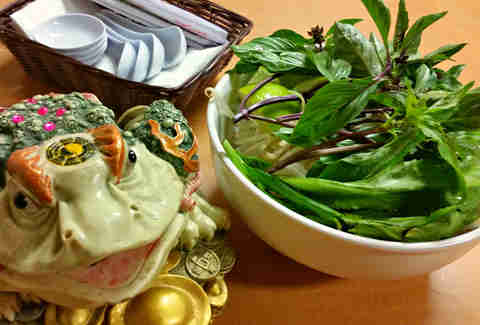 The menu focuses on pho, and for those not familiar with this Vietnamese soup, it's not pronounced "foo" but "fuh"... like the first syllable of your favorite swear word. It's one of the closest Chinatown restaurants to the Strip and is a popular destination for those who can't get enough of the spicy beef noodles and other dishes.  
The Cantonese cuisine is inspired by Hong Kong but comes with an American-style focus on customer service. Popular dishes include soup with wontons, which are wrapped by hand every day, beef with a pepper sauce that's sizzled right in front of you, and a Peking duck that's carved right at your table.
Sign up here for our daily Vegas email and be the first to get all the food/drink/fun in town.