What with new ones opening all the time, and their constantly changing lineup of restaurants -- not to mention distractions like slot machines and topless pools -- something as simple as deciding what to eat can be a challenge at Vegas' biggest resorts. That's where we come in: check out our list of the single best thing to eat at (almost) every single Sin City hotel...
Aria: Foie Gras Custard Brûlée
Sage (address and info)
It may sound like a dessert, but the Foie Gras Custard Brûlée is one of the best ways to start your meal off right at Sage. It comes with apricot chutney, toasted cocoa nibs, and salted brioche.

Bally's: Tuna tartare
BLT Steak (address and info)
BLT Steak is known for its… well, steak. But's it also has Vegas' best version of a common appetizer staple: the tuna tartare
Bellagio: Lobster pot pie
Michael Mina (address and info)
Hey look, lobster pot pie! But why use just chunks of lobster when you can go with almost the entire thing?

Caesars Palace: Artichoke and black truffle soup
Restaurant Guy Savoy (address and info)
Guy Savoy's only American restaurant is in Caesars Palace. Stop by for the French cuisine and start things off right with the chef's famous artichoke and black truffle soup.

Circus Circus: New York strip steak
The Steakhouse (address and info)
Let's cut to the chase. Circus Circus isn't everyone's cup of tea. But if you are going to have a cup of tea... have it alongside a New York strip steak at The Steakhouse -- a place that's overlooked, under-appreciated, and among the best steak joints in Vegas.
The Cosmopolitan: The Snake River Farms Rib Cap
Scarpetta (address and info)
The Steak River Farms Ribcap at Scarpetta is one of the most beautiful hunks of meat that you'll ever see -- or taste. It's grilled and then sautéed with mushrooms, then finished with a red wine reduction. It's not always available, but don't worry, you really can't go wrong with anything on the menu here.

The Cromwell: Bacon-wrapped dates
Giada (address and info)
The bacon-wrapped dates are the perfect way to start your meal at Giada (the first restaurant by Giada De Laurentiis), which just happens to have a perfect view of the busiest intersection in Las Vegas.

The D: Grande Meatball
Andiamo Steakhouse (address and info)
Joe Vicari's Andiamo Italian Steakhouse shows that bigger is usually better, not only with their steaks, but also with the Grande Meatball -- a massive portion doused in homemade marinara sauce and topped with fresh ricotta cheese.
Downtown Grand: Perfect Braised Short Ribs
Stewart + Ogden (address and info)
Stewart + Ogden has an eclectic menu, with breakfast served around the clock, and a wide selection of Chinese food. But the Perfect Braised Short Ribs live up to their name and could be the best thing to eat Downtown.

Golden Nugget: Chilean sea bass
Chart House (address and info)
The 75,000 gallon tropical fish aquarium is almost as impressive as the seared Chilean sea bass, which comes with lobster and jumbo lump crab, as well as artichoke and tomato orzo.

Green Valley Ranch: Cajun-style crab legs
Feast Buffet (address and info)
People are known to wait in line for up to 30 minutes at the Feast Buffet for the Cajun-style crab legs -- prepared personally by Mama Sarah.
Hard Rock: Tomahawk steak
35 Steaks + Martinis (address and info)
Bring a friend to 35 Steaks + Martinis. Together, you can finish off the 35oz Tomahawk steak.

Luxor: Wild game tasting plate
Tender (address and info)
Tender has a wild game tasting plate featuring selections from the Broken Arrow Ranch in Texas. It's likely the only place where you'll find antelope, venison, and wild boar all on one plate.

Mandalay Bay: American vs. Australian Wagyu plate
STRIPSTEAK (address and info)
Michael Mina has created an all-beef battle royale at STRIPSTEAK with an American vs. Australian wagyu plate.

Mandarin Oriental: Cheese plate
Twist (address and info)
Twist by Pierre Gagnaire offers a... waitforit!... twist on the usual cheese plate by offering Gorgonzola with pear ice cream.
MGM Grand: La Caille
L'Atelier de Joël Robuchon (address and info)
Joël Robuchon has two restaurants side by side. Choose the door on the left for the more casual (and affordable) L'Atelier de Joël Robuchon and order La Caille. Translation: foie gras stuffed free-range quail with mashed potatoes.

The Mirage: Chicken parmesan
Portofino (address and info)
Portofino might be the best kept secret on the Strip. It uses authentic ingredients straight from Italy and puts a spin on traditional dishes like chicken parmesan, which is made with organic chicken breast and stuffed with house-made sausage.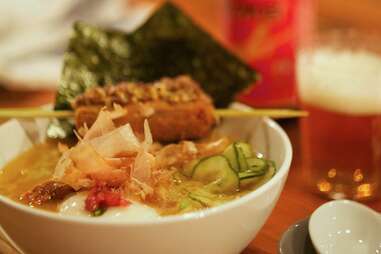 Monte Carlo: Logan Poser Ramen
Yusho Japanese Grill & Noodle House (address and info)
You can find the best ramen in Las Vegas in Chinatown (yes, there is one, sort of), or at Yusho Japanese Grill & Noodle House. The Logan Poser Ramen is a response to critics of nontraditional Japanese cuisine, and features a hearty broth of hen egg, nori, cucumbers, and noodles.

Palazzo: Candied bacon
Table 10 (address and info)
The Candied bacon at Table 10 is an appetizer large enough to share, and is made with North Country Farm bacon & handcrafted maple syrup known as Noble Tonic #1.

The Palms: Spaghetti
NOVE Italiano (address and info)
NOVE doesn't serve just any old spaghetti, they load it down with lobster, shrimp, crab, scallops, calamari, and basil.
Paris Las Vegas: Beef Wellington
Gordon Ramsay Steak (address and info)
Gordon Ramsay Steak is the only place to go for the celebrity chef's ultimate signature dish -- a Beef Wellington that is famous for melting in your mouth.

Planet Hollywood: The Hog Burger
Gordon Ramsay BurGR (address and info)
The Brit makes the list twice! The Hog Burger at Gordon Ramsay BurGR is the only dish in Las Vegas made with Mangalitsa pork -- a unique tender meat with a concentrated flavor made from specially raised pigs.

Red Rock: Mango guacamole
Mercadito (address and info)
One of the reasons Mercadito is one of the best new restaurants in Las Vegas is the freshly prepared mango guacamole with jícama, chipotle, and pico de gallo.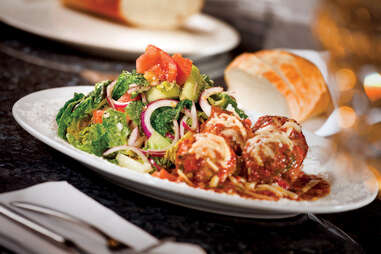 Rio: Meatball Salad
Martorano's (address and info)
Great views and family-style portions are what you'll find at Martorano's, along with something truly unexpected: a salad that's actually worth eating... mainly 'cause it's mostly meat.

SLS Las Vegas: Pancakes
The Griddle Cafe (address and info)
Need a carb fix after working up a sweat at the new LiFE nightclub? The Griddle Cafe is open 24 hours and serves enormous stacks of pancakes to help fill your glycogen stores. Go with Banananana -- the ones made with brown sugar-baked bananas.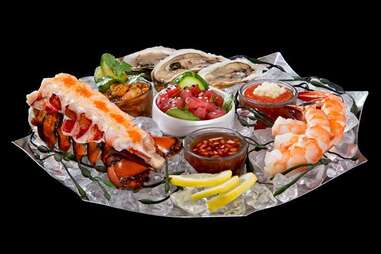 Stratosphere: Mosaic of Chilled Seafood
Top of the World (address and info)
You get more than a sky-high view when dining at the Top of the World restaurant. You also get a chance to dive into the Mosaic of Chilled Seafood, a shareable platter with Gulf prawns, Alaskan king crab, ahi tuna poke, and salmon poke with seaweed salad.

Treasure Island: BBQ pulled pork sandwich
Gilley's (address and info)
The BBQ pulled pork sandwich at Gilley's contains slow-cooked pork, mixed with a smoked onion sauce and topped with coleslaw. It'll give you all the energy you need to dance with the cowgirls.

Vdara: Lobster Tempura Benedict
Market Café Vdara (address and info)
The Market Café Vdara serves up an amazing Lobster Tempura Benedict that is so good it would give any Las Vegas hangover breakfast a run for its money.
The Venetian: Poutine
Public House (address and info)
Sometimes it's just more fun to skip the fancy fine dining stuff, so get the poutine, which is a plate full of French fries, duck confit, cheese curd, and stout gravy.

The Wynn: Mushroom grits
La Cave (address and info)
Want to order Southern grub and feel like a food snob at the same time? Go with the mushroom grits at La Cave, they're the tastiest spin you'll find on a Southern staple.
Sign up here for our daily Vegas email and be the first to get all the food/drink/fun in town.