Vegas might not show up on this list of the best ice cream shops in America, but we've got local joints scooping flavors and textures those places have never dreamed of (and for half the price). Look, it's HOT here in the summer -- you think we don't know our ice cream? Prepare to be schooled. These are some of the best ice cream, shaved ice, custard, gelato, and other frozen treat spots in Vegas. These shops are all locally owned and independent, so if you clicked on this looking for "that one place with the crazy shakes" you saw on Instagram -- it's called Black Tap, and it's on the Strip inside the Venetian. Right, moving on...
Recommended Video
This 10-Pound Stuffed Pizza Is a Crust-Lover's Dream
Downtown Las Vegas
Retro custard stand with out-of-the-box flavors
This place is classic Vegas... and classic walk-up custard stand. Located spitting distance from the Strip in the shadow of the Strat in downtown Las Vegas, Luv-it has been around since 1973 -- that's historic in Vegas years -- and serves a daily, fresh batch of two unique flavors, in addition to the staple vanilla and chocolate. Check their flavor calendar online for exciting flavors like Sin-a-Buns or Champagne Cherry. Know before you go: This place is cash only.
Various locations
A local chain of colorful and creative ice cream sandwiches
The fresh-baked cookies are equally the stars of the show at Sweet Addiction, which pairs them with more than two dozen different flavors from cult favorite Thrifty ice cream in made-to-order ice cream cookie sandwiches. Chocolate malted crunch ice cream with MochaCafe cookies? Cookie dough ice cream with classic chocolate chip? Circus animal cookie ice cream with M&M cookies? The only limit is your imagination. But, if you're lacking in that department, order one of their highly Instagrammable sundaes, like the pink and purple Take Me to the Circus with cotton candy and animal cracker ice creams.  
Chinatown
Have-it-your-way shaved ice cream sundaes with bold topping choices
Formerly known as Snowflake Shavery, Milkywave serves fluffy, delicate shaved ice cream (which is shaved from a frozen ice block) in house-made flavors like mango, taro, green tea, cookie butter, and black sesame. Choose from unique toppings like lychee jelly or passion fruit popping boba -- in addition to the more typical candy, chocolate, cereal, and nut options. Top it all off with some whipped cream or caramel sauce,  or avoid decision fatigue by ordering one of the shop's premade combos -- like the Black Sesame Sensation which is topped with mochi and condensed milk drizzle, adorably called "snowflake sauce."
Various locations
Beautifully presented rolled ice cream with fresh ingredients
Rolled Ice Cream is not the only shop in town to capitalize on the rolled trend, but it is the only one with the namesake. Rolled ice cream is made by pouring liquid ice cream base onto a frozen pan with selected flavors and mixers, and then it is chopped and rolled from into tightly wound ribbons that are then packed into a cup and finished with a variety of toppings. It's similar to Cold Stone Creamery's Mix-ins, though a hell of a lot more artful. Try one of the house creations like The Elvis with Nutter Butter and banana, or get creative and make your own.
Rhodes Ranch
You can be saintly or sinful at this stripmall spot
Nourish Creamery & Juice Bar is indeed both of those things, serving a variety of inventive house-made artisan ice creams (including a large and unique selection of vegan flavors), as well as fresh juices, smoothies, and blended frozen fruit and granola bowls. This shop's ice cream flavors change constantly and can  include options like Samoa Girl Scout cookie, passion fruit cheesecake, and vegan black sesame, all available on homemade waffle cones. Follow them on Instagram for the latest.
Rhodes Ranch
Home of the cotton candy rainbow ice cream burrito
If you don't know what the words "Asian ice cream desserts" mean, get a crash-course education at Creamberry, where they make all of them. The spot ha  22 ice cream and sorbet flavors and another 20 toppings to mix them with. The kicker is that you can order them in all kinds of crazy shapes: rolled ice cream, rolled "tacos" (rolled ice cream in a waffle taco), bubble waffles, bear waffles (shaped like a cartoon teddy bear's head), halo halo, shaved ice, snow ice, and honey toast sundaes, among other things. And by "other things," we mean the cotton candy rainbow ice cream burrito, which is, obviously, a dessert that exists specifically for Instagram.
Rhodes Ranch
Authentic gelato shop where classic and inventive flavors are made from scratch
All of the gelato and sorbet at Gelatology is made from scratch without using any preservatives, artificial flavors, coloring, stabilizers, chemicals, eggs, cornstarch, or syrups. Enjoy classics like Swiss chocolate, hazelnut, and pistachio, as well as more modern flavors like French lavender, tiramisu, matcha, and fior di latte. Fresh fruit sorbet flavors include mango, lemongrass coconut water, peach basil, and passion fruit. Inevitably people who have been to Italy one time 20 years ago will (loudly) proclaim "it's not as good" but we think it's pretty damn close.
Silverado Ranch
Super creamy and thick custard in a 1950s-themed shop
Nielsen's Frozen Custard is a blast from the past -- back to the days of soda shops and sock hops. Think vintage tin Coca-Cola signs and black, red, and white checkered packaging. Nielsen's custard is made fresh in-store every few hours, always with a unique "flavor of the day" (check Facebook) in addition to chocolate and vanilla. You can order a custard cone or a pint to go, but their specialty is the Concrete, a "very thick shake you eat with a spoon" (think DQ Blizzard, only way thicker) with any number of candy, chocolate, fruit, brownie, or nut combinations.
Spring Valley
First shop in Vegas to experiment with liquid nitrogen desserts
Another hot trend in ice cream is hand-crafted, made-to-order liquid nitrogen ice cream. Is it kind of gimmicky? Yes. Is it still cool despite that? Another yes. Sweetspot's lengthy flavor list includes taro, Vietnamese coffee, Nutella, blue cookie dough, matcha, lavender Earl Grey, and fruity pebbles and you can order your ice cream in a sweet cone or a bubble waffle, which is made with puffy Hong Kong style egg waffles and come in plain, berry, or PB&J flavors. You can also order a house specialty ice cream creation, like the Unicorn & Rainbow with strawberries and Fruity Pebbles. Plus, it's fun to exhale the vapor after every bite.
Rhodes Ranch
Features popular Filipino flavors of ice cream, boba, and soft serve
If you thought there were some crazy flavors listed under a few of the places above, you know nothing Jon Snow. Filipino ice cream shop Asia Creamery makes all its own flavors, like avocado, buko pandan (a popular Filipino dessert), jackfruit, creamy queso, and ube macapuno -- or purple yam and coconut preserves. America, take note: ube -- a highly Instagrammable purple yam popular in Filipino desserts -- will be the hottest national food trend as soon as New Yorkers realize it exists. They also have an ube flavor on soft serve.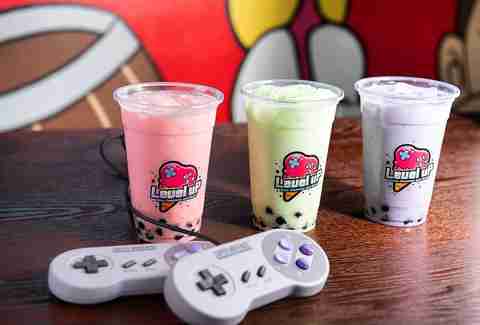 Southeast
Rolled and nitro ice cream combined with a video game lounge
Level Up is a video game lounge with boba tea, rolled ice cream, and nitro ice cream. This is basically a fandom bar that serves ice cream and boba instead of alcohol. Plus, the video game theme is carried through via character murals and themed tournaments. It is basically every gamer teen's (and, honestly, adults') dream. Homemade ice cream base options are the "house" flavor, chocolate, matcha, and taro, and specialty ice cream creations include the Pika Pika, Atari-O, and Red Shell. In true Las Vegas style, you'd be hard-pressed to find a place like this anywhere else in the country.
Various locations
Impeccably soft shaved ice good enough for Hollywood execs
"Fluff ice" is basically traditional shaved ice done in a nontraditional way through a proprietary eight-hour process. The resulting texture is described as frozen cotton candy." This place has a cult following in Los Angeles, where they are regularly asked to cater events for clients like Sony Studios and Warner Bros. Flavors include Thai tea, green tea, taro, mango, honeydew, and coconut. You can either build your own creation or order one of the signature combinations, like the very gram-worthy Peach Me with egg pudding and lychee jelly.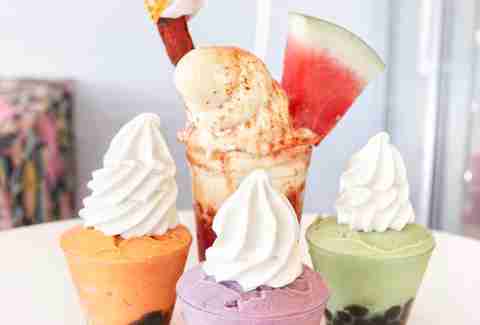 Spring Valley
A one-stop-shop for custard, gelato, and Italian ice that brings out our inner-kid
CJ's serves homemade soft serve custard, gelato, and Italian ice. Flavors change constantly, but expect some nostalgic ones like cotton candy gelato, Cinnamon Toast Crunch custard, and Sour Patch Kid ice. The shop also offers a variety of waffle cones dipped in chocolate and coated in cereals, candies, cookies, and sprinkles. In case you're feeling indecisive, the customer favorite Bobalati is a mix of boba, Italian ice, and gelato all rolled into one.
Southern Highlands
Get your Dole Whip fix a lot closer to home
You don't have to go all the way to Disneyland to indulge in the Dole Whip craze, and you also don't have to settle solely for pineapple. At Las Vegas's Pineapple Park, flavors include the classic pineapple as well as strawberry, mango, raspberry, chocolate, vanilla, and seasonal flavors. Plus, you can top them with all kinds of candies and cookies and sauces and fruits. Pineapple Park also serves Thrifty ice creams, Dippin' Dots, boba teas, and crepes, as well as house specialties that include a variety of Dole Whip sundaes and banana splits. Come hungry and order the massive  Pineapple Boat, a banana split served in a halved pineapple.
Sign up here for our daily LA email and be the first to get all the food/drink/fun Los Angeles has to offer.