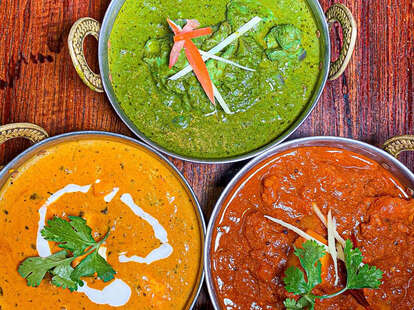 Photo courtesy of Taj Palace
Photo courtesy of Taj Palace
As the second most populous nation in the world and the 7th largest country in the world, sharing land borders with Pakistan, China, Nepal, Bhutan, Bangladesh, and Myanmar, Indian cuisine represents an expansive array of flavors and textures, with complexities that are worth a deeper understanding.
"Indian food is so vast and diverse," says the Toddy Shop's Hemant Kishore. "It's something I grew up eating, so it reminds me of home. It's comfort food."
Kishore is part of a growing Indian Diaspora in Las Vegas, with tight-knit strongholds in Henderson and the Southwest. However, Indian restaurants are growing in presence throughout the valley. Lunch buffets are common. Vegetarian options are important. Any restaurant that specializes in North Indian cuisine will immediately let you know chicken tikka masala is their most popular item. And while dragging a piece of naan bread through a creamy sauce has its appeal, the dish represents just a fraction of what a country like India has to offer.
"The cuisine changes every 20 or 30 miles," says Ritesh Patel of the Curry Leaf. Chicken, wheat, and heavy creams are common in the north, while dosas, rice, and seafood are seen more often in the south. But that's just the beginning. There are countless recipes and flavors in between.
"It's a delicious cuisine with a lot of health benefits," adds Kishore. "I want people to experience it and understand that it's not scary." Fortunately, Las Vegas has nothing to fear. As we celebrate Diwali this week, expand your horizons with the best Indian restaurants the city has to offer.
Clove just opened in October, but is already making an impression within the hotbed of Asian restaurants that line Rainbow Boulevard south of the 215. Familiar North Indian dishes like butter chicken and lamb madras (with boneless pieces of meat in a spicy coconut sauce) are served in a stylish, semi-industrial dining room with tall ceilings and cocktail bar. A series of paintings were commissioned by an Indian artist and add a sense of warmth to the space. Copper dishes and tableware are another welcome touch. The chef makes a point to switch up the buffet selection ($14.99) on a daily basis. An outdoor patio is expected to be ready by spring.
How to order: Call 702-473-5287 to ask about a reservation or schedule a pickup order.
The Divine Dosa, which opened right before the pandemic in late 2019, provides a rare opportunity to enjoy Indian food on the Strip—just steps away from The Wynn, Resorts World, and the Las Vegas Convention Center. As the name suggests, dosa is the signature dish with more than 30 varieties on the menu. The savory crepe (made from a rice and lentil batter) is available in a four-foot version, cooked on a custom-designed griddle for large parties to pick apart and share. Dip it in sauces like lentil curry or red garlic chutney. Fortunately, Divine Dosa doesn't rely on gimmicks—owners Kris and Bindi Parikh even flew chef Lok to India to source a variety of recipes and made sure he worked with home cooks to learn homestyle curries and indigenous methods of cooking. The biryani is prepared Hyderabadi-style, combining rice with chicken, lamb, or goat in a heat-filled recipe.
How to order: Pull up a contactless menu while in the restaurant or order online for pickup and delivery.
Mint covers a wide variety of Indian regions with simple, flavorful, colorful food. The original location on Flamingo is close to the Strip and the Convention Center, welcoming out-of-towners for ample servings of mango chicken curry and other signature dishes. A larger location on Durango has a banquet hall, the option of beer and wine by the ounce, and a tandoor clay oven in the main dining room to prepare kabobs and naan in view of customers. Either way, you'll see a variety of Indian regions represented in a warm, comfortable space. Mint goes the extra mile with a nice selection of chaat (Mumbai-inspired street food) and makes a point to label its buffet items carefully according to dietary needs. Some dishes acknowledge Jain (pronounced "jen") preferences, which not only avoids any animal products but anything that prevents a plant from continuing to live (like a potato being pulled from the ground, as opposed to a fruit pulled from a tree), such as onions and garlic.
How to order: Head online to book a reservation or place an online order.
Taj Palace is known for having one of the best Indian lunch buffets in Vegas ($15.99, 11 am–3 pm), although you won't be disappointed with the a la carte dinner service either. The restaurant tries to use organic ingredients as much as possible. Everything is gluten-free. Breads are baked fresh and brought to the table; never on standby in the buffet line. Recipes tend to favor the northern part of India with rich, creamy sauces that aren't too spicy—although an inferno ghost chili is on standby for the ambitious. Everything on the regular menu is made to order and anything hot can be tempered with a sip of mango lassi, which combines the fruit with yogurt and milk. The dining room maintains a certain cultural ambiance with hand-drawn murals decorating the walls.
How to order: Call 702-685-0222 to book a reservation or order online for pickup or delivery.
Just a few miles off the north end of the Strip, Mt. Everest has a simple dining room. Red walls, red booths, and a buffet setup that hasn't been used since the onset of the pandemic. However, the menu is very straightforward and efficiently organized—making it easy for newcomers to navigate. A few of the items have an Nepelese influence (based on the owners' heritage) like the chicken momo (similar to Chinese dumplings) and chicken chili, which isn't "chili'' like Americans typically expect, but chunks of boneless chicken lightly fried in a chili sauce with peppers. Yet favorites like tikka masala (with chicken, lamb, shrimp, or fish) and tandoori chicken, served on a sizzling hot plate straight from the oven are among the most expertly prepared in Vegas. Crispy bites of pakora (potatoes, onions, and chickpeas) are hard to resist—and will quickly become your new favorite finger food in Las Vegas.
How to order: Photo: Call 702-892-0950 or order online for pickup orders.
The Curry Leaf has a comfortable contemporary dining room with warm, dark tones to suit the Summerlin crowd just fine. The food is mostly North Indian staples with a few southern influences and surprises courtesy of chef and owner Ritesh Patel. Salmon, for example, is rarely used in Indian food, but brought to life in a new way (specifically, the tandoor oven) with a robust tomato sauce and rice. Branzino is sliced as a skin-on filet and presented with a Kerala-style coconut sauce with ginger and turmeric. There's a full bar with a nice selection of Indian beer. No buffet, but lunch specials (beginning at $11.99 for a curry, naan, and rice combo) are available seven days a week. Patel has a family connection to the team at Saffron (near Craig and Tenaya), which is the best destination for Indian food in the northwest, but operated separately.
How to order: Head online to book a table or place an order for pickup.
India Palace is near Twain and Paradise—just east of the Strip—-and an established presence for Indian food in Las Vegas since 1997. There have been a few remodels over the years and the dining room remains an inviting space with comfortable booths and subtle red, orange, and green decor. The lunch buffet is currently on hold (thanks, coronavirus), but you can order anything from the main menu all day long. If you're still looking for a good deal, ask about the platter of currys with soup, rice, and naan, or the mixed grill of kabobs. Have fun with a few fun mashups like dosa stuffed with diced chicken and potatoes, or the Naanwich, which is almost like an Indian burrito with chicken, tomato, lettuce, and cucumber. It's on the kids menu, but there's no judgment for any adults who order it. Wash it all down with a choice of themed cocktails, including the Taj Mahal Martini. India Palace does strong pickup and delivery business and is a great choice for catering large parties.
How to order: Order online for pickup or delivery.
This small, intimate kitchen and service counter is nestled inside Rani's World Food, a grocery store and market less than two miles west of the Strip on Sahara. Everything is vegetarian, prepared with homestyle recipes that feel straight out of a family kitchen. The daily special includes your choice of two vegetables (usually a curry), yellow lentils, rice, and two rotis (flat bread, similar to a tortilla) with spicy pickles and onions for $12.99. It may be the best quick Indian lunch in town. Take it to go or grab a seat at one of six tables in the middle of the shop. The kitchen also serves smaller appetizers and five different versions of paratha—a flakey pancake stuffed with vegetables and served with yogurt sauce on the side. Otherwise, try the chana bhatura, a Punjabi garbanzo curry.
How to order: Line up and pay at the counter or call 702-522-7744 to arrange a pickup order.
India Oven Masala is a simple operation on the corner of a strip mall, but an engaging space with Indian decor, reddish brown hues, artwork, and a welcoming foyer with a chandelier dangling overhead. A buffet special runs daily 11 am–3 pm, featuring the greatest hits (butter chicken, saag spinach, etc.) and a station on standby to prepare a choice of dosa or naan to order. South Indian touches are seen in the sambar (spicy tamarind vegetable soup) and idli, a rice and lentil cake that's good for sopping up curry and other sauces when you run out of bread. The dinner menu (5–9 pm) is more ambitious, adding Bengali influence with prawns and other seafood.
How to order: Walk in for dine-in, call 702-431-8313 for pickup, or order online for takeout and delivery.
The Toddy Shop no longer has a brick-and-mortar location, but continues to serve an inventive take on Indian cuisine at festivals like Life is Beautiful and Vegas Unstripped with private catering engagements and pop-up collaborations with the likes of the Vegas Test Kitchen, Monzu, Yukon Pizza, and DW Bistro. Chef Hemant Kishore's recipes and techniques are influenced by Kerala, a southwest coastal region of India that favors tropical flavor profiles and the use of coconut milk instead of heavy creams—or coconut oil in place of common mustard oils. The region is also big on seafood, but Kishore is fond of adding flavor and intensity to vegan dishes as well.
How to order: Follow Toddy Shop on Instagram for the latest pop-events. Call 702-255-5588 to inquire about catering and private events.
Nutmeg puts a modern spin on traditional Indian food in a sharp, contemporary dining room. The masala dosa combines potatoes and onions with a flavor-filled bite of mustard seed, cumin, turmeric, ginger, and garlic. The Goan-style curry, prepared with shrimp or cod, is presented in a rich, creamy coconut sauce with a mild yellow and orange saffron rice on the side. The menu goes beyond traditional Indian food (including burgers, pasta, and tacos) without spreading itself thin. Every sauce, including the ranch and ketchup is made in house. Nutmeg even produces its own house beer, served in tasting flights or a two-for-one special that's offered all day, every day.
How to order: Visit the website to book a reservation or place a delivery order.
Lazeez balances a fast-casual feel with a deep lineup of Indian cuisine that draws heavily from Mediterranean and Pakistani influences. So expect to see goat curry and chicken saag (creamy spinach) alongside kabobs, gyros, and shawarma wraps, all prepared with pure, healthier Halal ingredients. Even the occasional burger and panini makes its way into the mix. The buffet ($15.99, 11:30 am–3 pm) is especially strong, with evening versions offered on Ramadan and other select holidays.
How to order: Order at the counter or online for pickup and delivery.
Rob Kachelriess
has been writing about Las Vegas in Thrillist for more than eight years. His work has also appeared in
Travel + Leisure, Trivago Magazine, Sophisticated Living, Modern Luxury, Leafly, Las Vegas Magazine,
and other publications. He's a medium-spicy kind of guy. Follow him on Twitter
@rkachelriess
.