As Las Vegas goes on lockdown due to the COVID-19 outbreak, more than buffets are being affected. Our city's great restaurants are now forced to close their dining rooms and rely on takeout and delivery orders to bring in any sort of revenue. In most cases, their very existence depends on it. We're in this together, so if you plan on eating while avoiding coronavirus, you're going to be ordering out -- a lot. Consider the following restaurants a good starting point. 
If you don't see your favorite restaurant listed, reach out directly; chances are good they'll have some sort of pickup or delivery system either in place or in the works. It's a tough time right now. You need food, they need money, and we're all trying to avoid each other. Let's eat!
Recommended Video
Ghost Kitchen: How This NYC Restaurant is Responding to Coronavirus
Spring Valley
This bar and restaurant is one of the best places in Vegas for San Diego craft beer, so make sure to pick up a few cans and bottles to go. You can also take home the entire menu of bar food, from fried deviled eggs to Banh Mi, or have it delivered by Postmates delivery. Food is 50% off for anyone recently laid off.  
Henderson & Summerlin
Ribs, brisket, pulled pork, chicken, tri-tip… it's all here. Get your Big B's Texas BBQ fix with two different locations in opposite ends of the valley. Feel free to customize your own family-style packages. Pick everything up yourself or have it delivered by Grubhub.  
Downtown
Bronze Cafe inside ReBar aims to please, dividing its menu between plant-based recipes and ones directed toward meat eaters. Either way, you're getting great ingredients. Order for delivery via Grubhub, Uber Eats, Postmates, or DoorDash. Stop by and pick up your sandwich or salad yourself, and receive a free two-ply roll of toilet paper to help with your stock at home. 
Chinatown
Chef Khai Vu's modern take on Vietnamese is one of the reasons Chinatown is so awesome, and now District One is revising its hours from noon to 8pm with a modified curbside menu. First responders get 50% off for curbside pickup. Seniors and the disabled receive 50% off with free delivery within a five-mile radius. 
Downtown
The brunch spot at the Downtown Container Park has monkey bread, french toast, burgers, and other dishes for delivery 11am-8pm by Uber Eats and Postmates. You can also arrange curbside pickup through the DTLV smartphone app.
Tivoli Village
Chef Sam Marvin is keeping his in-house butcher shop open for select cuts to take home. Meanwhile, the restaurant has a special to-go menu of steaks, seafood, and more for curbside carry-out. 
Southwest
This brand new restaurant specializes in breakfast sandwiches and the full menu, which also includes sweets and coffee, is available for curbside pickup from 7am to 3:30pm. In the wake of school closures, a kids meal (for youngsters K-12) is discounted to $4.99 with a choice of four sammies, crispy smashed taters, and juice.  
Huntridge 
Chef Shridan Su and wife Jenny Wong are closing Fat Choy and Flock & Fowl during the mandated shutdown, but Every Grain, one of the best affordable lunch spots in Vegas, remains open for curbside pickup. Hardship meals are being offered for those down on their luck. (Text 626-238-7901 for the latest details.) Be part of the chain and help pay it forward. You can even Venmo your order. 
Downtown
Garagiste is a new wine bar in the Arts District with an in-house retail shop, making it easy to stock up on rare and interesting wine during the Nevada lockdown. Join the wine club and receive 5% off half-a-case (six bottles) or 10% off a full case (12 bottles) through May. Just respond to weekly emails and place an order with a credit card or Venmo. All orders will be delivered straight to your car at the curb. 
Southwest
The Asian food of Marc Marone takes equal inspiration from Singapore hawker markets and classic New York Chinese joints. In other words, it's perfect for takeout -- especially if you throw in some bao buns. Beyond that, Graffiti Bao is doing its best to help by giving out free kids meals, taking 10% off curbside pickup, and offering a 30% industry discount. Delivery can be arranged with Postmates. 
Chinatown
This Korean BBQ spot usually grills meat tableside, but you can enjoy Honey Pig's food at home with delivery by Uber Eats. It's not quite the same experience, but you can still feast on spicy BBQ pork and kimchi stew. 
Summerlin
A new all-day menu features fresh takes on modern American cuisine with curbside pickup or delivery by DoorDash. Family-style takeaway meals serve four for $85 with either meatloaf, roasted chicken, fried chicken, braised short rib, or lasagna as the main course.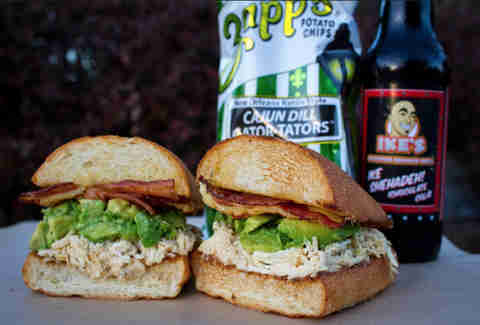 Off the Strip
Ike's packs a lot of ingredients in one sandwich, whether it's vegan, gluten-free, or loaded with meat. Get free delivery when ordering through the company's own app. Need more incentive? Stop by in person and receive a free roll of toilet paper… you know, just in case.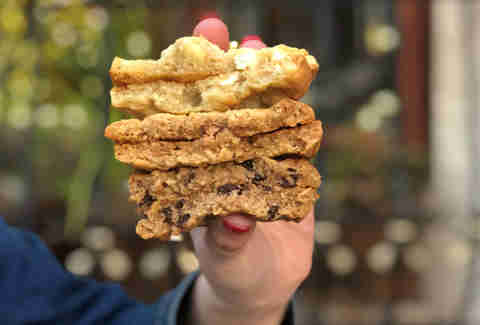 Valley-Wide
If you're craving chocolate chips and a sugar fix, Insomnia delivers fresh-baked cookies between 11am and 2:45am -- and the best part is, they arrive warm. You can also order brownies, cookie cakes, and "cookiewiches" with a giant chunk of ice cream in the middle. Insomnia will even deliver a cold glass of milk to wash it all down. 
Henderson
This breakfast and lunch spot has its own in-house delivery service ($5 flat fee within a seven-mile radius). Kids 12 and under eat free on delivery orders (including pancakes, waffles, and eggs with potatoes and pancakes) with a limit of two per household. There are additional delivery discounts, too: first responders receive 50% off, industry professionals receive 15% off, and anyone paying cash gets 10% off. The same deals apply to sister restaurant Kitchen Table Squared at the Gramercy near Summerlin.  
Westside
The European-style bakery and cafe has all sorts of pastries, pie, and coffee for delivery on orders of $35 and up 8am-2pm; a free order of bread is included. Services are available via Uber Eats, DoorDash, Chow Now, Postmates, and Grubhub. 
Off the Strip
In addition to DoorDash, Postmates, and Grubhub, Lawry's now has its own in-house delivery within a three-mile radius of the restaurant with 15% off (although there is a $50 minimum). Pick up the food yourself and get 20% off. That's some good incentive for eating prime rib at home. 
Mountain's Edge
One of the best new restaurants of 2019 remains open for pickup and delivery from noon to 8:30pm. They're throwing in a few good deals too, like $5 salads and cuts of meat (without markup) for cooking at home. (Chef Nicole Brisson knows a few things about steaks.) Locale also has an environmentally friendly Vero water machine. Buy one bottle for $5 and get unlimited refills. 
Summerlin & Downtown
Let's do Louisiana-style and family-style at the same time. Chef Lola Pokorny has a choice of three four-course meals for curbside delivery 11am-7pm at both Lola's locations. "Cajun Nights" (shrimp and grits, jambalaya, or gumbo as the main course), "American Picnic" (burger, chicken fingers, or catfish po-boy as the main course), and "Let the Good Times Roll" (Shrimp Charlotte, Chicken Fettuccine, or Crawfish Etouffee as the main course) packages are each available for $40 (for two people), $70 (for four people), or $90 (for six people).  
Desert Shores
The French bistro has to-go menus for dinner, lunch, and brunch with a $30 minimum for delivery -- and here's the good part: they'll deliver wine with your food. Meanwhile, the retail wine shop remains open 11am-7pm from Monday-Saturday, with a maximum of 10 customers allowed in at a time. Marche Bacchus is also offering some ridiculously good gift card deals right now. 
Multiple Locations
One of our favorite pizza joints in Vegas has enough locations to keep the entire valley fed throughout this lockdown. With the exception of Ellis Island, guests can buy any pizza and get a second of equal or lesser value for half price. Delivery is available, but you can also ask to have your order brought directly to the car during pickup. 
Fergusons Downtown
Coffee beans from this awesome local roaster can be bought online and delivered for free. Curbside takeout for coffee, pastries, and other food is available outside the main gates at Fergusons Downtown 9am-4pm daily. 
Multiple Locations
This local chain built its reputation on gourmet nachos, but has a full menu that includes modern takes on tacos, burritos, fajitas, burgers, and a surprisingly strong vegan selection. Go with curbside pickup or delivery by Postmates, DoorDash, Grubhub, or Uber Eats. 
Summerlin
Pizzas, pastas, chicken parm, and other Italian bites can be ordered with DoorDash. Just make sure to get the spiced orange pistachio cake for dessert. 
Chinatown
If you miss French fine dining while in self-isolation, Partage is here to help. The restaurant is serving up inventive dishes for lunch and dinner six days a week with delivery available on Tuesday, Thursday, and Saturday. Pay $60 per day for lunch and dinner when you order two days. You can also pay $340 for the whole week; each delivery is $15.   
Spring Valley & Henderson
The family-owned restaurant has been around for nearly 20 years, serving traditional Thai dishes. In-house delivery is offered at its Rainbow and Eastern locations, which are both open until 10pm each night.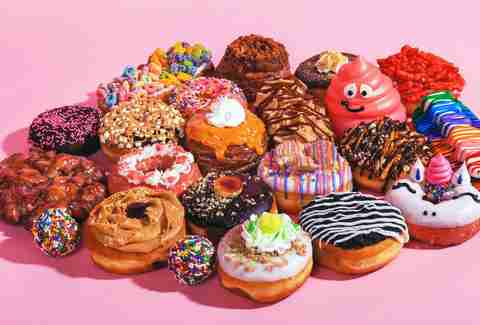 Multiple Locations
Sometimes you just need a doughnut, day or night. Pinkbox has three locations open 24 hours a day, every day, for pickup or delivery via Postmates. Make sure your box includes a Flaming Red Head doughnut, topped with Flaming Hot Cheetos.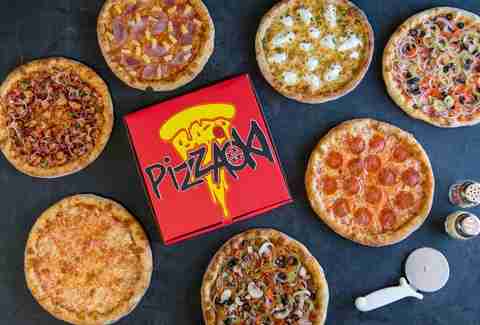 Valley-Wide
DJ and Las Vegas resident Steve Aoki now has his own delivery-only pizza joint. Pizzaoki has 10 different pizzas to choose from with a choice of "lit herb-infused" crust or healthy, low-carb cauliflower crust. Each pie is 12 or 18 inches. 
Multiple Locations
When your immune system is most at risk, you may want to stick with food from some of the best restaurants for healthy dining in Las Vegas. Proteinhouse has takeout and delivery through Grubhub, Postmates, DoorDash, and Uber Eats for acai bowls, protein shakes, and fresh juices. Throw in a wellness shot while you're at it. Military, first responders, and hospital orders receive 20% off. 
Summerlin
Get your hands on some of the most photogenic doughnuts and beignets in all of Las Vegas, each of which is baked fresh overnight. Order online and receive free delivery within a five-mile radius of the store. 
Boca Park 
In times like these, good coffee is even more important than toilet paper. Sambalatte has some of the most extensive coffee bean sourcing in Vegas, with an especially strong focus on South America. Coffee and pastries are available for curbside delivery 7am-4pm.
Multiple Locations
Order pizzas, salads, and tapas for pickup, or have them delivered via Grubhub, DoorDash, Postmates, or Uber Eats. Buy a $50 gift card and receive a $10 gift card to use later. 
Multiple Locations
The locals' favorite has five locations throughout the Vegas Valley with delivery by DoorDash. Choose between "healthy" and "happy" dishes on the menu, which range from burgers and fries to tacos and specialty bowls. Get a heavy dose of vitamins with one of three juice blends. Pickup is also available -- and the Stephanie location has a drive-thru window to make things even easier.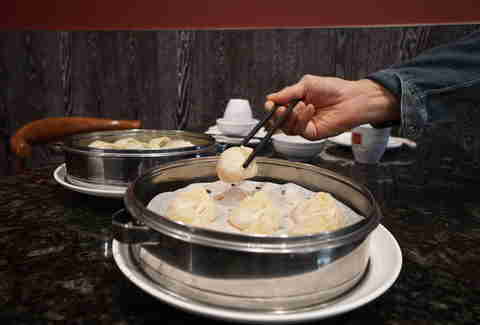 Chinatown
The new restaurant at Shanghai Plaza is already earning loyal fans for its soup dumplings alone. Order as many as you like -- and give the fried version a try -- along with other Chinese dishes. Arrange express curbside pickup via Facebook, Instagram, Yelp, or WeChat, and a staff member will bring the food directly to your car by the curb. 
Westside
When panic over COVID-19 hit Las Vegas, Shiraz was one of the first restaurants to launch its own in-house delivery service in response -- free for orders of $35 and over. The menu of Indian and Mediterranean cuisine is available for lunch (Tuesday-Sunday) and dinner (Tuesday-Saturday).  
Henderson & Summerlin
If you gotta eat, you gotta drink. Solus Sustainable Hydration is a local company that brings spring water to Anthem, Inspirada, Green Valley and Summerlin in reusable glass bottles -- delivering and retrieving them milkman-style. That means you get a crate of 10 one-liter bottles for $29.95 and an ultra-low carbon footprint. Still or sparkling -- it's your choice. 
Multiple Locations
Stephano's has three locations -- on Ft. Apache, Eastern, and Maryland Parkway -- for quick and casual Greek and Mediteranean food. Delivery charges begin at $10, but the restaurants have always been ultra-efficient with pickup orders.  
Anthem
The inventive breakfast-focused restaurant by Antonio Nunez and Scott Commings is giving customers 20% off all curbside and DoorDash delivery orders. The entire menu is available Tuesday-Sunday 9am-3pm. The dining room itself is now a pop-up market to sell off overstock of toilet paper, eggs, milk, pasta, and other high-demand items for a fair price. The Stove will also fill up water jugs with free filtered water and give seniors priority shopping, a free 12-pack of juice, and curbside assistance.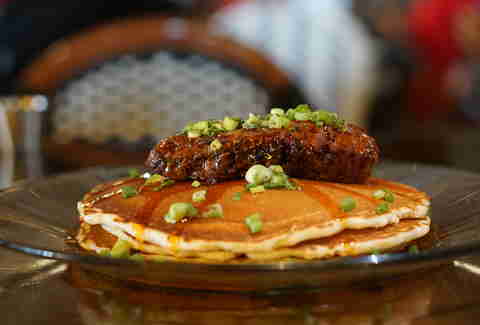 Summerlin
Count this place among the top brunch spots in Vegas. The entire menu (which happens to include a killer sticky-sweet coconut pistachio kanafee) is ready for take-out or delivery by Uber Eats 9am-1:30pm daily. Buy a $50 gift card and receive a $10 gift card to use later.  
Downtown
If you're looking to social-distance yourself from animal products, the plant-based menu at VegeNation Downtown is available for takeout or delivery via Postmates, Uber Eats, Grubhub, Ezcater, and DoorDash 11am-8pm. Unfortunately, the Henderson location will remain closed for the time being.
Valley-Wide
Miss chowing down on chicken wings at one of the top sports bars in Vegas? This could be the next best thing. Wing Squad is a delivery-only restaurant that specializes in wings with five different sauces representing different spice levels. They come in orders of six, 12, or 18. Feel free to throw in a salad, mac n' cheese, or a couple cookies for dessert.    
Downtown Summerlin
The sports-focused dining spot formerly known as the Wolfgang Puck Bar & Grill has updated its hours to 2-8pm and has three different multi-course to-go meals for curbside or in-restaurant pickup. Choices include a meal on the healthier side with Jidori Chicken as the main course ($65 for two, $130 for four), a large feast with flat-iron steak and salmon ($140 for four people), and an Italian grandma-style family dinner with pizzas and pasta ($90 for four people). Just like in sports, you go big or go home. Delivery options are currently in the works. 
Sign up here for our daily Vegas email and be the first to get all the food/drink/fun in town.