Editor's Note: This article is part two of Thrillist Las Vegas' year-end look at the best of our city's local food and drink scene in 2016. In addition to our annual Best New Restaurants award, this year, we're spotlighting the men and women behind the dishes we love to tell you to eat. Whether they bucked the national trends, revived classic local flavors, or otherwise drove the city's culinary scene, these are the chefs that stood out this year. Check out our picks for the rest of America's 2016 Best Chefs, and then catch up on Best New Restaurants.
We've already told you about the Bartenders of the Year in Las Vegas, but now it's time to jump from the front of the bar to the back of the kitchen. 2016 was a great year for new restaurants as well as some old favorites that took their operations to a new level. So get familiar with Thrillist Las Vegas's Chefs of the Year: the local culinary masters behind some of the best bites in Las Vegas.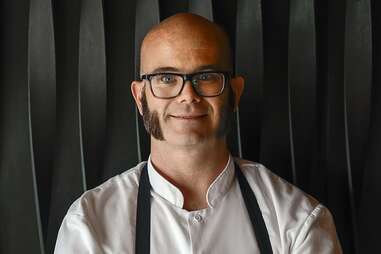 John Courtney
John Courtney faces high expectations in his current role. As culinary director for the Simon Hospitality Group, he carries on the legacy of late celebrity chef Kerry Simon -- primarily as manager and executive chef for Carson Kitchen. He also helped shape one of the best new restaurants of the year -- Standard & Pour -- from the ground up in a joint venture with Titan Brands -- and there's some consulting work here and there for affiliated restaurants outside Vegas. Amazingly, Courtney got into the culinary business relatively late in the game. He originally planned to be a banker.
"I started as a teller at 16 and I was a branch manager here in Las Vegas by 20," he says. "I couldn't even drink but I could sign a mortgage deal for you." However, the world of finance wasn't his true love. Courtney turned to cooking and became an apprentice for French chef and family friend Jean-Paul Peluffo. "I worked for him for six months with zero pay, and his attitude was if you could do this for free for six months, this is what you can do for the rest of your life."
Courtney went to school and gained experience in the Bay Area and overseas in France (including at Michelin favorite La Bouitte) before returning home to Las Vegas. He worked for chefs like Jean-Philippe Maury and Rick Moonen in addition to helping open restaurants like Born and Raised, db Brasserie, and Yardbird. He settled in at Carson Kitchen and worked his way up within the Simon Hospitality Group.
"I look at Carson Kitchen as the guy and Standard & Pour as the lady if that makes sense," Courtney says of the two restaurants who share most of his attention. "Carson Kitchen is very industrial with the concrete floors, exposed ceiling and communal dining of classic comfort food with unique ingredients and a familiar approach. Standard & Pour is less communal and very pretty with tile, wallpaper and a view (of the Las Vegas valley and Strip). Very few restaurants or even hotel have that view."
It's been a busy year and things will get even busier in 2017, with another Downtown restaurant on the way. The name has yet to be announced, but it will showcase Asian cuisine and "it won't be a fusion," says Courtney. "We want to honor each culture respectively. We're talking Korean, Chinese, Thai, and Japanese. We've been looking at Philippine cuisine." Keep your eyes peeled for an opening date before summer -- making 2017 another landmark year for Courtney.
What's the one dish you're most proud of?
John Courtney: We did a deconstructed Shepherd's Pie (at Carson Kitchen) and called it Shepherd's 3.14 -- instead of saying the word "pie" -- so we did a gnocchi and deconstructed a lamb shank. It was pulled. There were carrots and peas and crispy potato on top.
Where do you like to eat when you're not at Carson Kitchen or Standard & Pour?
Courtney: Other Mama is at the top of my list usually. I got to Juan's Flaming Fajitas. David Wong's Pan Asian is another one of my go-tos. Flock & Fowl... The Goodwich. If I don't go to Carnevino at least once a quarter, I go through dry-age (steak) withdrawals. I like Herringbone a lot. I think that is by far the best patio on the Strip.
What culinary trends to do you expect to see emerge in 2017?
Courtney: I see more of an Asian push. I would like to see some really good Filipino food come to the table. Filipino pub food is really good too. That would be great to see.
Michael LaPlaca
This guy is always up for a challenge. A few years ago, Michael LaPlaca was brought in to revive the Onda Italian restaurant at the Mirage. His improvements to the menu were so dramatically good, the casino's management team decided they might as well give the place a whole new name and Portofino was born. Earlier this year, LaPlaca was given the additional task of revamping the Mirage's burger joint into LVB Burgers & Bar. The result is an ultra-creative menu with possibly the best burgers on the Strip and some awesomely boozy milkshakes.
"They saw what I did at Portofino and wanted to let me grow and have another restaurant -- to use my creativity to make something special and different," LaPlaca says while noting that the undertaking was a scary one at first. He hadn't had much experience in a high volume casual concept, where the customer count could reach 12-1500 people a night. But he soon relished the opportunity to completely redesign the menu with full creativity -- like he did at Portofino -- without having to answer to, for example, a celebrity chef whose name is attached to the restaurant.
So what do both of these distinctly different restaurants have in common? "I like to take things that are very familiar and then show them to people in a new and different way," he says. "If I google an idea and nothing comes up, I'll say okay, I'm going to try and make that." A prime example is the chicken Parmesan at Portofino -- in which the dark meat is made into a sausage and tucked inside the breast and covered in cheese and sauce. "It still has all the ingredients of chicken Parm," he says of the dish. "But it's a completely new way of looking at it."
This overachieving culinary master actually had a hard time getting hired after starting his career in Cleveland. "When I first moved to Vegas, I probably applied at about 50 restaurants and given my lack of experience here, didn't get any callbacks," LaPlaca remembers. "I couldn't even get a job at any chain restaurants -- an Applebee's or a T.G.I. Friday's. I just wanted to get in a kitchen and learn." He eventually got a gig through a friend. "I was actually an assistant prep cook, so I wasn't even allowed to use fire according to my job description. I could only cut things."
He worked his way up and "luckily" the economy tanked and he was let go. He moved on to other opportunities and found himself at places like Fiamma Trattoria, Buchon, Sinatra, and Alex Stratta's restaurant at the Wynn. "Every time I moved on to another position, it was because I was recommended by the chef," he recalls. He took a six-month detour to New York but returned and found work at Bradley Ogden and as executive chef at Due Forni off the Strip before taking the job with the Mirage.
"To go from someone who wasn't even allowed to turn on a stove, to being the culinary leader of two restaurants on the Las Vegas Strip -- at the iconic mega-resort that is the Mirage -- that's pretty cool. That's huge."
Where do you like to eat when you're not at Portofino or LVB Burger & Bar?
Michael LaPlaca: Herbs & Rye, the Cornish Pasty Co., Hot N Juicy Crawfish.
What culinary trends to do you expect to see emerge in 2017?
LaPlaca: I've found more diners are turning to a vegetarian diet... Many people continue to make steaks, sausages, all other kinds of meat and even eggs out of plant proteins. Sounds interesting, but as for me, I'll stick to big hunks of meat and assorted pig parts.
Dan Krohmer
At one point, Dan Krohmer got burned out on the restaurant grind, so he went on the road and made food for Metallica, Taylor Swift, and other big music acts.
"It was really intense," he says. "I started at five in the morning and worked until 11 or so at night. Lived on a tour bus and traveled all around the United States and Canada, usually on a two month contract, cooking out of a kitchen built on a 50-foot semi." He'd serve three meals a day for up to 300 people, ordering from a different company in every single city while dealing with every element, from water to electricity and sewage. "I did the music tour catering so I could still be cooking and find myself a little bit. Then it was time to find a foundation and sense of community again, so I settled here (in Las Vegas) and opened up the restaurant."
The restaurant he's talking about is Other Mama -- his own creation that's only seen its buzz increase in 2016 since opening a little more than a year ago. "My duties are all over the place," he says. "I don't have a general manager. I do my own accounting. I deal with all operational stuff. Everything from taxes to ordering to plumbing, all of my menu creation, most of my PR until recently. I'm the sole investor here."
As for the cuisine itself, Krohmer counts himself among those who have a tough time describing it. The chef calls it "American comfort food" -- even including sushi and other Asian flavors because that's what he grew up on. "For me, that's what modern America is," he adds, noting the multicultural nature of both the country and his restaurant. Krohmer draws experience from travels in Japan and the Caribbean, as well as working for Masaharu Morimoto's Philadelphia restaurant as both sous chef and sushi chef.
As Other Mama continues to be a champion for off-Strip dining, Krohmer is looking to let developments at the restaurant organically evolve. He recently introduced a tasting menu on weekends that features original non-menu dishes -- seven courses for $70, which is a steal for anyone looking to enjoy some "creative fun stuff." Call in advance for availability. It's by reservation only and generally available for just 10-12 people a night.
Krohmer says he's already made back the money he invested in Other Mama, but the immediate success of the restaurant is about much more than money and acclaim. "It meant my dreams weren't completely irrational," Krohmer points out. "You go through your career collecting pieces of information and experiences. You never know how that's all going to come together and be useful."
What's the one dish you're most proud of?
Dan Krohmer: Maybe our oysters Rockefeller with foie gras.
Is Las Vegas underrated as a culinary city?
Krohmer: Yes and no. The talent is here but the city itself needs to support people who are doing more creative things.
Where do you like to eat when you're not at Other Mama?
Krohmer: If I'm feeling fancy, I go to Carbone or Bardot at the Aria. I like going to District One, mostly spots in Chinatown. Maybe a Northern Chinese spot like Chengdu Taste.
What culinary trends to do you expect to see emerge in 2017?
Krohmer: I think dining in general will get more simple and more product forward. I think people are tired of excessive creativity in their food.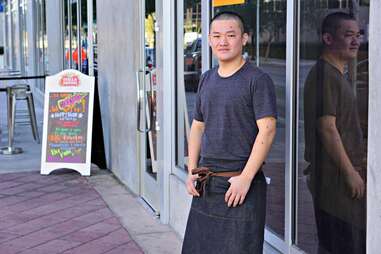 Khai Vu
"At District One, we are a lot more Southeast Asian-inspired, where we get to play with different ideas and different types of cuisine and over at Le Pho, we do more authentic food -- but with a modern twist."
Khai Vu is discussing the differences between his two restaurants, although both share a common goal -- to bring dining based on his Vietnamese heritage to a greater audience. District One has been a Chinatown favorite for about two years, featuring a modern touch to both its menu and dining room. Le Pho opened Downtown earlier this year on the corner of the Juhl office and condo building, offering more casual fare, from deep-fried fish cakes to spring rolls and banh mi -- a French inspired Vietnamese sandwich. Of course, you'll also find pho that ranks with the best in Las Vegas.
Vu came to Las Vegas as a child and grew up learning the business in his parents' Chinatown restaurant. He found work in real estate and finance before being drawn back to the culinary community and eventually earned widespread acclaim with District One. "We have beef carpaccio, we have oysters, we have hamachi kama," he says. "But as long as it looks good and it tastes good, we try to come up with our own way of doing the dish and making it fun."
With Le Pho, Vu wants to make Vietnamese food more approachable to a potentially larger consumer base. "A lot of people, they don't know about Vietnamese food yet," he says, noting that there's often a language barrier at authentic restaurants. "They don't understand what's on the menu."
The self-described "freestyle chef" says he is always open to change. "If there's a new way to make something better, I adapt," Vu points out. "I understand knowing the principles of the dish and the foundation. After you're able to understand that, you can adapt new styles of cooking to include the dish and make it better."
His goals for 2017 are simple: "Making more food and making more people happy."
Is there one dish you're most proud of?
Khai Vu: My lobster pho. We start with a live lobster, take off the shell and make a lobster base and mix it with our bean broth that we cook for a long time. We put the whole lobster back and we serve it. That and the oxtail fried rice.
Is Las Vegas underrated as a culinary city?
Vu: I would say so. We're one of the top three in the nation. I travel everywhere. We're spoiled. We have all the great chefs who come here and it's a small city.
Where do you like to eat when you're not at District One or Le Pho?
Vu: I love Japanese food so I go to Raku a lot, and Kame (near) Lake Mead and Rainbow. Sometimes I go to Tacos el Gordo.
Matthew Piekarski
Hexx is the only single-origin chocolate producer in the state of Nevada. So what does that really mean?
"Single origin is coming from a singular farm and it could mean just a singular country, but we go down to the farm level," says Matt Piekarski of his cocoa bean sources in exotic destinations like Madagascar, Tanzania, and Ecuador. "So we're getting it from a single producer. We bring it back to Las Vegas, grind it down, and make it into dark chocolate. 70 percent or higher is our standard, but we also do a milk chocolate now that's all 40 percent."
Hexx itself is a restaurant and retail shop with the chocolate factory tucked in the back. Large windows reveal how the process is done -- seven days a week -- with a counter for tasting samples. Guests are encouraged to let the chocolate rest in their mouths before swallowing, revealing a complexity of flavors -- from tobacco and vanilla to coffee and raisin. It's almost like sampling a wine.
However, Hexx is about much more than just the sweet stuff. As executive chef, Piekarski oversees all food and beverage operations for not only Hexx, but also Beer Park upstairs. "It's going to be $45 million this year, so it's a large operation," he points out. "We have about 500 employees, so there's a lot going on."
Piekarski was around when the space was a Sugar Factory location -- known for celebrity promo appearances and over-the-top desserts. Under new ownership as Hexx, the chef is happy to help spearhead some changes throughout the entire menu. "Everything we use is really high quality. We make everything in house. Bringing in prime meat was a huge step for me. I've been here almost six years and I've been trying to get prime meat in the door the entire time. We're not charging $60 for a steak. We're charging $38 or $40 for a steak. It's still prime. It's not of lesser quality, (but) we want to make it approachable for everyone."
In fact, Piekarski considers himself a "steakhouse guy" -- with a background that includes stints at meat lover destinations like Fix, Stack, SW Steakhouse, and Beso Steakhouse. He also worked at the Rum Jungle and began his career preparing prime rib at supper clubs in the midwest. Along the way, he served in the Army where he was a cook, dietician, and veterinary food inspector.
With Beer Park now open and Hexx finished with its renovations, Piekarski looks back on 2016 as a year of stability. The chocolate production is ready to dramatically expand -- and is showing up in other parts of the country like Texas and Wisconsin -- and in stores like Whole Foods. In fact, the grocery chain will soon see a natural candy bar, similar to a Snickers, produced by Hexx.
What's one dish you're most proud of or played a pivotal moment in your career?
Matt Piekarski: I wouldn't say pivotal or anything like that, but one thing I really enjoyed was our New Year's Eve appetizer, eight or nine years ago when I opened Beso Steakhouse, we did a foie gras s'more. We did a pomegranate marshmallow with a foie gras terrine and we made our own graham crackers. It was a ginger spice bread that we made. I always think about going back to that.
Where do you like to eat when you're not at Hexx or Beer Park?
Piekarski: I love really simple things. I love Ramen Tatsu, Sen of Japan, Stephanos -- I love gyros. When I come to the Strip, I want a great experience... I think Libertine Social and Harvest are doing a great job creating an experience. I love Carbone. They're really consistent. I love the environment, I love the atmosphere, I love the room.
Roy Ellamar
You hear the phrase "farm to table" quite a bit these days, but Harvest at the Bellagio takes the philosophy far more seriously than most -- while offering a modern image that is a perfect fit for the Vegas Strip.
"That label gets thrown around so much and used and abused," says Executive Chef Roy Ellamar. "For our restaurant, it's means we are always putting the ingredients first. We're building the menu based on the ingredients and not anything else. And hopefully the person who has grown or harvested it for us can be part of the story as well."
Ellamar started his career in his native Hawaii before relocating to Chicago and then Beverly Hills. He came to Las Vegas and considered becoming a bartender but found new inspiration for the kitchen while working at L'Atelier de Joel Robuchon. "Being surrounded by those people, everybody was trying so hard to get to the next level and it reignited my passion for food, cooking and the industry."
Ellamar soon found himself at Sensi, which eventually became Harvest -- his own restaurant that opened at the tail end of 2015. "This year was about laying down the groundwork for establishing our identity and next year, we're going to truly define that."
Part of that evolving identity included a snack wagon that roamed the dining room and offered mini-bites between courses. "It was inspired by dim sum," notes Ellamar who says the wagon turned out to be a bit of a distraction. "We actually scaled it back and offer it only in the lounge now." A similar wagon for desserts was done away with altogether. However, Harvest will continue to invite guest chefs for special snack wagon dinners and will move forward with mixology wagons featuring guest bartenders.
More changes are on the way in 2017. Harvest is working with a local farm to bring in Mangalitsa pork and plans to further showcase Ellamar's Hawaiian heritage on the menu.
What's the one dish you're most proud of?
Roy Ellamar: There's been so many good pork dishes that we've done. Right now we're doing a roasted coppa -- that's the muscle that's in the shoulder. It's the perfect mix of fat and meat in the pork. We marinate that with herbs from our rooftop and and roast it in the rotisserie oven and serve it with stewed apples, raisins and poached pears. It's a nice wintery dish right now.
Is Las Vegas underrated as a culinary city?
Ellamar: It's a different city because we have a revolving door of clientele and it's not local like you would get in other major cities. It's a little bit different. The restaurants are all trying to get a tiny piece of this huge pie. As a whole we probably don't get as much recognition as other cities. It might have to do with that. We're so tourist driven.
Where do you like to eat when you're not at Harvest?
Ellamar: I like everywhere on Spring Mountain (Chinatown). I like District One. I like Chada Street. I mostly eat Asian food on my days off. I really like Chengdu Taste.
Sign up here for our daily Vegas email and be the first to get all the food/drink/fun in town.
Rob Kachelriess is a former television news producer who has been writing about Las Vegas in Thrillist for more than three years. He was Managing Editor for Vegas2LA Magazine and his work has recently appeared in Vegas Seven and Vegas Magazine. He now realizes the best chefs in Vegas really, really like Chinatown. Follow him on Twitter @rkachelriess.