Perhaps you've seen it in your Instagram feed -- the vividly violet yam has made its way into ice creams, pancakes, and pastries all over the Las Vegas Valley. Ube is, without a doubt, the hottest food item in Vegas right now, thanks in part to its highly photogenic nature, but also because it just tastes great.
To get you up to speed in case you're not already an ube guru: Ube is a kind of yam that has been used in Filipino cuisine for centuries. Pronounced ohh-bae, this colorful tuber is similar in both flavor and texture to a sweet potato as is mostly found as the base in desserts eaten throughout the Philippines. No matter how it is prepared, ube preserves its brilliant purple hue.
Now, thanks to Instagram -- honestly, this is the reason, much like the rise of rosé -- ube is having its time in the spotlight and the purple reign is upon us. Practically everywhere we look, we're seeing Vegas through plum-colored glasses. There's ube ice cream, French toast, waffles, horchata, cheesecake, cupcakes, conchas, cream puffs, tarts, muffins, donuts, and, well, you get the idea. And, while the popularity of ube began in Filipino kitchens and is taking off in American cities with sizable Filipino populations, it has yet to fully infiltrate the mainstream. So get down with #ubeallday now before every influencer in America ditches millennial pink for potato purple.
Not to mention, it's really damn delicious. While not overwhelmingly sweet, ube's flavor is ideal for desserts because it imparts hints of vanilla with a bit of pistachio nuttiness. In other words, it would make the perfect gelato. So, check out these Vegas spots that are putting the "ooooh" in ube with their eye-poppingly purple treats. Many of the items listed below are specials that rotate so give 'em the ol' Instagram eyeball before you show up demanding your purple fix.
S. Eastern
Truffles N Bacon Cafe arguably kick-started the local cultish popularity of ube with its decadent ube stuffed French toast and buku pandan pancakes -- both with ube cream cheese, young coconut, and a scoop of ube on top -- that earned it overwhelming Insta-fame. To this day, the French toast and pancakes still aren't on the regular menu, but they are daily "specials" that you have to know to ask for. More recently, the cafe has added ube waffles with ube syrup, ube butter, and condensed milk drizzle, as well as a gorgeous ube horchata topped with homemade ube whipped cream to their off-menu menu, prompting the place to joke its new name should be "Ube N Bacon Cafe."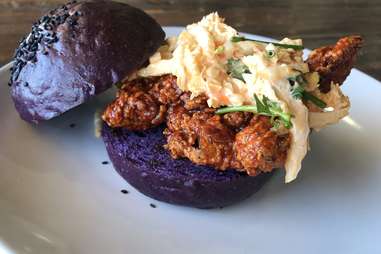 Henderson
This from-scratch restaurant and bakery in Henderson is a super popular brunch spot with damn good reason. Everything that comes out of its kitchen is outstanding, including an ever-rotating lineup of pastries and brunch specials. Recently, diners could enjoy ube bread pudding with coconut white chocolate sauce, ube cream cheese kouign amann (described as "the fattiest pastry in all of Europe" and OMG it's so good), ube pancakes, and a Korean fried chicken sandwich on an ube bun. Stalk Craft's Instagram for weekend specials and, we can't stress this enough, get there early.
Koreatown Plaza
Paina Cafe is a Hawaiian restaurant -- with three locations in Hawaii -- but it also has a fantastic selection of Filipino sweets, thanks to the pastry chef behind Ono Sweetz, who has since hung up her apron, but not before training the folks at Paina Cafe on her recipes. Try the ube mochi donuts (made with sweet rice flour), ube tarts, or the "Pa'ina Roll" made from ube chiffon cake swirled with flan and ube. As has become the refrain here, be sure to call ahead to see what the cafe's got.
S. Maryland
Look, there are a lot of ice cream shops in Las Vegas selling some form of ube ice cream, but this tiny little scoop shop (no crazy cereal-coated cones or over-the-top made-for-Instagram dessert concoctions here) located inside the Seafood City Supermarket on Maryland has the absolute best. Trust me on this one -- I have been on this mission for a while. Get the ube macapuno (ube with coconut) for the richest, creamiest, most decadent ice cream in town. And take a gallon home with you.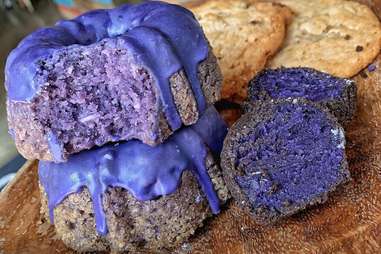 S. Jones
Cafe 86 is mostly a SoCal thing (as are so many of the places in Las Vegas), but it does have a Vegas location, too, and tons of ube things -- tres leches, crack cheesecake, leche flan cupcakes, crinkles, muffins, faux pop tarts, mini pies, conchas, cheesecake, truffles, butter bars, ice cream sandwiches, madeleines, *breathes* halo halo bread pudding (halo halo is a Filipino dessert commonly made with ube), upside-down halo halo (a boba tea-ube ice cream milkshake-dessert concoction), and probably more but that should be plenty. Not all of these items are available every day, so check socials before driving over there.
W. Lake Mead Blvd.
There are a lot of Filipino and Asian-fusion restaurants in Vegas, but the Cutting Board Filipino Gastropub seeks to make what is commonly seen as fast-and-cheap food into more of a fine dining experience. They restaurant has a few different desserts featuring ube -- ube suman with coconut topping, coconut halo halo -- but its ube soufflé is an absolute must-order.
S. Maryland
This Filipino barbecue joint also serves a variety of native desserts, and you can bet ube takes top billing. Order the turon a la mode, a fried plantain with jackfruit and ube ice cream; the mais con yelo with shaved ice, sweet corn kernels, condensed coconut cream, and a scoop of ube ice cream on top; or the flaming halo halo made with shaved ice, yams (the orange kind), plantains, jellies, red beans, jackfruit, whipped cream, Rice Krispies, and topped with ube ice cream that is then topped with leche flan covered in brown sugar which is then set on fire (to caramelize) and doused with evaporated milk. Wowza.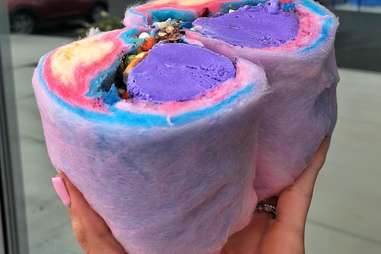 S. Rainbow
Creamberry has made national headlines for its cotton candy rainbow burrito, and if you order it with the ube ice cream, you maximize its Instagram potential. There's also rolled ice cream tacos, halo halo, bear waffle "cones" with cotton candy hats, bubble waffle "cones," ice cream-stuffed honey toast, cotton candy-ringed halo cones, and so much more. There's a reason we named it one of the best ice cream shops in Vegas.
Multiple locations
This is a place that exists for the 'gram. Get the ube Italian ice in one of its giant cones coated in candy and mark that hand-holding-cone-in-front-of-cutesy-neon-sign off your social media bingo card.
Pick-up or delivery only
Some of the best purveyors of fine ube desserts in Las Vegas don't even have their own storefronts. One such place is Lola's, a cottage food kitchen which is fast gaining a fandom for its brand-new golden tin cakes, but is also beloved for ube crinkles and ube bars topped with coconut. Keep an eye on its IG for more new items coming soon.
Pick-up or delivery only
This is another local cottage industry business specializing in ube-centric treats. Order some ube cheesecake cupcakes, ube Rice Krispie treats, or chocolate ube-covered Oreos to be the biggest hit at your next party.
S. Jones
Another local shop with house-made ube ice cream, at Scoop you can create your own ice cream sandwich concoction with ube ice cream sandwiched inside of a giant macaron shell in flavors like circus animals, Oreo, thin mint, or matching purple taro.
Online ordering and delivery only
The Purple Potato is known for its ube monster cookies (covered in cashews and white chocolate chips and filled with gooey ube), but the spot also make brownies, bars, and cake, all also available in a vegan option. Order online and have it delivered in 48 hours.
S. Maryland
This Filipino bakeshop makes a variety of packaged treats to take home. Stop by the shop and grab a bag of its ube polvoron (Filipino shortbread) or "Ubelicious" ensaymada (a dense sweet bread), or order some delivered right to your door.
S. Rainbow
Nourish Creamery makes a wide assortment of different ice cream flavors that change almost daily and are also available by the pint and for wholesale. Check its Insta or give the place a call to find out what flavors it's got that day. And, as a special treat for non-dairy-eaters, the creamery also make a vegan ube cheesecake with coconut ube sauce and vegan coconut whipped cream, all entirely from scratch.
Sign up here for our daily Vegas email and be the first to get all the food/drink/fun in town.
Nicole Rupersburg lives in Las Vegas, a suburb of Los Angeles, where ube fever is spreading fast. She firmly believes that purple is the new pink and really wants to make the #ubeallday hashtag a thing. Follow her adventures on Instagram.