There's more to Las Vegas than the Strip... although the Strip is pretty amazing, despite what some locals would like you to believe, and that's especially true when it comes to restaurants. There is an endless supply of great dining throughout the entire Las Vegas area -- you just need to know where to look. So we broke it all down for you, by ranking each neighborhood based on their culinary offerings, from laid-back barbecue joints to the most romantic fine-dining establishments in town.
Recommended Video
Debatable: Is Shake Shack Really Fast Food?!?
11. North Las Vegas
Essential restaurants: MRKT, Bistro 57, Road Kill Grill
North Las Vegas has its own police department, but not much in the way of restaurants. The one oasis in this mini-metropolis is the handful of charming spots in the Aliante hotel casino, including MRKT and Bistro 57. Otherwise, there's the bakery at Jerry's Nugget or whatever is being served at the no-frills strip club across the street. Your best bet could be the Road Kill Grill for some of the best BBQ anywhere in the valley.
10. Boulder City
Essential restaurants: The Dillinger, Southwest Diner
We're counting anything southeast of Henderson as Boulder City for this one. Unfortunately, there's not much southeast of Henderson, but you'll definitely want to grab a burger at The Dillinger and order breakfast at the Southwest Diner. They're definitely your best bets while on the road near the Hoover Dam.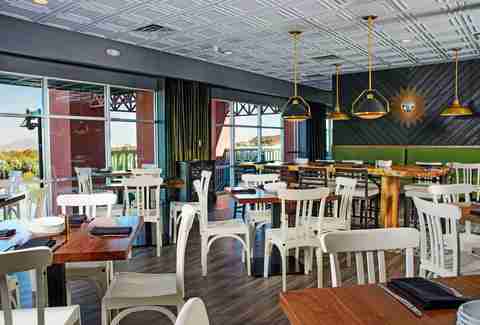 9. Southwest Henderson
Essential restaurants: Standard & Pour, CRAFTkitchen
The Anthem and Seven Hills communities are definitely great places to live, but tend to be short on nearby dining options. The recent opening of Standard & Pour is providing a much-needed cool factor to the area by putting the old Firefly location to good use. It's also hard to find a better breakfast and lunch spot than CRAFTkitchen -- a place that truly lives up to the worn out "farm-to-table" handle. I Love Sushi is a busy locals' favorite, and Bad Owl is a great coffee spot, whether you're a Harry Potter fan or not.
8. Southwest
Essential restaurants: Soho, Japaneiro, VegeWay
The stretch of Rainbow Rd between Windmill and Warm Springs is almost a mini-Chinatown, with a parade of mom-and-pop restaurants showing off a diverse collection of Asian dining. It's an intriguing area; look around and you'll also find compelling menus (and sushi) at Soho, Pier 215, and Japaneiro. There's even VegeWay -- a new drive-thru vegan burger joint. And if none of this sounds interesting, you can always go for the meatballs at the new IKEA.
7. Henderson
Essential restaurants: Bottiglia, Todd's Unique Dining, Essence & Herbs
Henderson is considered the "suburbs" of Las Vegas -- if there can possibly be such a thing. Don't worry, there are still plenty of casinos around. Venture inside Green Valley Ranch for a couple of cool new spots: Bottiglia for Italian and Borracha for Mexican, while Sunset Station has the underrated Sonoma Cellar steakhouse. But you don't need to be near a slot machine to enjoy great food; Todd's Unique Dining has been a locals' favorite for years, while the recently opened Essence & Herbs is a new tapas joint that's breathed new life into the outdoor promenade by the water at Lake Las Vegas.
5. West Valley
Essential restaurants: Echo & Rig, Kame, Honey Salt, Marché Bacchus
So what is "Summerlin," really? A home community? A neighborhood? Everything west of the Strip? It depends on who you ask, but let's talk about the areas in the west valley that seem to fall outside its borders (more or less). They include three notable shopping centers: Tivoli Village, where you'll find the best off-Strip steakhouse, Echo & Rig; Boca Park, where Mixx Grill, Hussong's, and the Sambalatte coffee shop are all worth a visit, and Rampart Commons, where farm-to-table spot Honey Salt, which recently brought executive chef Jeff Mauro on board. The real surprise can be found a little farther north at Yummy Grill (yes, the one on Lake Mead Blvd) for sushi. It recently expanded next door, opening the new Kame omakase spot that's as good as anything you'll find on the Strip. As for the northwest valley, we'd like to see some new restaurants to balance out the housing growth in the Centennial area -- and the promising arrival of Americana in the Desert Shores community could be a nice compliment to the French food and wine at Marché Bacchus.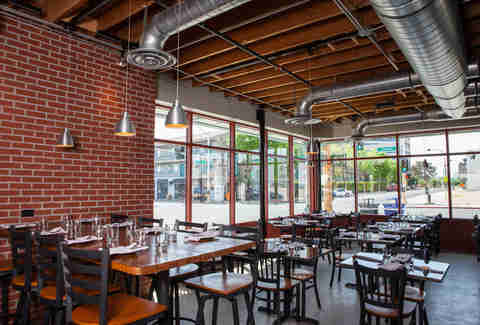 3. Summerlin
Essential restaurants: Andiron, Vintner Grill, Hearthstone, Other Mama
People who live in the far west enclave of Summerlin get aggressively specific about their borders... and maybe that's because of all the great restaurants they can claim. That includes the Downtown Summerlin outdoor shopping area, which made dining a priority by drawing places like Andiron, Casa del Matador, Public School 702, and Australia's Gelato Messina. Venture a bit north to the Red Rock casino for another impressive lineup of spots that includes Hearthstone, T-Bones Chophouse, and 8 Noodle Bar. Head to the Summerlin South area and you'll see what all the buzz is about at Other Mama, or discover the perfect mix of pizza and wine at Due Forni.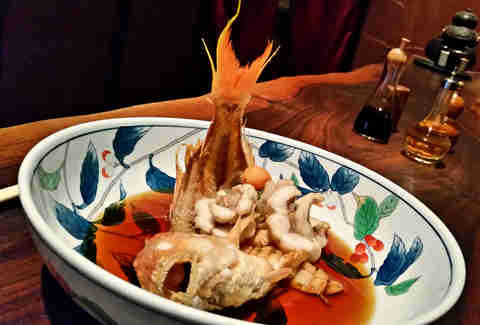 2. Chinatown
Essential restaurants: Raku, Monta, Chada Street, Yui
The Las Vegas version of Chinatown tends to be highly competitive when it comes to restaurants, perhaps because it's so close to the Strip. Tourists and locals alike go out of their way for the robata grilled dishes at Raku or the ramen at Monta. However, the real surprise is the variety in the area. The sushi at both Kabuto and Yui are elegant works of art, District One offers a new twist on Vietnamese cuisine, and Joyful House keeps things traditional but engaging with its tableside preparations. Grab a drink at the Golden Tiki before heading a few doors down to Chada Street, and you absolutely must try the burgers at the Leatherneck Club, which is dedicated to military veterans.
1. The Strip
Essential restaurants: Restaurant Guy Savoy, Carnevino, Bazaar Meat, Portofino, Estiatorios Milos
There's no other way around it: the Strip is not only the culinary center of Las Vegas, but arguably of the United States. Every big-name chef wants to open a place here, and Vegas features the only American restaurants by international heavyweights like Restaurant Guy Savoy, Joel Robuchon, and Pierre Gagnaire -- not to mention the only restaurant anywhere for Giada de Laurentiis, and four each for Gordon Ramsay and Mario Batali. Walk through the MGM Grand, for example, and offerings from Michael Mina, Wolfgang Puck, Tom Colicchio, and Robuchon are just steps from each other... with a new spot from Masaharu Morimoto opening soon. And if you haven't tried Jose Andres' Bazaar Meat or Costas Spiliadis' Estiatorio Milos, you need to ASAP. While Vegas loves star power, it also loves local chefs who rise above the competition, including Roy Ellamar (Harvest), Michael LaPlaca (Portofino, LVB Burgers & Bar), and Rick Moonen (RM Seafood, RX Boiler Room). There's a little bit of everything done exceptionally well, from tacos at Border Grill to fried chicken at Yardbird. If you're complaining about the food on the Strip, let's just say the problem isn't the restaurants.  
Sign up here for our daily Vegas email and be the first to get all the food/drink/fun in town.