Everyone in Vegas -- even celebrity chefs -- loves burgers, but you know the one thing they love even more? Strip clubs, obviously... but they're also really into brand-new burgers, so we rounded up the nine best in Sin City...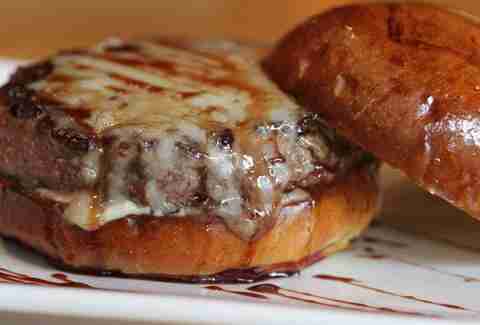 Truffle Burger
Umami Burger (address and info)
SLS Las Vegas
Umami Burger is just one of a handful of new eat spots in the new SLS Las Vegas, but it's the only one that comes with a beer garden and a sports book, so while you put money down on the latest football game or UFC fight, take a bite out of the Truffle Burger -- with house-made truffle cheese, a truffle glaze, and a hunk of beef in there somewhere. Oh, and don't forget the sweet potato fries -- perhaps the best side dish in the entire resort.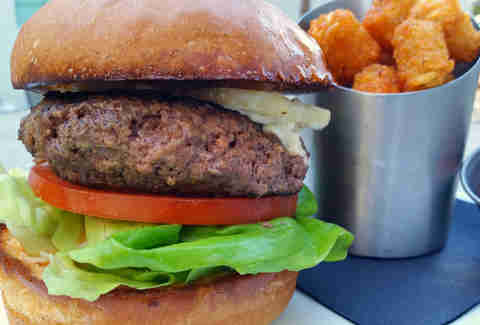 Butter Burger
Carson Kitchen (address and info)
Downtown
Carson Kitchen is more than one of the best new restaurants in Las Vegas, it's also adding some celebrity chef star power to the Fremont East District -- courtesy of Kerry Simon -- and serving casual cuisine like the Butter Burger. It's cooked in, yes, butter and topped with both Boursin and cheddar cheese.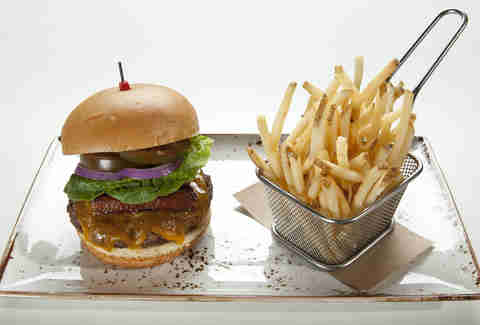 Delano Burger
Della's Kitchen (address and info)
Delano
The place once known as THEhotel at Mandalay Bay had some trouble with spaces and capitalization, so it underwent a multi-million dollar makeover and is now called Delano Las Vegas. Among the new features is Della's Kitchen -- a breakfast and lunch spot featuring farm-to-table ingredients and a burger made with grass-fed beef, local aged cheddar, and smoked pork belly.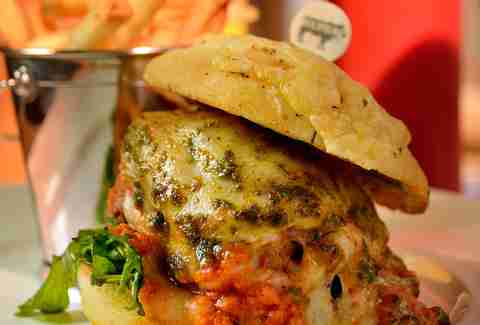 "Meat Ball" Burger
Holsteins (address and info)
The Cosmopolitan
Beef, pork, veal, and pecorino form the "Meat Ball" Burger, which is topped with provolone cheese, basil walnut pesto, and arugula. There's no pasta on the side, but you do get an herb focaccia roll for your starchy carb fix.
The Double Stack Burger Meister
Made.LV (address and info)
Tivoli Village
The Double Stack Burger Meister could be the best double-cheeseburger you'll find in Las Vegas. It's made with Creekstone Farms Beef, features the restaurant's own in-house steak sauce, and comes with fries in bag stamped with how you have got it after you order one: Made.
The Cure
Distill (address and info)
Southern Highlands
The Cure is a juicy combination of beef and pork that comes with fontina cheese, jalapeño jelly, spicy mayo, and fried parsnips... and it might also be the perfect addition to these other hangover enders.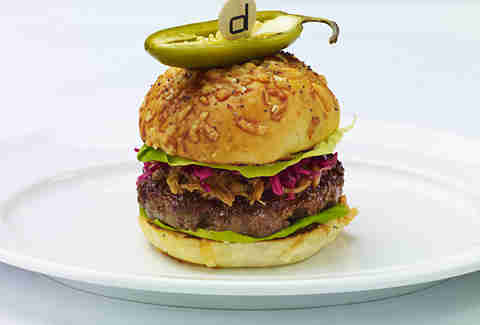 The Piggie
db Brasserie (address and info)
The Venetian
The most buzzed about new French restaurant of 2014 actually has a burger on the menu? No. It has three, including The Piggie, which comes topped with house-made BBQ pulled pork, jalapeño mayo, and vinegar slaw on a cheddar bun.
Back-to-School Burger
BLT Burger (address and info)
The Mirage
Can't decide between a burger and an order of nachos? Check out the new Back-to-School Burger: the sloppy mess comes loaded with American cheese, bistro chili, nacho cheese sauce, Frito-Lay chips, and probably has as many calories as, like, 12 school lunches.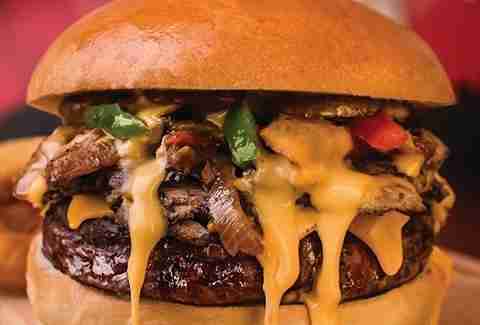 Philly Cheese Steak Burger
KGB: Kerry's Gourmet Burgers (address and info)
Harrah's
October brings a brand-new creation -- the Philly Cheesesteak Burger. It comes with thinly sliced grilled steak, peppers, onions, mushrooms, and for those who need more than one kind of cheese: American AND white cheddar sauce.
Sign up here for our daily Vegas email and be the first to get all the food/drink/fun in town.