The 11 Most Exciting New Restaurants on the Las Vegas Strip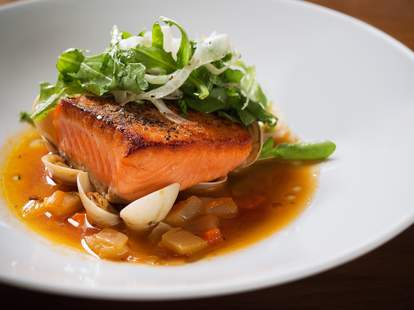 Courtesy of Hexx/Anthony Mair
Some people come to Las Vegas to pile as much food as possible on their plate in the buffet line, but a trip to here provides a real opportunity to discover an amazingly diverse collection of cuisine. Las Vegas is home to some of the best restaurants in the world. Period. No other city has so many quality dining spots within so few feet from each other... and with free parking! But what has Las Vegas done for you lately? Here's a look at some of the most awesome restaurants to open their doors on the Strip in recent months.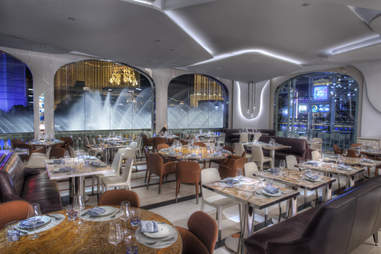 Courtesy of Julian Serrano
Lago
Bellagio (address and info)
Julian Serrano's latest Vegas spot is big on atmosphere and small on portion size. And that's by design. You can't go wrong with floor-to-ceiling views of the famously famous Bellagio fountains, but the Italian inspired tapas menu is the real draw here. Highlights include the grilled octopus and a perfectly simple Margherita pizza that will leave you wondering how a wood-fired oven was able to keep the crust so buttery soft.
Courtesy of Hexx/Anthony Mair
Hexx
Paris Las Vegas (address and info)
Equipped with an open-air view of Las Vegas Boulevard, Hexx is also one of just a handful of places in the U.S. making its own chocolate from scratch in-house, with carefully measured and processed imported cocoa beans and palm sugar. The result is chocolate that's meant to sit in your mouth and be savored like wine, and not scarfed down like your average candy bar.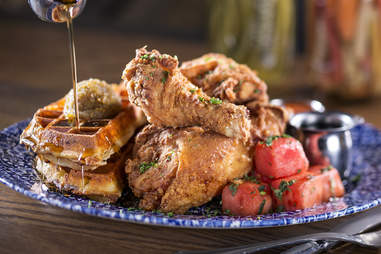 Courtesy of Yardbird
Yardbird
The Venetian (address and info)
Yardbird proves that fried chicken can be a gourmet dish. The Miami import truly has the best version of it in Las Vegas, made with organic, free-range chicken that's brined for 24 hours. It's best served alongside chilled spiced watermelon and, so we don't get too healthy, a cheddar cheese waffle.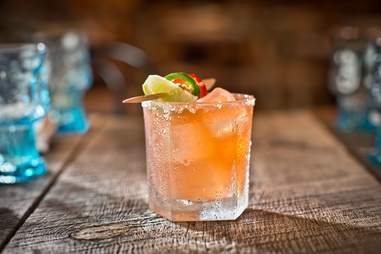 Courtesy of Searsucker/Peter Harasty
Searsucker
Caesars Palace (address and info)
After finding success in Southern California, Chef Brian Malarkey brought his concept to Las Vegas to show that fries should be cooked with duck fat, and that in-house infused liquors like vanilla vodka and apple cinnamon bourbon make any cocktail taste better. If that's not enough, Searsucker is right next door to the brand new OMNIA nightclub, making it the perfect place to bring your buds before a long night of VIP tabling.
Courtesy of Bardot Brasserie
Bardot Brasserie
Aria (address and info)
Michael Mina mixes things up with his latest Vegas venture by serving up carefully prepared French cuisine in a comfortable spot that keeps things lively and fun with a champagne cart, shellfish towers, and a casual atmosphere that evokes a 1920s bistro.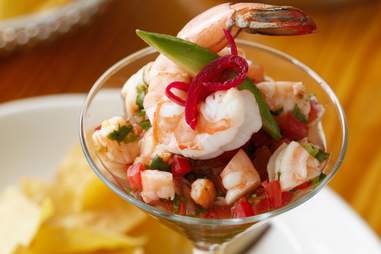 Courtesy of Border Grill
Border Grill
Forum Shops at Caesars (address and info)
The Border Grill has two locations in Las Vegas, but the latest one is more than just a place to grab a taco while your significant other goes on a spending spree through the Forum Shops. Pull up to the ceviche bar for a new twist on shrimp cocktail or an oyster shooter served with a shot of tequila.
Courtesy of Shake Shack/William Brinson
Shake Shack
New York-New York (address and info)
Shake Shack is the trendiest hunk of meat in the country at the moment, but there has never been a location west of the Mississippi… until now. But it's more than just the latest burger hut in Vegas. Shake Shack has given another dimension to the New York-New York resort with big windows, an outdoor picnic area, plus frozen custard and sticky fingers that will draw big crowds when the summer months heat up.
Courtesy of La Gloria
La Gloria
Caesars Palace (address and info)
Caesars Palace got this awesome idea to build a food court in the lobby, and include some cool joints you can't find anywhere else on the Strip. At the top of the list is the first La Gloria location to open outside San Antonio. The street tacos are made with fresh ingredients you can wash down with one of several blended fruit drinks.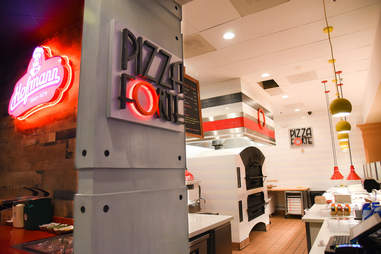 Angie Ortaliza/Courtesy of Pizza Forte
Pizza Forte
Sunset Station (address and info)
If you need a quick bite that's taken a long journey, this is your spot. The family behind the stalwart Ferraro's on Paradise Road -- whose roots go back to Italy via Syracuse, NY -- are doing fast-casual in the best possible way, with pizza of the New York and Roman variety, plus hot dogs from a 130yr-old 'Cuse institution Hoffman.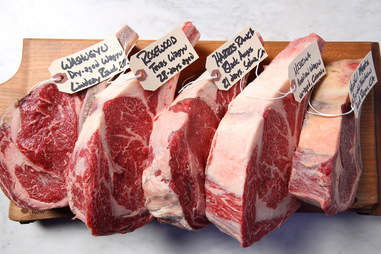 Courtesy of Bazaar Meat/SLS Las Vegas
Bazaar Meat
SLS (address and info)
Housed in a gorgeous room of Philippe Starck's design, José Andrés' celebration of "all things carnivore" will fill you with steaks and huge grilled pigs, but balances the feasting with, of all things, physics, in a meticulous cocktail program that uses ingredients like "atomized scotch."
Anthony Mair/Courtesy of Itsy Bitsy
Itsy Bitsy: Ramen and Whiskey
Downtown (address and info)
Downtown just got the greatest 3-step process ever: build-your-own ramen (1. Pick Your Noodle 2. Pick Your Broth 3. Choose Your Topping.). As for the whiskey, that refers to the warming collection of Japanese brands on offer -- some of which should find their way into bartender Daniel Marohnic's cocktails.