After a long day of gambling, but before a long night at the strip club, what's the one thing you should do in Vegas? Take a nap, definitely, but you should probably also hit one of Sin City's countless sweet restaurants, more of which are opening all the time. For proof, here're the 10 best new bars and restaurants in Las Vegas...
Caesars Palace
The menu from Chef Brian Malarkey features a farm-to-table spin on comfort food that includes a hearty spicy shrimp & bacon grits, 38oz bone-in ribeye "tomahawk" and eggs & bacon "pork belly." The drinks feature house-made infusions like sweet tea vodka, cucumber gin, and apple-cinnamon bourbon. Searsucker is also right next door to the new OMNIA Nightclub. So it could be the perfect place to pre-game before hitting the dancefloor.
Downtown Summerlin
It's supposed to feel like a party in the Hamptons with white wooden beams criss-crossing the high ceilings, but Andiron may already have a legit claim as the best restaurant in the West Valley. The steaks are perfectly cooked and the seafood plates are creative without sacrificing quality, but it's the Mac & Cheese Waffle that may be the most fun to bite into.
Henderson
This unassuming spot in Henderson is perfect for people who are tired of the same old dessert and pastry options. Liquid nitrogen and a blowtorch are the weapons of choice for creating sweet bites that are hard to find anywhere else. Start with the Frozen Spheres, where creamy centers are surrounded by a crunchy marshmallow shell, before moving on to gelatos and sorbets topped with crunchy fruit and chocolate powders.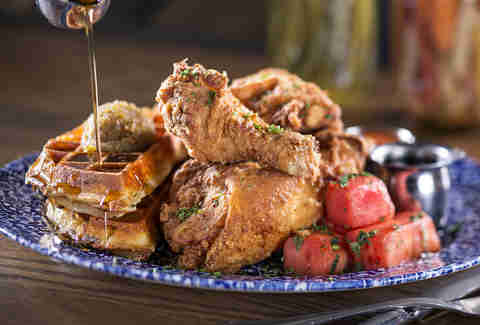 The Venetian
If you're going to pick one place in Las Vegas to order fried chicken, make it Yardbird. The organic, pasture-raised chicken arrives at the table juicy and golden after a 27-hour brining process and is served best alongside a cheddar waffle with maple bourbon syrup and chilled, spicy watermelon.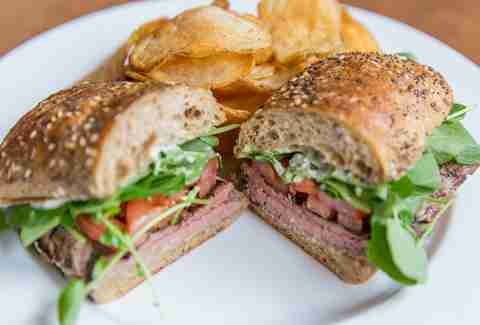 Northwest Valley
The team behind Sammy's Woodfired Pizza has a new concept that combines convenience with fresh ingredients and quick service. Order at the counter and wait just a few minutes for the food to arrive. Stay on the healthy side with multigrain bread for the sandwiches and pizzas made from a gluten-free crust.
Green Valley Ranch
The second location for Pizza Rock is cozier than its Downtown counterpart but still offers plenty of space, dozens of beers on draft and gourmet pies that include deep dish, thin crust, and pretty much any kind of you can think of. There's also an interactive bar area by the wood-fired oven, and if you get bored, more than 40 HD TVs with Xbox gaming systems attached.
Aria
Michael Mina's latest Las Vegas restaurant offers a creative take on plenty of traditional French dishes. Check out the foie gras sausage and a new spin on French onion soup that includes truffles, oxtail, and a soft-poached egg.
Downtown Summerlin
Quality ingredients are the priority on this protein-heavy menu with wagyu beef, salmon and, chicken burgers alongside your choice of pork and beef ribs. Beer and wine are available on tap and there's even a sink in the middle of the dining room to help wash all the BBQ sauce off your fingers.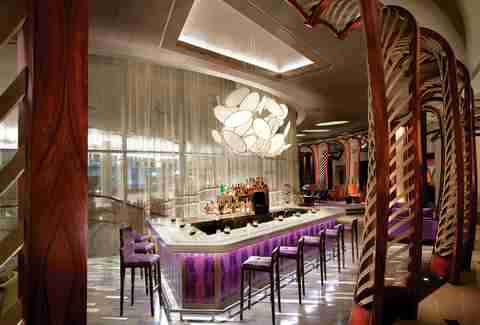 Vdara
The lobby bar at Vdara was revamped and given a new name, look, and menu that includes lobster tacos and Lamb Chop Lollipops. But the best reason to stop by is the drink selection, which includes two different takes on the Moscow Mule. Try the Sunset in Moscow, made with Belvedere Pink Grapefruit vodka and fresh strawberries.
Downtown Summerlin
Gelato spots can be found inside almost any Vegas casino, but this Australian chain's first American location beats them all with natural ingredients, artistic precision, and flavors that are inspired by Elvis (peanut butter with fried brioche and banana jam) and Breaking Bad (blueberry with violet crystals). Or just go with a gelato cake that's shaped like a mushroom.
Sign up here for our daily Vegas email and be the first to get all the food/drink/fun in town.