You can bet that every month in Vegas, 3.2 million or so tourists'll come to town; gamblers will lose around $8 million at the tables; there won't be nearly enough topless pool parties; and a bunch of badass new restaurants'll open up. Helping you out with the last of those, here's our list of 10 sweet new Sin City bars and restaurants you should try right now...

The MTO Café
Downtown
It may only be open for breakfast and lunch, but this downtown café is drawing attention for its foodie-friendly casual cuisine (Vegan Carrot Coconut Pancakes that actually don't suck), and, since it's across the street from City Hall, for making paying traffic tickets surprisingly delicious.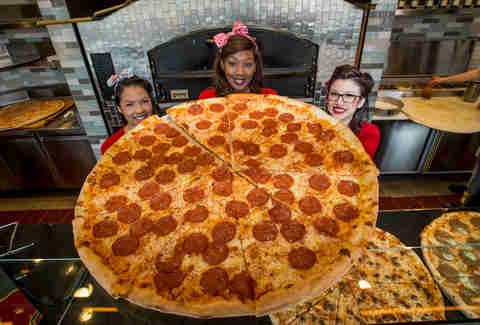 Pin-up Pizza
On The Strip
This retro-themed pizza spot inside Planet Hollywood claims to have the biggest slices on the Strip: 71 square inches to be exact. Don't worry, we'll do the math for you, each slice is 15 inches long, and it takes 4lbs of dough to make an entire pie.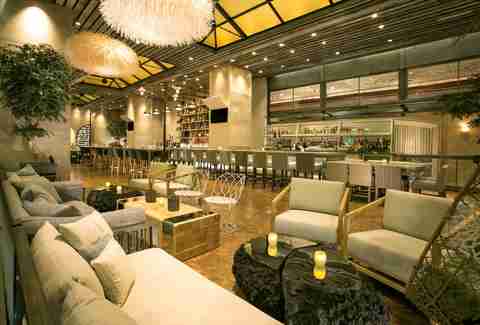 CRUSH
On the Strip
This sleek, modernist tapas joint is serving things like octopus ceviche underneath a light display that mimics the natural movement of the sun – probably the only example of a casino coming remotely close to telling you what time it is.
B&B Burger and Beer
On the Strip
Croc-wearing Chef Mario Batali casually continues his dominance of the Venetian and Palazzo with a burger joint that gives you a chance to show off your Travolta impression by ordering the "Royale with Cheese" (seriously, the waitress has never heard it before), which comes with robiola cheese, caramelized onions, grilled treviso and parmigiano-mascarpone cream.
Chayo Mexican Kitchen
On The Strip
The LINQ's first big restaurant serves up fresh Mexican food using ingredients that you can actually recognize when they show up in tacos, burritos, and the above Del Mar platter – a selection of grilled seafood and *sigh* vegetables.
Stewart & Ogden
Downtown
The restaurant's name comes not only from the two parallel streets on each side of the brand-new Downtown Grand… but also from a couple guys who, back in the 1800s, met and dined in the same spot, where today S&O's cooking up things like braised short ribs they hope people will still be talking about more than a century later.

Bernard's Bistro
Henderson
The fact that Chef Bernard Tordjman makes a point to be personally involved in most of the preparations makes this place a rarity in Las Vegas, as will regular theme nights featuring food from the kitchen of the Titanic, or Frank Sinatra's favorite Italian eats that'll definitely (Rat) Pack 'em in.
Banger Brewing
Downtown
The flights of beer are what bring in the crowds, but if you're hungry, there is gourmet popcorn, which is available in flavors like chocolate and dill pickle, and is really just a cynical/awesome ploy to make you thirsty so you'll buy more beer.
Bobby's Burger Palace
On The Strip
Bobby Flay's selection of 10 signature burgers (the provolone/grilled onion/hot peppers Philadelphia, the fresh goat cheese-topped Napa Valley, etc.) are already awesome, but, each one can also be "crunchified", which means they'll throw a mess potato chips on top.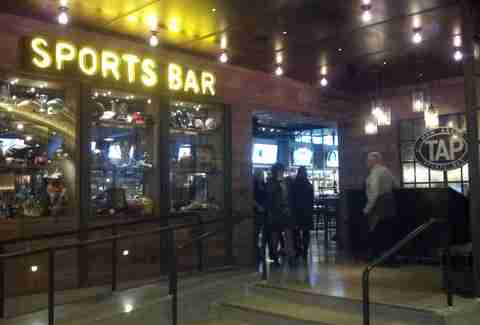 TAP Sports Bar
On The Strip
The MGM Grand's new sports bar is loaded with high-def TVs, '80s hair metal cranking over the sound system, beer and wine (yes, wine) on tap, and a dessert list that's almost as eye-catching as what's going on at those aforementioned pool parties, mostly thanks to things like a chocolate shake made with Guinness, and fried s'mores.