When it comes to culinary hype and fanfare, our Strip tends to hog all the attention, but the tourist corridor was relatively quiet when it came to new openings in 2017. The real excitement was in the neighborhoods off the Strip -- where most people actually live and chefs have a greater opportunity to call their own shots and take a few more chances. Make no mistake, the era of the celebrity chef is still very much alive, with Gordon Ramsay and Giada de Laurentiis planning new Vegas concepts in 2018, but as the population grows and appetites evolve, the locals are gravitating to restaurants that aren't attached to a hotel or a paid parking garage. More than ever, quality can be found anywhere in Las Vegas, which is the real story of the year when it comes to food.
Henderson
A small slice of Rio de Janeiro, with dishes from around the world
Looking for a new challenge in Henderson, Marcus Fortunato closed his strip-mall cooking school and in its place, opened Boteco -- a full-fledged restaurant modeled after common neighborhood hangouts in Brazil. Its menu of shareable small plates carries a vibrant international influence based on Fortunato's travels around the world, like a chili crab dip from Singapore or a black garlic hummus discovered in Germany. The menu was carefully crafted with executive chef Rachel LeGloahec, who previously worked for Joel Robuchon's Vegas restaurants but is now forging a new path by applying fine dining techniques to a comfortably casual concept. There's no dress code or white tablecloths here. Wear what you want, order what you want, bring a laptop, and sip on a glass of wine without feeling the pressure to have your table turned quickly. For weekend brunch, Boteco switches to a format of individual plates, but it's still delightfully weird. No scrambled eggs, no hash browns, and the Benedict is made with foie gras. (And yes, you want it badly.) On the last Friday of every month, Boteco plays around with a theme or a single ingredient (for example, white truffles) for a three- or four-course tasting menu with wine pairings for $65-75 -- a crazy good deal for what you're getting.
Chinatown
A constantly changing, multicultural menu fueled by a wood-burning grill
After building a reputation at Comme Ca, Bouchon, and other Strip resort restaurants, chef Brian Howard finally has a place in Chinatown to match his ambitious goals. Howard describes his menu as American comfort food, but in his eyes, that seems to represent a melting pot of different cuisines, whether that means enjoying culatello ham or Japanese hamachi. And if beef cheek bone marrow dumplings reflect the new shape of modern America, sign me up. However, nothing is meant to last with dishes rotating in and out about every three weeks. Even signature items are dropped along the way as the menu evolves with the availability of seasonal ingredients. One constant element -- the wood-fired power of a custom designed grill that in one way or another, is used on about 75% of the dishes -- with equal attention-to-detail given to both vegetables and proteins. A three-tier bento box of meats and seafood is a clever touch to make date nights interesting, but most everything on the menu is delicious and easy to share. It's no surprise this place is becoming the new industry clubhouse.
The Cosmopolitan
Contemporary Japanese cuisine, with ingredients flown in daily from Japan
A welcome addition to the Cosmopolitan's killer lineup of restaurants, Zuma is heavy on atmosphere, mixing the modern style of a lounge with the bustle of a busy dining room where open kitchen areas, including a sushi bar and robata grill, are visible from every angle. The large floor-to-ceiling windows that overlook the Strip are a nice touch as well. But the environment means nothing if the food can't deliver, and Zuma's food make it the most exciting Strip opening of the year. The fish is flown in from Japan every day, and flavor profiles are kept simple and recognizable, with gimmicks set aside in favor of stylish presentation. For drinks, fans of Japanese whisky are in luck, as the selection is strong and diverse and includes the only 30-year-old Hibiki in Las Vegas. Zuma also serves its gin & tonic in a plastic bag, for those feeling a little more adventurous. And if you really want something cool, ask about the new Zacapa custom rum barrel -- and why it has a bubble-gum aroma. No matter what you get, there are a lot of moving pieces to this place, and now that executive chef Erick Melendez has worked for Zuma in Miami, Rome, London, and New York, his operation seems right at home in Las Vegas. This is a social spot, where the plates are meant to be shared, the drinks are meant to be fun, and the chatter is meant to be loud. This is why you come to Vegas.
Southwest
Meticulously prepared Vietnamese-American food in our southwest suburbs
It's hard to find a restaurant with a bigger buzz in Las Vegas right now. Chef Jamie Tran is leading a team of Strip culinary veterans to produce a simple but ingredient-driven menu where American comfort classics meet Vietnamese fusion. Don't leave without trying the fried beef chips, salmon skin tacos, and spring rolls so good they'll impress even the staunchest spring roll skeptic. Soundtracked to indie rock and hip-hop playing throughout the dining room, Tran has a knack for allowing each bite on the menu reach its full potential, only using ingredients at their peak of seasonality in its dishes. The chefs don't cut corners, and everything is made from scratch daily. The prep begins at 8 in the morning and runs until dinner begins at 5. And if you can only choose one cocktail, dance with Mr. Brownstone. It's great because the whole drink minus the alcohol is contained within the ice cube. Bourbon is poured over it and hand-torched tableside, releasing an aroma of flavors and building on an energy that's in ample supply throughout every corner of the restaurant.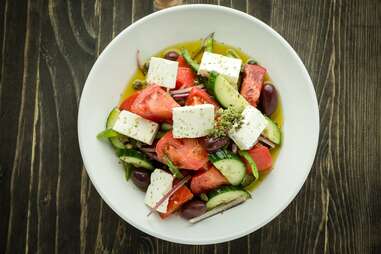 Spring Valley
Authentic Greek food served on casual wood tables
Meraki, the joint venture between chef Nikos Georgousis of Estiatorio Milos, and Girair (Jerry) Goumroian of The Great Greek, has already built a fiercely loyal following in just a few months. It's the kind of place where you can grab a table and enjoy your meal with a glass of wine or take everything home with you. (The restaurant estimates about 60% of its business is to-go orders.) They keep the menu tight with traditional favorites, but include some unexpected Americanized touches, whether it's the slice of avocado added to a Greek salad or the rice bowls topped with Mediterranean flavors (try one the next time you crave Chipotle). The fresh food is grounded in authentic preparation and imported ingredients, including true Greek yogurt that serves as a creamy base for the most addictive tzatziki you've ever had in your life, so ask nicely for extra pita bread. Meraki also emphasizes its daily specials, which can include charred octopus, lamb chops, or even a whole roasted branzino. And if you don't want to bring home an entire Greek-style branzino ready-to-eat, there might be something wrong with you.
The Venetian
The Strip's first Latina chef leads a spectacular spot in The Venetian
There had to be a celebrity chef on this list somewhere. After scoring valuable airtime on Top Chef Masters, Lorena Garcia has invaded the long-running boy's club at The Venetian and The Palazzo by crafting a lively menu of Latin cuisine. It's approachable enough for the trade-show attendees on the casino floor, yet vibrant and adventurous in drawing inspiration from all corners of Central and South America. Arepas and plantain chips seem to overflow off every plate, but conserve your calories for a fresh Peruvian-influenced tuna ceviche, rodizio-style roasted Brazilian tenderloin, or a sweet halibut wrapped in a banana leaf and roasted with pineapple. As far as drinks go, Chica's FW Margarita is your new best friend, balancing the sweetness of watermelon juice with the mild spicy kick of Fresno chili.
Hard Rock Hotel & Casino
A luxe steakhouse distinguishes itself in a town full of them
The Hard Rock has dramatically reinvented itself in recent years, keeping its rock-star attitude while undergoing some stylish contemporary upgrades and renovations. MB Steak seems to fit right in and is perfect for a boys night out at the bar, a playful first date, or a bachelorette party pregaming before seeing Magic Mike Live next door. In a city built on steakhouses, the menu doesn't look to reinvent the wheel but is fiercely competitive in its execution and preparation, whether it's a tender Japanese Miyazaki or a hearty Midwest New York strip. The careful watch of executive chef Patrick Munster brings attention to detail to every bite -- including side dishes like the creamed spinach, topped with truffle Gouda and a soft-poached egg cracked open tableside. MB Steak was built from the ground-up within the hotel, crafting its own energetic environment with a stylish dining room, busy bar areas, an upstairs lounge with Strip views, and a "private drinking room" in place of a private dining room.
East Valley
Excellent Latin American food hidden in -- yes -- an office complex
Bandito is a new concept driven by Kent Harman, formerly the director of operations for Border Grill, who loved the approach of taking traditional south-of-the-border cuisine and elevating it with the best ingredients possible, including responsibly sourced meat, chicken, pork, and fish. The enchiladas are served "inside out" with their proteins sitting proudly on top -- as if to say "try and beat this." Its ceviche, made with fresh halibut, shrimp, and scallops, is an especially flavorful take on the dish and a go-to lunch order. The restaurant also prides itself on five house-made sauces that allow each dish to be reinvented several times over. Just like the culinary team, the bartenders have adopted their own level of ingenuity. The Paloma, for example, is prepared with "house-made Squirt" with fresh ruby red grapefruit juice mixed with soda water. Despite its location on the edge of the Hughes Center office complex, Bandito is more than a great lunch spot. It's a vibrant social center -- and perfect after-hours -- with a chic industrial decor, tall ceilings, and sliding doors that open wide to the patio.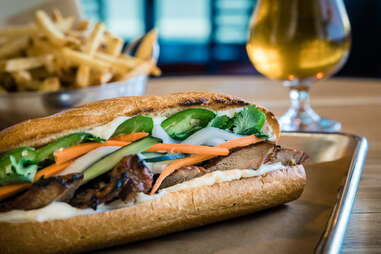 Spring Valley
Craft beer and Asian cuisine served in a space great for watching sports
Inspired by a rise in the craft beer culture of Las Vegas, San Diego natives Van-Alan Nguyen and Chris Holding came to town with their own idea of a neighborhood hangout -- free of gaming, free of smoking, and the kind of place where you can bring the kids while still taking on the adult challenge of choosing a new brew. No Bud, no Miller, no Coors -- but no beer snobs either. The staff is ready to offer a little education and steer your palate toward one of 24 craft beers, including local favorites and out-of-market exclusives. But 595's biggest surprise -- for being a beer pub -- is its impressive cocktail lineup, offering a few well-crafted spins on familiar classics, like the mezcal daiquiri or a Chartreuse Mule. As for the food, approachable bar favorites take on a heavy Asian influence -- with the pork belly burger fast becoming a regular favorite. And where else will you find four versions of both poutine and banh mi on the same menu?
West Valley
An inventive, family-owned Mexican bistro known for making everything fresh
Las Vegas is crawling with Mexican restaurants, but Salud wants to offer an alternative -- where fresh ingredients are a priority and the tacos are stuffed with chipotle mushrooms, pork belly, or lobster. The kitchen is led by chef Israel Reyes, a Mexico City native, who keeps things interesting with duck carnitas, pork belly chicharron, and a south-of-the-border spin on gnocchi. The bar is armed with more than 100 bottles of tequila for margaritas based on fresh juices and ingredients, including an especially crisp watermelon version; no mixes and no slushie machine to see here. Salud has also made a wise choice to stay out of the crowded Taco Tuesday competition, instead opting for Margarita Mondays, where all-you-can-eat tacos and all-you-can-drink margaritas are served for $22 (try to beat that at this caliber). A brunch menu was recently introduced and worth a visit alone for the jalapeño bacon and eggs flautas.
The Cosmopolitan
The West Coast's first Momofuku is an unqualified success
Momofuku is more than a restaurant. It's an empire. Originally founded in New York as a ramen noodle shop, David Chang's concept evolved and expanded under a few different brands before arriving in Las Vegas -- and carrying the high expectations that come with being a well-oiled machine. Fortunately, the Vegas edition lives up to the hype and has been thriving under the direction of executive chef Shaun King. The menu is a mix of Asian influences, from Korean braised short ribs and bo ssam to spicy Sichuan sausage noodles and an escolar ceviche from the raw bar. And if you don't think fried chicken and caviar belong on the same plate, you're not getting out of the house often enough. After-dinner sweets come courtesy of Milk Bar, a dessert counter that operates under the same umbrella. The MilkQuake blend of soft-serve and sweet potato pie is the perfect way to wrap up a big dinner.
Sign up here for our daily Vegas email and be the first to get all the food/drink/fun in town.
Rob Kachelriess has been writing about Las Vegas for Thrillist for more than four years. His work has also recently appeared in
Travel + Leisure
,
Vegas Seven
,
David Magazine
,
Vegas Magazine
, and Luxury Estates International's seasonal publication. He really wants you to click this link. Follow him on Twitter @rkachelriess.