Yusho/MGM Resorts International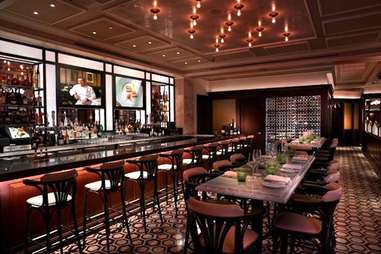 db Brasserie
On the Strip
Chef Daniel Boulud returns to the Strip with what could be the best French restaurant in Las Vegas: you might get thrown off by the sight of three burgers on the menu... but they're worth checking out if you're not up for paying more than $90 for a ribeye. Just skip the freedom fries and go for the escargot on the side instead.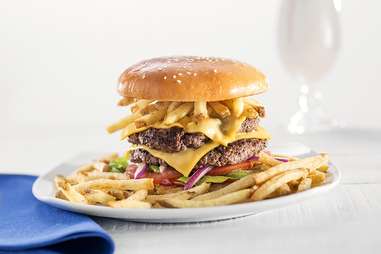 Back Room Burger
Off the Strip
The concept is simple -- quality burgers done right and on the fly while you spend some time by the pool at the Palms. If white meat is more your thing, check out the trio of fried chicken sliders while checking out the eye candy walking by in bikinis.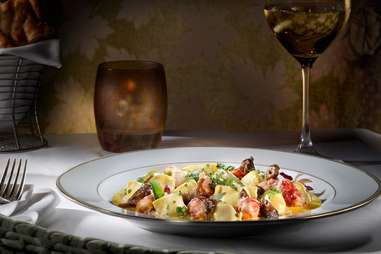 Portofino
On the Strip
The Mirage's Italian restaurant brought in a new chef a few months ago, and he made so many changes to the menu, they decided to revamp the whole place and give it a new name altogether. Now, ingredients straight from Italy and modern twists on traditional dishes are the norm… so make sure to try the chicken Parmesan featuring a sausage made in-house from leg and thigh meat.
Double Barrel Roadhouse
On the Strip
This spot in front of the Monte Carlo doesn't really have a front door. Just plenty of wide open space that would be perfect on a beach somewhere, but since it's on the busy Las Vegas Strip, you'll have to settle for a view of that instead, which isn't so bad when you consider that you're chowing down on wood-grilled porkchops, mini corn dogs, and something called "Pie in a Jar".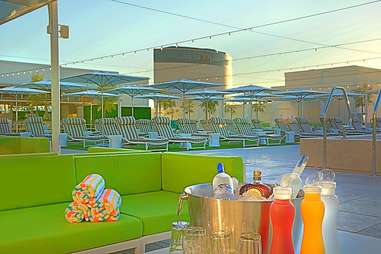 PICNIC
Downtown
When the old Lady Luck Casino got renovated and transformed into the stylish Downtown Grand, somebody in charge decided to actually do something with the roof: there's a pool, a vast lounging area, and in PICNIC, some of the most Summertime-appropriate eats in Las Vegas, including their OMG Burger and fried chicken, or lighter fare like Garlic Edamame and Edamame Dip made from (you guessed it!) edamame.
Yusho Grill & Noodle House
On the Strip
Ramen isn't just for broke college students in dorm rooms, and even if said noodles don't win you over (although they should), you've got sake in to-go cans and a selection of cocktails on tap, including what might be the best gin and tonic in Las Vegas. Repeat: the gin and tonic is on tap. And it's awesome.
BLVD. Cocktail Company
On the Strip
You're just steps away from the big wheel in the sky known as the High Roller, and you need a drink, so hit this brand-new cocktail lounge at The LINQ, where the in-house piano players offer a nice break from the EDM currently spinning elsewhere on the Strip. And, yes, by "elsewhere" we pretty much mean "everywhere".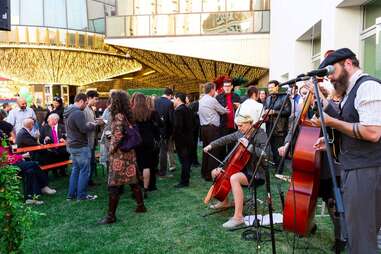 Bier Garten
Downtown
At the West end of Fremont St, you'll find the Plaza -- home to Bier Garten and plenty of craft beer, a yard with real grass, and a preference for German spelling. There're also baked pretzels large enough for four people, aka just one average Thrilllist reader.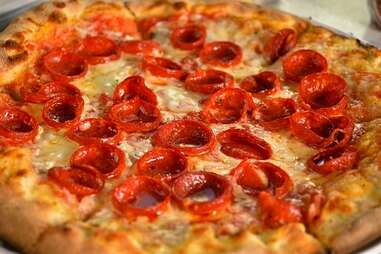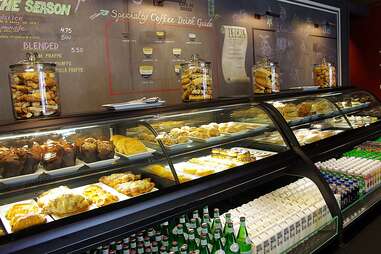 Sambalatte
On the Strip
This mainstay coffee lounge and espresso bar finally has a location on the Strip, where sure, there aren't any clocks, but it's cool, 'cause it's always time for carefully selected coffee beans from places you would never be able to point out on a globe.