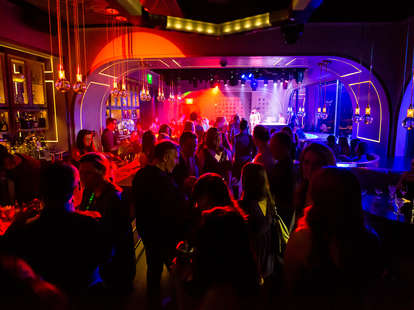 Erik Kabik/Rose.Rabbit.Lie.
Two important facts you probably weren't aware of: 1) you can't spend all your time in Vegas at topless pools, and 2) the very best times in Sin City start at restaurants where you can score great eats AND get the party going at the same time. Here are the 13 best...
The Cosmopolitan
This fashionable steakhouse is designed to be a one-stop-shop for those looking for a fun night on the Strip, thanks to gorgeous girls, DJs cranking out dance music, and of course, some fantastic cuisine. If all that isn't enough, Marquee Nightclub is just steps away.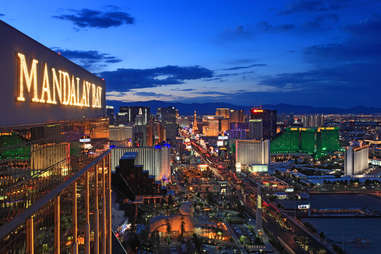 Mandalay Bay
Once a private club for high rollers, the Foundation Room is no longer "members only" and is just an elevator ride away at the top of the Mandalay Bay resort. Soak in the view -- and some booze -- on the patio, and then move indoors to one of the intimate dining areas for duck confit, fresh fish, and truffle macaroni 'n cheese.
Eastside
Head a few blocks East of the Strip for a wild and rowdy evening inside an exact replica of the original 425-year-old Hofbräuhaus in Munich. The authentic German beer hall offers plenty of Bavarian pork dishes, pretzels, and live entertainment during its keg tapping celebrations, plus you can head outside for some fresh air and enjoy more booze in the tree-lined beer garden.
The Palazzo
The upstairs nightclub was recently renovated into a lounge, but the restaurant on the ground floor remains the perfect place to bring a large group of friends for a night of Italian food. You'll find corporate dinners, bachelorette parties, and a brunch geared towards the rowdy club crowd that never quite made it home the night before.
Downtown
Begin with mac & cheese balls and wrap-up your meal with deep-fried Oreo cookies. Then head to the patio where the drinks continue under the sky... and spill onto East Fremont. It's one of the busiest spots to party in the city with plenty of bars within walking distance.
On the Strip
Sammy Hagar's South-of-the-border-inspired spot was designed to be loud and rowdy with lots of outdoor seating, and of course, the rock star's signature tequila, which you should totally enjoy alongside some fish tacos or a hunk of cilantro jalapeño chicken.
The Venetian
This multi-level party destination is big, loud, and always busy. The nightclub upstairs features a number of different rooms playing everything from old-school R&B to EDM. Plus, you've got Buddha statues alongside girls swimming in bathtubs -- barely covered by flower petals -- that're sure to work up your appetite for... the Asian cuisine served in the downstairs dining room. Why... what'd you think we were gonna say?
Henderson
After a NASA programmer got finished with the Space Shuttle program, he decided to open up this bar and restaurant with a menu heavy on craft beer and food made with fresh ingredients. Oh, and the same dude also invented the insanely popular Golden Tee video game, which you can play for free (yes, free), along with some other arcade favorites.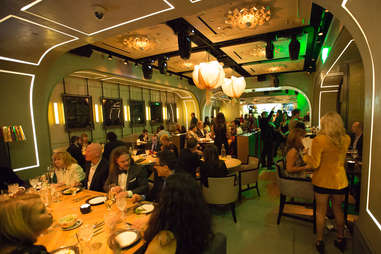 On the Strip
The Vegas Nocturne variety show was recently dropped, but this restaurant is still busy thanks to a diverse menu and in-house entertainment that includes a live band and dancers on the dining room tables. Order up a Moscow mule on draft to go with the lively atmosphere and Russian caviar tacos.
Westside
This Mexican restaurant has an exotic menu, a vast tequila selection, and additional rooms for large parties. It also has a courtyard, so you can take the fun outside and mingle with the guests spilling out of the Poppy Den next door.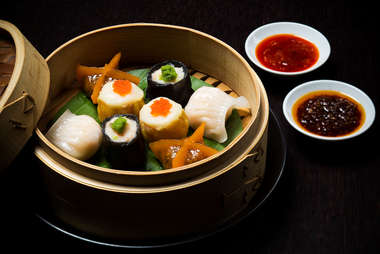 On the Strip
One of the busiest nightclubs on the planet also has a restaurant next door that's serving high-end Cantonese food like steamed dim sum and the popular Crispy Duck Salad. Think of it as a place to pregame -- with a Plum Sour or a Mango Bellini -- before heading over to the dance floor for a night of questionable behavior, and to painfully extend a metaphor, hopefully scoring.
The Palazzo
The sports bar at The Palazzo has tons of HD televisions, stadium seating so you can watch a larger-than-life big screen, and a menu put together by celebrity Chef Emeril Lagasse. So if you're going to get a group together to enjoy a football game or UFC fight, this is the place to pound alcohol and scream at the screen.

MGM Grand Hotel
Just off the floor of the MGM Grand Casino, this spot specializes in wine, beer, and creative dishes designed for sharing… by known party animals like Miley Cyrus, Luke Bryan, and the LA Kings (who took over the place to celebrate their Stanley Cup victory). The garden room and wine cellar can be booked for private events and presumbably a bit of naughty behavior if the satyr -- a mythological creature that's half-goat and fond of drunken debauchery -- found in the restaurant's logo is any indication.
This list -- and all the rest -- look even sexier in our iPhone app. Get it now!