Sure, Sin City's not the first city that comes to mind when you think of pizza, but with the recent explosion of sweet 'za spots, it should probably be... the fifth! Or even possibly fourth! To help make sure you're eating the absolute best pie in this fifth-or-even-possibly-fourth-city-that-comes-to-mind-when-you-think-of-pizza, we picked seven slice-slingers you should totally patronize the hell out of. They're below:
Slice of Vegas
The Strip
It's got a dozen TVs (including an 8ft projection), an iPhone-controlled jukebox, and 50-plus beers from PBR to Big Sky Moose Drool, but Slice revolves around NY-style 'za, like a four-cheese number drizzled w/ white truffle oil, and perhaps the only pie more meat-filled than your mom's: a veal/beef/pork bolognese joint topped with pepperoni, pancetta, sausage, bacon, mortadella, and capicola. Dude, remember that time we insinuated your mom has lots of sex?!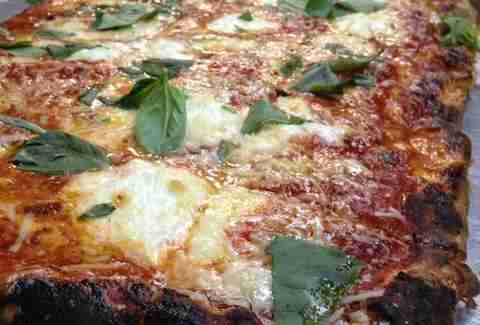 Dom DeMarco's Pizzeria & Bar
Off Strip
After being named NY's #1 rated pie for four decades, Dom brought his 'za (and, somewhat more surprisingly, New York's water) to Vegas, then imported a bunch of non-aqua ingredients from Italy to put out square-cut Sicilian pizzas, with options including the Big Apple (pepperoni, sausage, meatball, ham), and the Di Fara, covered in handcut 'roni, fresh & aged mozz, Grana Padano, and basil.
Pizza Rock Las Vegas
Downtown
Opened in October by one of San Francisco's sweetest pizza producers (he's an 11-time world pizza champion!), Rock's a gleamingly wrought-metal-filled 185-seater with 30 craft beers on tap, and more importantly, six styles of pizza ranging from 22in NYC-style pies cooked in a gas-fired brick oven at 550-degrees, to Napoletana 'za cooked almost instantaneously in a traditional 900-degree wood oven.
Engine 1 Pizza
Mobile
A food fire engine to mow down freshly tossed, made-to-order 'za from the 700-degree wood-burning oven, plus breaded mushrooms, mozz sticks, sweet potato fries, and boneless Buffalo wings, who lack the spine to call themselves fiery hot.
Metro Pizza
Multiple Locations
Fun fact about Metro Pizza: it's named for the 1997 hostage negotiation flick starring Eddie Murphy been slinging pies around Vegas for over 30 years, and if making some of Sin City's best 'za wasn't enough, they've also got a menu packed with non-disc-shaped food stuffs like meatball sliders w/ provolone on a garlic knot bun.
Secret Pizza at The Cosmopolitan
The Strip
At the end of a hallway filled with vintage records you'll find this sign-less, NY-style pizza speakeasy, pouring everything from Dog Fish to PBR and slinging slices loaded with spicy Italian sausage and veal & pork meatballs, and the new Harold Ramis-penned Patrick Dempsey vehicle in which a p*** star ghost helps him have sex with the camp director's wife. Wait, that was Meatballs III? Way to go, Ramis.
Pop Up Pizza
Downtown
Located in the Plaza Hotel, Pop Up Pizza's got a modernist space w/ three colorful pieces by prolific Japanese artist Takashi Murakami and a flash-bulb-style sign above the counter, behind which they're turning out signature takes on traditional pies like the Fremont w/ mozzarella, Italian sausage, bacon, pepperoni, roasted peppers & roasted eggplant.