L
as Vegas has a pizza style for everyone. Want to take a New York-style slice of pepperoni, fold it in half, and eat it while walking down the Strip? No problem. Prefer something pretty with arugula on top for your Instagram feed? We can do that, too. From a wood-fired margherita to deep-dish Chicago, Vegas is covering all the bases when it comes to pizza, often with attention to detail that meets -- or surpasses -- other cities around the country.
"Finally, chefs are respecting pizza as being something special," says John Arena of Metro Pizza, who's been making pies for more than 50 years. "It used to be, 'Ahh, any numbskull can make pizza.' Now, there's craft here. They're starting to understand the passion and skill set that goes into making a great pizza -- and they're elevating it."
Arena teaches a class on the history and culture of pizza for hospitality students at UNLV. He goes deep on his craft, encouraging people to think about why and how a pizza is made before taking a bite. When he looks at a margherita, for example, he sees something more than food. He sees history and culture.
In other words, pizza isn't just pizza. Today, the Sin City pizza scene is getting attention not only for its pies, but the unusual comradery among competitors. Arena was instrumental in fostering this mindset after arriving in Las Vegas in 1980, when there were fewer than 20 pizza joints in town. "I can tell you, the pizza community around the country, the serious guys, they envy what we have in Las Vegas," he says. "They not only respect us as pizza makers but they respect us for the culture we build." Read on to learn about the pizza places who have mastered the combination of craft and culture in Las Vegas.
Est. 2014 | The LINQ
A destination for pizza and beer on the Strip
This place is proof that pizza and beer are perfect together -- hence the name. Not only is there a selection of 150 beers, including craft brews, but a sourdough beer starter is used for the pizza dough. Wood fired in a brick oven, the pizzas are hot, fresh, and often adventurous. Sink your teeth into the Golden Knight -- in honor of the world's best hockey team -- made with garlic cream sauce, pepperoni, chicken, ham, onions, and the spicy kick of Calabrian chiles.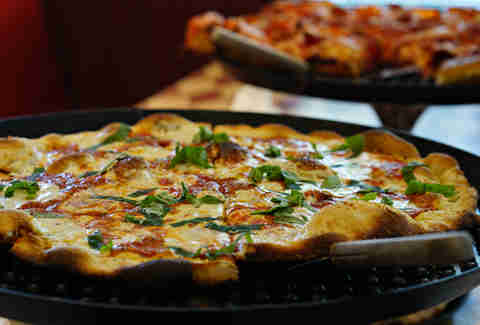 Est. 1980 | Multiple locations
Local favorite that has proud New York roots, but isn't afraid to evolve. 
John Arena worked in his family's New York City pizzeria as a child and went on to open his own place in Vegas nearly 40 years ago. The business, now known as Metro Pizza, was an immediate hit and grew to six locations, including smaller versions inside the Ellis Island casino and at McCarran International Airport. The menu is heavy on traditional New York, but Arena is eager to embrace other styles that resonate with customers for different reasons. So don't be surprised to see a crispy thin-crust Roman margherita, a five-day rise Sicilian pepperoni that looks like a brick but is soft and light, and a rectangular Detroit with pesto, a creamy vodka sauce, and melted cheese that runs down the edges.
Est. 2009 | Multiple locations
Come hungry for the epic Guinea Pie
Originally a pizza cart outside a bar, Naked City Pizza grew to five locations, including one Downtown inside the El Cortez casino. Another connected to Moon Doggie's on the west side has plenty of dive bar charm. The business has roots in Buffalo, New York (and yes, they serve awesome wings) but these days, you'll see plenty of local pride and fierce loyalty to the Golden Knights. The menu is famous for the Guinea Pie, a local legend thanks to piles of meatballs, spinach, ricotta, mozzarella, and white garlic sauce. Order the spicy Suicide Fries on the side for the ultimate carb overload.
Est. 2016 | Downtown
A beer-soaked dive-bar tribute to Evel Knievel on Fremont Street
If most of the casinos in Vegas have a theme, maybe a pizza joint should have one, too. Evel Pie pays tribute to the image and spirit of Evel Knievel with photos, American flags, and pinballs machines that match up well with the daredevil's rugged image. The pizzas are classic New York with fun toppings like "Man Candy" (candied bacon) and real rattlesnake sausage. The crust is tossed at 60 degrees and fermented for two days to produce a thin but soft and chewy texture. So pop open a can of beer, grab a seat by the window, and soak in the atmosphere of the Fremont East District.
Est. 2005 | Henderson & West Valley
The volcano-fueled masters of pizza Napoletana in Las Vegas
If you like pizza with a soft crust charred gently in a wood-burning oven, you're down with the classic Napoletana style -- and few can pull it off as well as Settebello. The custom brick oven was assembled in Italy with volcanic sand from Mt. Vesuvius holding it all together. If that doesn't impress you, just know that each pizza is made with strict traditional standards and integrity, topped with ingredients imported from Italy or sourced carefully from West Coast farms. A rolling pin is never used, which means each crust has its own unique shape. Locations are in the District in Henderson or Village Square in the West Valley.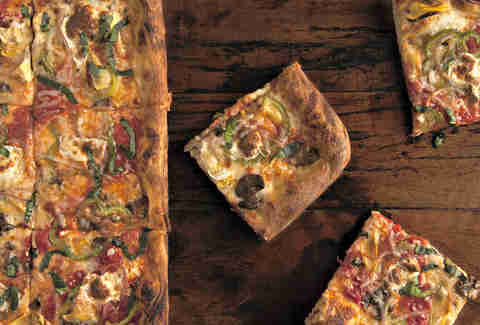 Est. 2018 | Downtown
Uncommon pizza craftsmanship brings a Brooklyn edge to Downtown
Don't overthink it. Just make good pie. That's the idea behind Vincent Rotolo's pizza joint at Pawn Plaza. His dough is made with Italian flour that's fermented Brooklyn-style in tin pans before it's baked in the oven. The dough is so good, it works for three types of pizza: Brooklyn, cracker-thin East Coast "Grandma" style (with sauce drizzled over the cheese), and square-shaped Detroit (originally perfected by Sicilians using leftover pans from auto plants). If you're going to cross the line into gluten-free pizza, Rotolo is your guy, earning national recognition for his recipe. A second Good Pie is in the works for the Arts District.
Est. 2018 | West Valley
Sicilian-inspired pizza in an elevated environment
The charm of Pizzeria Monzú far outpaces its strip mall exterior. The dining room -- a bright combination of brick and industrial decor with a second-floor loft -- was formerly home to Nora's, an Italian restaurant so popular with locals, it moved to a larger space down the street. Pizzeria Monzú keeps things in the same family, under the direction of Giovanni Mauro, who mixes traditional Sicilian recipes with elevated modern touches. The pizza dough is prepared with the chefs own unique starter made from a combination of local peaches and a strain from Ischia believed to be hundreds of years old. Fermentation is five days. The result is a soft and sweet crust that could be enjoyed all by itself, but works just fine in anything from a simple pepperoni slice to the more composed "Vegas Meets Italy" combo of dates, pistachio, ricotta, arugula, and prosciutto. A small stage hosts live jazz and piano on select nights.
Est. 2012 | The Lakes 
Lakeside pizza and cheesesteaks with plenty of East Coast flavor
After making "Secret Pizza" an under-the-radar hit on the Strip, Roy Bass expanded both his business and creativity by partnering with Chris Builder for Those Guys Pies. The no-frills pizzeria sits on the water at The Lakes residential community west of the Strip. Most of the pies are packed with hand-tossed East Coast tradition, but the one that gets the most attention (including a rave review by Guy Fieri) is the Maui Wowie. It's made with shredded pork (smoked on-site for 16 hours) with pickled jalapeño, house-made bacon barbecue sauce, and pineapple. The angus cheesesteaks are nearly as popular as the pizzas, but don't leave without trying the thick and gooey mozzarella sticks or a bite of cannoli for dessert. A second location is set to open in Henderson any day now.
Est. 2011 | West Valley
An authentic New York-style pizza import near Summerlin
From the same family behind the famous DiFara's in New York (which has a food court counter in Vegas at Caesars Palace), this west-of-the-Strip location offers the same classic New York Italian experience with San Marzano tomatoes, Grana Padano cheeses, and other ingredients imported from Italy. Each pizza on the menu can be ordered as a thin-crust round pie or a thicker style roasted in a square pan.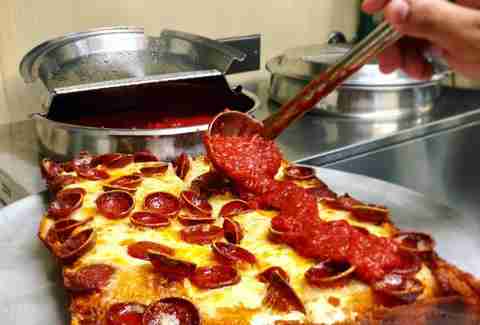 Est. 2013 | Downtown & Henderson
Internationally recognized pizza you can eat from a grab-and-go window
Award-winning pizza genius Tony Gemignani put together four different kinds of ovens to make a wide range of pies that include Sicilian, Chicago, New York, New Haven, or snobby California stuff like "Quail Egg White Rose Potato Guanciale." Even if you keep it simple with a margherita, you'll get a perfectly charred crust and ingredients superb enough that the pie won the World Pizza Cup in Naples, Italy. The Downtown location has a late-night grab-and-go window that's especially busy on weekends while a Henderson outpost can be found at Green Valley Ranch.  
Est. 2012 | Downtown
Under-the-radar slices you can eat on the casino floor
The modest pizza spot almost goes unnoticed in the lobby of the Plaza casino, but the food speaks for itself. The dough is made via a top-secret three-day process and the sauce is prepared fresh daily. Check out the Main Street pie made with special pepperoni flown in from Chicago. There are only a few tables, so a lot of the food is made to go -- including quick slices popular with those wandering the casino floor.
Est. 2010 | The Cosmopolitan
Secluded, bare-bones joint on the Strip perfect for a late-night fix
Las Vegas' not-so-secret-anymore wee-hours fix can be found at the end of a long, unassuming hallway decorated with old record covers on the third floor of the Cosmopolitan. The lines can get long, especially when the late-night crowds filter out of Marquee nightclub craving calories that don't come from a bottle. The overhead menu board (proudly emblazoned with the words "no ranch") is simple and free of fancy specialty pies. Just choose your pizza, choose your toppings and get back to your hotel room.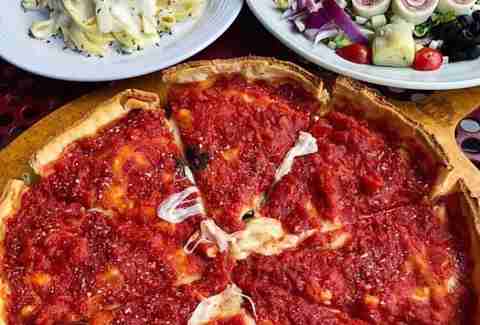 Est. 2004 | West Valley
The first place to hit if you like your pizzas Chicago-style
Build your own Chicago-style deep-dish pizzas here -- where the pans are deep, the crust is thick, and no one cares about counting calories. Some of the creations are so massive, it takes about 45 minutes just to cook 'em. For a quicker Windy City fix, go with the Italian beef sandwich.
Est. 2014 | Planet Hollywood
This tiny outdoor joint serves the largest slices on the Strip
Size matters at the place that promises the largest pizza on the Strip. Each pie measures 30 inches across and uses a full 4 pounds of dough, leaving each slice to measure 15 inches long, by 6 inches wide. If that's too big, ask for it to be cut in half by one of the several employees dressed like Bettie Page. Despite the emphasis on size, the pizza joint itself is a tight squeeze with just a few seats. So be ready to take an order to go.
Est. 2019 | Tivoli Village
Crispy pizza and house-made ice cream in one place
Between fresh-baked bread and handmade pasta, James Trees found a way to make carbs cool again at Esther's Kitchen. With Ada's at Tivoli Village, his second full-scale restaurant, he offers a similar menu but with a far greater focus on pizza. The chef mastered his own recipe, which he calls "American artisan" with dough made with Utah flour that's less than two weeks old and a higher-than-average level of salt and olive oil. His pies have a crisp but chewy crust with a chunky, asymmetrical crown around the edges. Leave room for a scoop of house-made ice cream and a gin & tonic from the cocktail cart -- the other specialties at Ada's. 
Est. 2015 | Palace Station
A subdued atmosphere that packs big calories in its Chicago-style pies
Pizza Rock is so good, Tony Gemignani's opened another location at Palace Station with a new name and concept. Little Tony's sets itself apart with a more quiet traditional atmosphere and 13-inch, Chicago-style pizzas that include The Dillinger. It's thick, heavy, made in a cast-iron pan, and it comes loaded with a vodka cream sauce, chicken, bacon, peppers, artichokes, broccolini, and of course, tons of cheese. They only make 10 of them each day -- full stop.
Sign up here for our daily Vegas email and be the first to get all the food/drink/fun in town.