The concept of "Vegas cuisine" is inextricably tied to the Strip, and that's unfortunate: some of the most interesting restaurants are located off the Strip, and some of Vegas's best restaurants are the unassuming Asian joints located in strip malls in and around our woefully underrated Chinatown. There is a huge Asian presence in Las Vegas, and not just in the Asian whales keeping this city's gaming industry afloat -- we're basically a suburb of Los Angeles, after all. You can find a plethora of various Asian cuisines all over the Las Vegas Valley -- places that specialize in pho, ramen, udon, sushi, bibimbap, bulgogi, galbi, dim sum, teppanyaki, curry, pad Thai, and just about everything else you can think of. Here, we're focusing on ramen.
Recommended Video
Send Foodz: Japan Village
South Jones
Sojo Ramen just opened, from the same folks behind the popular SOHO Japanese Restaurant, and pretty much immediately became the new favorite place of all the local ramenistas. There are a variety of ramen options available, including vegetarian, vegan, and gluten-free (the noodles are made with tofu and yam). But as much as people love their ramen, Sojo also has a devoted following for their appetizers, and they're all under $4. Order the pork chashu tacos and chicken karaage to start, try the "Black on Black" ramen made with 30-day, house-roasted black garlic and squid ink, and leave room for the green tea churros to finish off your meal.
South Fort Apache 
It's a ways off the Strip in one of Las Vegas's many, many boring strip malls (we do not so much have neighborhoods here as we do collections of strip malls with names) with its closest landmarks of significance being Lowe's and Home Depot, but rest assured that Ramen Arashi is one of Las Vegas ramen devotees' favorite spots, arguably more so than some of the better-known joints on Spring Mountain. Get the rich, creamy tonkotsu ramen with choice of thick or thin noodles (also available gluten-free).
On the Strip
Is Momofuku the best ramen in Vegas? No, not by a long shot. Is it the trendiest ramen joint overseen by a celebrity chef of international acclaim located in the equally trendy Cosmopolitan casino resort? That's a very specific designation, but yes. Chef, restaurateur, and TV personality David Chang has outposts of his upscale-NYC-noodle-bar-with-a-cult-following Momofuku all over the world, but the Vegas location is especially sexy-trendy with its David Choe mural in the dining room that also has an outstanding view of the Strip. This is not "affordable" ramen, but it is experiential ramen. The pork belly buns are also a hit (ample-enough slabs of pork belly in a bun), and the cocktail program is outstanding. 
South Rainbow 
Ramen Show is a simple ramen and sushi place, but that doesn't mean it's boring. Combine these two specialties in a bowl: tuna yuzu or tuna ume ramen, featuring Spanish Bluefin tuna with its homemade noodles and choice of shio (soy) or shoyu (salt) sauce. And, if those options confuse you (hi), read this.
West Sahara
It would be easy to miss this place entirely since it's not visible from Sahara, the Palace Station dominates this corner, and dodging the clusterf*ck of traffic from east of I-15 tends to be the priority. All that said, this place is worth seeking out. It's one of the hipper/trendier ramen joints in town -- clearly operated by younger folks who know how to 'gram, and there's a prominent Korean influence throughout. Plus, there are some playful menu items to match the atmosphere, namely the "Naruto Ramen" (pork and chicken) with bulgogi fries.
Chinatown
Izakaya's happy hour is from 10pm to close, which is 2 or 3am depending on the day, so that should give you a good idea of the kind of crowd you're going to find here. But it's not all weekend warrior party animals; you'll also spot young student types burning the midnight oil and plenty of families here. It honestly feels like the ramen joints you'll find all throughout Toronto (my closest metric of comparison for what I think an actual ramen joint in actual Japan might look like). Despite being located in yet another soulless strip mall, the interior design is actually quite fetch. There's also a communal table for large parties with seiza-style seating. The menu is extensive, with ramen being only one small part. Here, your choices are shio, shoyu, or miso ramen, all spicy and all made with a chicken broth base. They also have an excellent booze selection, if that is a concern of yours.
Chinatown
Most restaurants in Vegas are imports from elsewhere -- LA and New York, mostly. Ramen Sora is also an import, but this one hails all the way from Sapporo, Hokkaido -- the northernmost main Japanese island. Helmed by Japanese chefs Tomio Takada and Yoshinari Ichise, the ramen can be quite a bit more unique than at other places. Try the corn butter ramen or the very, very spicy Screaming For Vengeance ramen for further proof of that.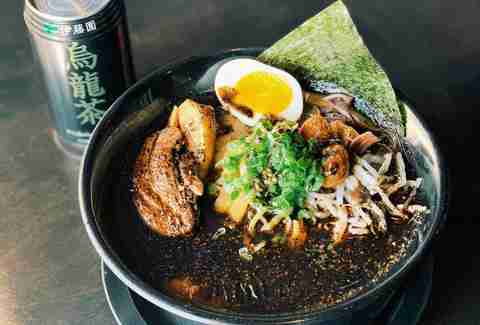 West Flamingo
KoKoRo is another of the hipper and trendier ramen joints in town, also located in a soulless strip mall because, again, pretty much everything not on the Strip is. Order its unique signature midori basil or black garlic ramen, and be sure to start with the takoyaki -- crispy, ample-sized fried balls of octopus. 
Palms Resort Casino
The revamped Palms has been such a gem to explore, with each new addition to the property more exciting than the last -- like Damien Hirst's "shark bar" and $100,000-per-night suite. The new restaurant portfolio has also been exciting to see, from Michael Symon's Mabel's BBQ (with a secret fine dining spot hidden within it) to the outstanding Scotch 80 Prime. But on the less-buzzy end of the spectrum lies Send Noodles, a cheeky Asian fusion joint that is basically just there to serve the hotel guests and revelers in need of a quick bite. But it's actually really good! And the prices, by no means cheap, are also on the more palatable side than the celeb chef joints. In addition to "traditional" options, there's also a "East-Meets-West" component to the menu. See the Ramen Mac-N-Cheese. 
Spring Valley
I'm not going to try to parse out Japanese vs. Chinese cuisines and which has more of a claim to being the originator of ramen. Instead, I will simply acknowledge that here in the U.S., the word and associated food "ramen" is more aligned with the cultural concept of "Japanese" than "Chinese." So, seeing a noodle joint that is predominantly more "Chinese" that also serves ramen is maybe somewhat novel, but also maybe not. Whether you care or even think about any of this, Noodle Show serves a variety of hand-made noodles, including a half-dozen ramen varieties, as well as chow mein and other noodle dishes, along with fried rice and a variety of other dishes we Americans think of as quintessential "Chinese."
Spring Mountain
Billing itself as "more" of a "Japanese-style" ramen house, Ramen Hashi features a long bar (there are no tables) where patrons can fill out a form selecting their desired ramen options. The kitchen is open, and everything is made here from scratch without MSG. (That means it might not be as noticeably salty as other places, which may or may not matter to you.) They also provide hair ties to further facilitate your slurping, which is both hilarious and incredibly practical. The chashu is the real standout here, so start with the Chashu Don.
Chinatown
When Las Vegans talk about ramen, they talk about Monta. In this intimate, wood-paneled space, you can choose from tonkotsu, shoyu, tonkotsu-shoyu, and miso ramen. Cold noodle ramen is also an option. This place is a great spot for ramen noobs to be introduced to the different styles of ramen, as the menu gives thorough descriptions of what each style is, what it's made from, and the flavor profile for each. In most other places, you kind of just have to know what you're ordering.  If you're out on the east side, they've got a second location in Henderson called Monta Chaya.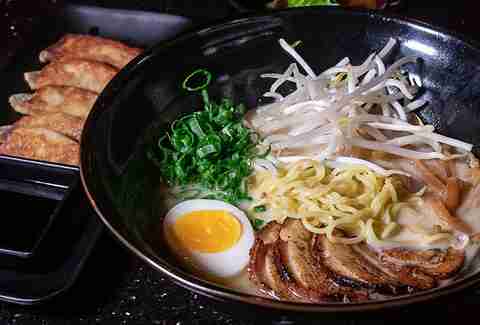 Centennial
One of Ichi's biggest selling points is that it's one of the only options for ramen in the northwest 'hood of Centennial. Ichi is definitely solid, with a menu of standard ramen dishes that stacks up to most other ramen joints in the Las Vegas Valley, plus a few non-standard options like tomato seafood, black garlic, curry, and vegetarian ramen. Ichi prides itself on using fresh noodles, authentic ingredients, plus long-simmering broth varieties that each take three full days to cook.
Multiple locations
With one location on the west side in Spring Valley and another over on the east side in Henderson, local noodle chain Ohjah is a cult favorite around town. Get the Ohjah House Ramen with oxtail, beef, egg, bean sprouts, seaweed, and wood ear mushrooms -- it's the specialty and this is one of the few places around town where you can get oxtail in your ramen.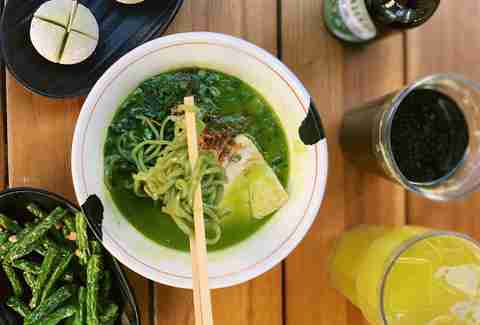 Flamingo and Decatur
JINYA is actually a ramen bar chain with locations throughout the US and Canada -- basically trying to be the Chipotle of ramen -- but it's still a favorite in Las Vegas. "Have it your way" customers will appreciate the level of customization available, although that number of options can be a little overwhelming. Options include a variety of tonkotsu and chicken broth ramens, and there are also vegetarian and vegan options. If you're more of a ramen traditionalist, you can stick with one of the more standard flavors, but they've also got unique choices like spicy umami miso, and, shall we say, more "marketable" choices, like wonton chicken (ramen with dumplings), and chef's specials like karaage chicken (ramen with fried chicken).
Just off Spring Mountain Road
You will either like Ramen Tatsu's deconstructed ramen presentation, or you will not. The specialty here is "tsukemen ramen," which basically means the broth is dense (for dipping) and served separately from the extra-thick chewy noodles and toppings. If you're not into that, no worries, the menu is full of all the standard ramen options as well, and if you like your ramen real spicy, they even have a tonkotsu broth made with habanero sauce. They've also got a few non-standard options for toppings, like garlic chips, kimchi, and kikurage (wood ear mushrooms).
Charleston Preservation
A ramen bar geared to the student crowd conveniently located literally across the street from the College of Southern Nevada's Charleston campus, Moko is a casual but modern and stylish space open for lunch and dinner. Menu items include a Meat Lovers ramen -- tonkotsu broth with chicken, beef, and pork bulgogi; spam; chashu; kurobuta sausage; and chicken katsu -- and a Veggie Lovers option with miso broth, tofu, cabbage, spinach, corn, kimchi, bean sprouts, and green onion. The non-ramen rest of the menu is a bit of a grab bag of Japanese and Korean items, but they seem to have a good grasp of their college student demographic and the dinner menu is surprisingly sophisticated for being a "ramen joint."
Centennial
Ichi Ramen House might still be Centennial's only ramen-specific restaurant, but Centennial has also recently acquired its very own Japanese restaurant, and it is legit. Being a Japanese restaurant and naming yourself "Umami" is a bold move, but the name is justified. Ramen is just one of many things on the menu, all of which is excellent. Centennial is slowly transforming itself from a chain-centric suburban sprawl wasteland to a destination actually worth seeking out!
Chinatown
Another well-known late-night ramen joint, Ichiza has its die-hard devotees as well as its die-hard detractors. Love it or hate it (and probably it's one or the other), Ichiza has a massive menu with a LOT of options, of which ramen is a small, small portion. Definitely something for everyone here, at least, and they usually have a pretty extensive selection of specials, too.
Sign up here for our daily Vegas email and be the first to get all the food/drink/fun in town.