All the Actually Good Places to Eat at McCarran International Airport in Las Vegas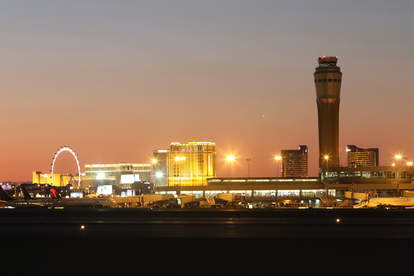 McCarran International Airport
If you've ever flown into Las Vegas, you know that McCarran International is one of the most convenient airports in the world. Rather than being a city with an airport, Vegas almost feels like an airport with a city built around it. McCarran is right next to the Strip, making it easy and accessible to all the hotels, restaurants, nightclubs, attractions, and everything else that makes Sin City awesome.
But what if you're stuck inside waiting for a flight? Your first priority is probably finding a place to plug in your phone charger. The next priority is finding some decent food and drink. Here's the bad news: McCarran, for all its convenience and accessibility, falls behind when it comes to fun and interesting dining options. But don't worry. You've still got a few places worth checking out -- and we've put together a quick guide to sort out the cool from the bleh, including the best options in both Terminal 1 and Terminal 3. (There is no Terminal 2. Don't ask why. Like the best Vegas game, just roll with it.)
TERMINAL 1
Flatbreadz
Concourse A
Equally positioned between Concourses A and B, Flatbreadz specializes in pizzas, salads, and sandwiches. There's no escaping reality. This is an airport, not a farmers' market. But the sandwiches are made fresh on the spot, which is a nice change of pace from the prepackaged alternatives you'll find at Starbucks and other vendors. That also means you're free to customize, too, so lightweights can hold the Sriracha on the turkey, bacon, and guac on sourdough. Basically a long counter with a small dining room, Flatbreadz can attract a long line during busy hours. Highlights for the flatbread pizzas include Buffalo chicken made with Frank's Red Hot and a breakfast option, which tastes like a deconstructed omelet.
 
Moe's Southwest Grill
Concourse A
Yeah, it's a chain, but worth noting because the airport has the one and only Moe's location in Vegas. (We're more of a Chipotle kind of town.) While some fans of the brand might be eager to endure a TSA security check to get their hands on burrito bowls made with relatively healthy ingredients, this particular outpost doesn't exactly feel vibrant or exciting -- although the breakfast menu is an interesting addition. The hours are a bit odd as well, with the restaurant closed on Saturday and only open until 4pm on Wednesday. 
The B Lounge
Concourse A
The "B" stands for Budweiser, which is pretty much what you get here along with a few other options on draft, a basic spirits selection, and a few prepackaged food items. It's really your only choice for booze in the A concourse and a place to possibly catch a big game on television. 
Shake Shack 
Concourse A
Although not open at press time, the pending arrival of Shake Shack is a welcome addition to the corridor between the A and B concourses. If the New York burger chain's other airport locations are any indication, it should include a bright, open sit-down dining area and breakfast hours for egg sandwiches. Of course, the main attractions are the frozen custard shakes and ShackBurgers, made with the company's own distinct ground beef blend and served on buttery potato buns.
 
McCarran International Airport

| McCarran International Airport
PGA Tour Grill
Concourse B
This airport staple is a familiar sight to frequent flyers. Is it fine dining? Not by any means. Is it a place where you can sit down and have a meal? Yes. It's also the only "regular" restaurant in the B concourse. The omelettes and burgers are okay. The pizzas are a mixed bag -- stick with the grilled chicken pesto. You also have a larger-than-expected lineup of basic-level beers and wines (which come in 6- or 9-ounce options, so don't expect a heavy pour). While a newer and nicer version of the PGA Tour Grill is in Terminal 3, this one is probably the best restaurant you'll find near the B gates. 
360 Gourmet Burrito
Concourse B
This is the closest you'll come to Mexican street food at the airport, but that's almost an insult to street food. If you have low expectations walking in, you'll probably be fine with one of five food court-quality burrito/bowl combinations on the menu. Otherwise, if you have time before your flight, it's worth the walk over to Concourse A for Moe's. 360 Gourmet Burrito isn't very "gourmet" and it's basically a no frills grab-and-go counter. We can do better. 
Sprinkles
Concourse B
Sprinkles may have closed its Strip location at The LINQ, but you can still wolf down their cupcakes at the airport. The California chain has vending machines -- known affectionately as "cupcake ATMs" -- by the A/B C, D, and E gates. They operate 24 hours, offering some relief for redeye travelers when most restaurants close overnight. Despite the format, the cupcakes are fresh and just as good as what you'd find in a regular Sprinkles store. Get the Red Velvet. 
Other Options in Concourse A & B: Burger King, Cinnabon, Einstein Bros. Bagels, Fresh Attractions, Freshens Frozen Smoothie Company, Great Steak & Potato Company, Mrs. Fields, Port of Subs, PretzelMaker, Red Star Lounge, Starbucks, Stella Artois Bar, TCBY, and Vienna Beef.
McCarran International Airport

| McCarran International Airport
Brookwood Farms BBQ
Concourse C
It's no competition for the best BBQ joints in Vegas, but the small walk-up counter for this North Carolina brand provides a surprisingly welcome twist on airport food. Even better? You get a good amount for the price. A beef brisket platter (with "platter" being code for styrofoam box) comes with two sides for $12. Go with the baked beans and cornbread over the mac & cheese or mashed potatoes. As for breakfast, the biscuits and gravy will keep you full throughout almost any domestic flight. The only downside? The restaurant's savory BBQ aroma often competes with the sterile smells of the Burger King counter next door.    
Corcoran's Irish Pub
Concourse C
Don't get too excited. The dark decor is a small attempt at an Irish pub feel, but just makes the small bar feel a little gloomy and dingy. However, this is the place you want to be for a basic selection of Irish beers, including Harp or a Guinness that's actually poured correctly.
Jose Cuervo Tequileria
Concourse C
Despite its name, the Jose Cuervo Tequileria seems to place a stronger emphasis on beer and wine than Mexican spirits, but the place is one of the busier dining spots in the airport (especially during weekend or holiday travel). Burritos, tacos, and quesadillas are promised as "handcrafted" -- confirming the term has been overused for quite some time now. Choose "Mexican Way" (with pico and pickled onions) or "American Way" (with lettuce, cheese, and sour cream). If nothing else, it's nice to sit down with a drink and eat some slightly-above-average Tex-Mex off an actual plate. Right around the corner, the Tequileria Grille is the restaurant's to-go counter, which comes in handy if your flight is boarding. 
Sammy's Beach Bar & Grill

| Sammy's Beach Bar & Grill
Sammy's Beach Bar & Grill
Concourse C
Welcome to the poor man's Cabo Wabo Cantina, which is really saying something. "Sammy" refers to Sammy Hagar, who has attached his name to this airport hangout in just one of the rock star's many business ventures. The decor resembles a beachside surf shop, while the menu sticks to burgers and bar food. If you're feeling adventurous, try the spicy Red Rockin' Wings or the Island Burger combo of beef and pork. The lineup of sipping rums is a welcome touch but surprisingly, no Cabo Wabo among the tequila options. 
Ethel M Chocolates
Concourse C
Finally, something local at the airport to sink your teeth into. Ethel M Chocolates are made in a Henderson factory and are a welcome alternative to generic candy bars at the newsstand. This is basically a gift shop. Mix and match your own individual pieces from a display window or grab a prepackaged variety box. Ethel M can also be found in Concourses D and E. 
Villa Fresh Italian Kitchen
Concourse C
If your definition of "fresh" consists of a personal pan pizza kept warm under a heat lamp, this spot is calling your name. The meatballs and tomato sauce have a subtle "high school cafeteria" appeal. Avoid the margarita chicken panini at all costs.   
Pei Wei Asian Diner
Concourse C
This is as fresh and as hot as airport food gets. Most of the dishes are made to order, which is a rarity, but the lines get long quickly. If you have time to kill, the wok-tossed spicy chicken and fried rice is the way to go. The prepackaged sushi feels like a risk. A second Pei Wei is waiting for international travelers in Concourse E.   
Other Options in Concourse C: Auntie Anne's, Barney's Lounge, Burger King, Coffee Bean & Tea Leaf, Crafted Bar, Fresh Attractions, Fresh Market On The Go, Great American Bagel & Bakery, Jamba Juice, Jersey Mike's Subs, LAS MKT, Lucky Streak Lounge, Nathan's Famous, Popeyes Louisiana Chicken, Starbucks, and Wendy's.
TERMINAL 1/TERMINAL 3
Jamba Juice
Concourse D
Are the D gates part of Terminal 1 or Terminal 3? It kinda depends on where you check in. Here's what's important: The food is a significant step up from older parts of the airport. We're singling out Jamba Juice -- even though it's a familiar chain -- since it's the first thing you'll notice after taking the long escalator up to the D concourse from the tram. The shakes and bowls always taste good, the fruit is always fresh, and the staff knows how to keep the line moving. A welcome sight before an early morning flight. Another less noticeable Jamba Juice is in Concourse C.
Metro Pizza in Las Vegas, Nevada

| Metro Pizza
Metro Pizza
Concourse D
Now we're talking. Metro Pizza has been a Vegas favorite since 1980 and one of our top choices in town for Brooklyn-inspired pizza. The slices are snatched straight from the oven -- no microwaves or heat lamps here -- and the meatball sliders are served on house-made garlic knots. You don't quite get the attention-to-detail and diverse menu options found at Metro Pizza's other full-size locations around the valley, but as far as Vegas airport options go, this could be your best bet. 
Rachel's Kitchen
Concourse D
We have a soft spot for Rachel's Kitchen, a local Las Vegas chain where everything is based on fresh, vibrant ingredients. The airport location is basically a grab-and-go version of the concept. As far as premade sandwiches and salads go, these are by far the best in the airport. You can also order up smoothies and juices made fresh on the spot. Watermelon juice all by itself is pretty awesome.  
Ruby's Dinette
Concourse D
Here's a sit-down restaurant with a modest 1950s diner theme, rounded out with a jukebox and thick milkshakes that require a spoon to finish off to drive the point home. Pay at the counter and wait for the food to be brought to your table, which, fair warning, can take a few minutes. Burgers are made fresh on the grill and the cooked-to-order fries are an upgrade from some of the other fast food alternatives. 
Wolfgang Puck Express
Concourse D
This is the closest you'll come in the airport to experiencing Vegas's fondness for celebrity chef culture, even if it's pretty much in name only. This place isn't Spago, but it is probably the only McCarran restaurant with butternut squash soup, kale and quinoa salad, or gluten-free fennel sausage pizza. The Wolfgang Puck brand of wines are also better than what you'll find at the average airport bar. Whether you're sitting down in the dining room or grabbing food to go, this spot should be near the top of your list.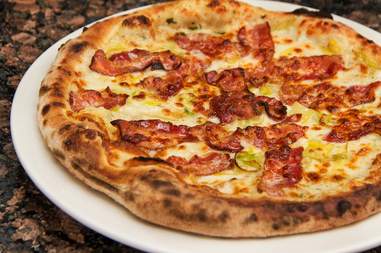 Sammy's Woodfired Pizza & Grill

| Sammy's Woodfired Pizza & Grill
Sammy's Woodfired Pizza & Grill
This one has nothing to do with Sammy Hagar. Sammy's Woodfired Pizza is a regional chain with a strong presence in both Nevada and California. As the name implies, pizzas are the big draw here, along with "kobe" burgers that don't quite taste kobe plus salads and wraps. This is definitely on the higher end of choices at the airport and, between Metro and Wolfgang Puck, there's almost too many options for pizza by the D gates.  
Burke in the Box
This quick-casual concept by David Burke doesn't feel like it has anything to do with a celebrity chef. It's rather routine, but the food and dining room works for anyone who wants to take a load off their feet for a while. The breakfast platter exceeds expectations. Only get a sandwich if it comes with a pretzel bun.
Honey Salt at Centurion Lounge
We're hesitant to mention airport lounges due to their exclusive nature, but happy to make an exception for the Centurion Lounge. Vegas's own Kim Canteenwalla was recently brought in to revamp the menu with favorites from the chef's Honey Salt restaurant. Dishes rotate with the season but can include turkey meatballs, kale and pepper mac 'n' cheese, or brioche caramel bread pudding. The downside? The lounge is only open to American Express Platinum and Centurion Card members.  
Other Options in Concourse D: Auntie Anne's, Baja Fresh Express, Burger King, California Pizza Kitchen, Chili's, Cinnabon, Fresh Attractions, Great American Bagel & Bakery, Mrs. Fields, Port of Subs, Quiznos, Red Mango, Starbucks, Stella Artois Bar, and TCBY.
TERMINAL 3
McCarran International Airport

| McCarran International Airport
Las Vegas Chophouse & Brewery
Concourse E
Terminal 3, or "T3" as the kids call it these days, is the newest wing of the airport and where you'll go for international travel. So it's no surprise the E concourse has the Las Vegas Chophouse and Brewery -- the closest McCarran comes to fine dining. It isn't anywhere near as good as the best steakhouses in Vegas, but you can still get a juicy NY strip or filet cooked to order with a nice char on the outside. Steak knives aren't allowed for security reasons. (You already passed the TSA check, remember?) The "brewery" part of the name is a bit odd since the beer selection isn't much, but you're better off sticking with the martini or Bloody Mary anyway. Round out the meal with a loaded baked potato, Caesar salad, or French onion soup.
   
Village Pub
Concourse E
An interesting choice for the airport. The Village Pub is a locals' video poker hangout with 12 locations throughout the valley that most tourists wouldn't ever bother visiting. Take advantage of the comfortable seating and order the fish and chips -- it will make you happy. So will the microbrews (and root beer!) from local Ellis Island Brewery. 
Pret A Manager
Concourse E
Don't worry about the awkward name. Most people just call it Pret. The British sandwich chain is entering the Western U.S. for the first time with its McCarran location, no doubt hoping to be a familiar sight to international travelers. Pret is a major upgrade to the airport's grab-and-go choices, especially if you get the ham and cheese baguette, tuna cucumber sub, or a colorful chicken avocado salad. All food is made on site daily.
Other Options in Concourse E: Burger King, Carl's Jr., Ciao Gourmet Market, Coffee Bean & Tea Leaf, The Local (bar), Pei Wei Asian Diner, PGA Tour Grill, and Starbucks.
Sign up here for our daily Vegas email and be the first to get all the food/drink/fun in town.
Rob Kachelriess has been writing about Las Vegas for Thrillist for five years. His work has also appeared in
Travel + Leisure
, Leafly, Supercall, Modern Luxury, and Luxury Estates International's seasonal publication. He just eats pretzels on the plane. Follow him on Twitter.