If there's one thing you can say definitely about Vegas, it's that things change a ton over the course of a year. Luckily, that means in 2015 there will be... um, no more Britney Spears (hopefully!), and there will definitely be a slew of epic new restaurants, at least if this list of the 11 best new restaurants of 2014 is anything to go by...
Red Rock Hotel & Casino
This spot just opened its doors like 5 minutes ago. It built a slow and steady buzz throughout the summer, thanks in part to the fact that 90% of the dishes are wood-roasted in one of two oversize hearth ovens (now you know how the place got its name), but mostly 'cause they've got apps like truffle popcorn, a meat-/cheese-heavy charcuterie menu, and entrees like poached Alaskan salmon and Wagyu short ribs.
SLS Las Vegas
There are more than a few cool new restaurants at the new SLS Las Vegas, but if you have to blow the money that you just won at the tables, do it at Bazaar Meat. Chef José Andrés makes sure that there's plenty to keep a carnivore satisfied, from carpaccios and tartares to a deep selection of steaks from the best ranches across the country. It's also the only place where you'll likely find foie gras cotton candy.
The Venetian
The latest destination from Chef Daniel Boulud is already one of the best French restaurants you'll find on the Strip. There's escargot and Crispy Duck Confit, plus a burger that's among the best in Las Vegas.
Monte Carlo
This noodle house in the new Monte Carlo courtyard serves creative Asian cuisine that gives the best restaurants in Vegas' Chinatown a run for their money, including their next-level Logan Poser Ramen, which you should probably wash down with a gin and tonic that's on tap.
The Cosmopolitan
The Vegas Nocturne variety show may be long gone, but the restaurant and lounge continues to offer a social club atmosphere, delicious draft cocktails, and an impressively diverse menu that includes a unique caviar selection, plus other classic eats reinvented in small-plate form. Oh, and there're still a few entertainers around who aren't shy about dancing on your table.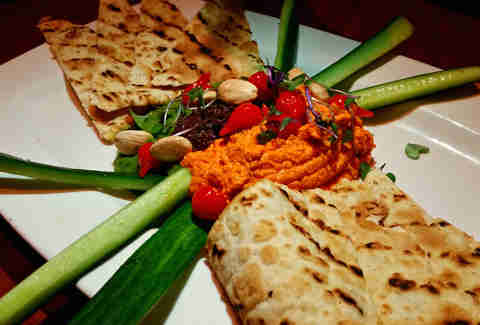 Downtown Summerlin
One side of the menu is American, the other is Japanese... but somehow it all seems to work within the casual, modern atmosphere at the new Downtown Summerlin shopping and entertainment district. Whether you're chowing down on the Bamboo Bite specialty roll or the Chicken Apple Sausage flatbread, don't be surprised if this becomes your new go-to restaurant on the West side.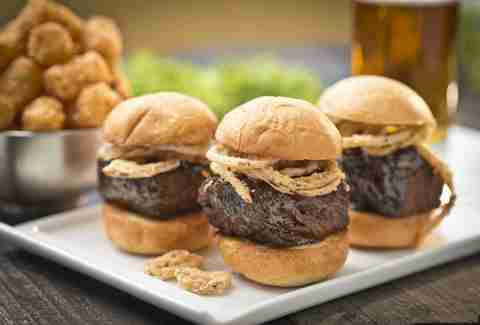 Downtown
Kerry Simon is the first celebrity chef to hit the Fremont East District, which suggests the next phase of Downtown rejuvenation will follow him to Carson Ave, but for now he's ahead of the game with this casual restaurant that comes with a perfectly comfortable patio on the roof and creative dishes like the Crispy Chicken Skins, which could be the best new appetizer of 2014.
The Mirage Hotel & Casino
Onda Ristorante dropped its name, hired a new chef, completely reinvented itself, and became one of the best Italian joints on the Strip. They fly fresh ingredients in directly from Italy and turn them turn into creative dishes like a Chicken Rollatini Parmesan.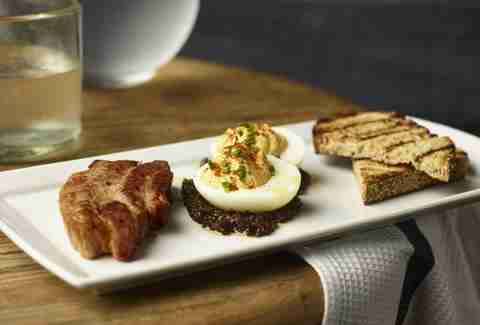 Tivoli Village
The foodie friendly tavern is already a popular social spot thanks to dishes like Black Truffle Cheese Fondue and Smoked KC Style BBQ Ribs, which you can follow with a Bag of Donut Holes for dessert before working off all those calories by playing the vintage arcade games near the bar.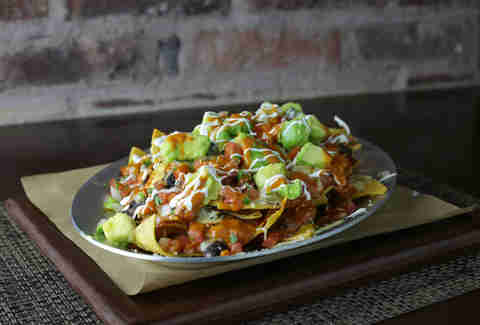 Red Rock Hotel & Casino
Mercadito has some of the best mango guacamole you'll find in the West Valley... but the real draw is the wide selection of Mexican dishes they're serving tapas-style. That means the food comes out when it's ready. So don't worry if your date got her Queso Fundido before you got your Corn Masa Quesadillas.
Sign up here for our daily Vegas email and be the first to get all the food/drink/fun in town.