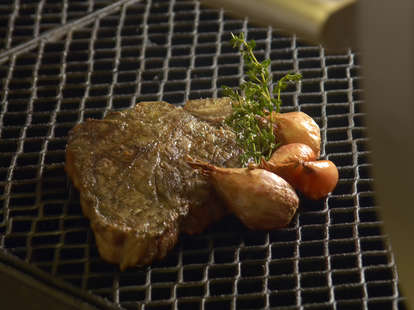 MGM Resorts International
MGM Resorts International
There are so many high profile-steak spots in Vegas that it can be hard to figure out which one's best, especially since you just wanna eat, not... ugh, think. Luckily, we've done the thinking for you, picked eight world-class places for a strip on The Strip, and power-ranked the heck out of 'em:
8. Prime Steakhouse
The Strip
The steaks are just as impressive as the commissioned artwork hanging on the walls at Jean-Georges Vongerichten's restaurant at the Bellagio. Yeah... we can't pronounce his name either, especially when our mouths are full of delicious beef, flavored with the dude's unique rubs, condiments and sauces.
7. Old Homestead Steakhouse
The Strip
This Caesar's-based meatery ages its "aggressively seasoned" thick cut steaks for a minimum of 30 days in New York, ships them out and pairs 'em with glorious sides like Tater Tots doused in a sauce they're calling "Fat Boy", and Duck Fat Fries, the later of which, or really anything they serve, will definitely make you one of the former.
6. STRIPSTEAK
The Strip
Sure, the steaks are poached and grilled over wood at Chef Michael Mina's signature Las Vegas restaurant, and they're perfectly awesome, but the best part about this place is that instead of bread, you get complimentary duck fat fries -- recently named the best fries in America -- with a choice of dipping sauces.
5. SW Steakhouse
The Strip
Overlooking The Wynn's indoor lake and waterfall, this accolade-heavy spot boasts a small selection of starters and mains (Hudson Valley Foie Gras, roasted Scottish salmon, etc.) but, even more than most steakhouses, is really all about the meat menu, which is highlighted by a 30oz dry-aged "Thomahawk chop" that you'd be incredibly Brave(s) to order since it costs $105.
4. Carnevino
The Strip
It's got a luxed-out space (towering ceilings, Italian marble, antique furniture, etc.), and Mario Batali's usual boot-food (this stuff based on a Neopolitan market, apparently), but we're here for the beef, all of which is "Super-prime" that's been rubbed w/ sea salt, black pepper and fresh rosemary, including the frustratingly-hard-to-get "Riserva" steaks that've been aged anywhere from eight to 11 months.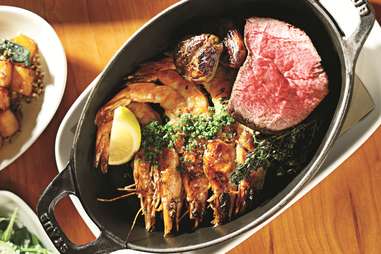 3. Tom Colicchio's Craftsteak
The Strip
The bald dude from Top Chef's James Beard Award-winner's outpost in the MGM Grand has full chophouse style menu that includes seafood and raw bar-style options but is dominated by genuine Wagyu beef options that'll run you as much as 33 bucks an ounce.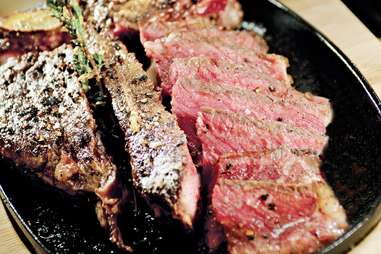 2. Cut by Wolfgang Puck
The Strip
This modernist eatery overlooking the Shoppes at The Palazzo quickly dispenses with starters (Bone Marrow Flan w/ mushroom marmalade, Big Eye Tuna Tartare...) and gets right to the U.S.D.A. PRIME and American Wagyu protein that includes the usual cuts sourced from premium producers like the Double R Ranch in Washington, and from Snake River Farms, which, given Mr. Plissken's escape, must be on either the Hudson or East rivers, right? Or maybe just the one in Idaho.
1. Gordon Ramsay Steak
The Strip
Sure he's kind of obnoxious on TV, but once you see the cuts of meat -- Prime beef dry aged for 28 days in a himalayan-salt room, Wagyu w/ a marbling score of 9 or higher -- that this riotously colorful Paris-based spot rolls up to your table on a custom meat trolley, you'll forget you ever had beef (Wellington, presumably) with Gordon Ramsay.