Courtesy of Taco Bell Cantina
Everything in Las Vegas is better with a DJ -- and that includes Taco Bell. So instead of running to the border, run to the Strip, where the fast-food giant is unleashing a new concept that has a lot more to offer than Seven-Layer Burritos and Double Decker Taco Supremes. The Taco Bell Cantina is now officially open on Harmon Corner -- near Planet Hollywood and across the street from the Cosmopolitan. Not only is this Taco Bell's very first location on the Strip (can you believe it?) but it's also billed as the company's first "flagship location." It's Taco Bell's 7,000th restaurant overall, and will debut the first new logo for the brand in 25 years.
Two words: boozy slushies
The back wall is lined with eight taps for Freeze drinks. Flavors include Margarita, Cola, Pina Colada, Lemonade, Orange, Baja Blast, Cherry, and Blue Raspberry. Twisted Freezes are even better -- because they come with booze. Choose from tequila, rum, vodka, whiskey, or spiced rum. No word yet on if you can mix flavors (or alcohols) "suicide" style. Drinks come in 16 or 32oz cups... and yes, you can take them with you out on the Strip.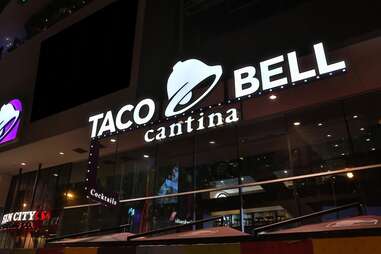 This is so totally Vegas
Taco Bell Cantina is a perfect fit for the Strip. In addition to having a space for DJs, you'll also find VIP lounges and custom local artwork hanging on the walls. The two-story restaurant has an upstairs mezzanine that overlooks Las Vegas Blvd, and there's an outdoor patio with heaters and misters to keep your temperature stable any time of year. The dining room features an open-kitchen design -- just like some of the best restaurants in Vegas.
Tech makes tacos even better
Taco Bell Cantina has a new digital menu system. You can even order on tablets to cut down on wait time. The wall is also lined with 16 video screens that feature entertainment, sports, social media interaction, and live-streaming video. There's also a camera on the DJ perch to view the action live from the second floor.
Hold up, what about the food?
You'll get all your Taco Bell favorites, plus some fun shareable dishes served tapas style. They include Chicken Tenders, Spicy Bacon & Ranch Smothered Potatoes, and Homestyle Nachos that come topped with black beans.
There are other Taco Bell Cantinas in San Francisco, Chicago, and Austin but the new edition on the Las Vegas Strip is the only one of the four open 24 hours a day. Consider it your new party spot -- or at least your first detour on the way home from the club.
Sign up here for our daily Vegas email and be the first to get all the food/drink/fun in town.
Rob Kachelriess is a former television news producer who has been writing about Las Vegas in Thrillist for more than three years. He was Managing Editor for Vegas2LA Magazine and his work has recently appeared in Vegas Seven and Vegas Magazine. He is jonesing for a Cool Ranch Doritos Locos Taco Supreme right now. Follow him on Twitter @rkachelriess.