You already know where to grab breakfast at midnight and where find a brunch to cure your hangover, but what if you need the kind of thing you just can't anywhere else? For that you've got to try one of the 15 biggest, most bizarre, and truly epic breakfasts in Las Vegas. Or take one of the flyers with naked women on it from those dudes on the strip. Either way...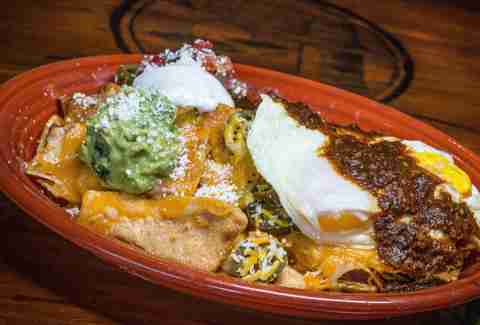 Huevos de Nacho
Cabo Wabo Cantina (address and info)
Planet Hollywood
Nachos for breakfast? Yep. Cabo Wabo has a new South-of-the-border breakfast menu that includes the Huevos de Nacho. It's a plate of cheese nachos topped with two fried eggs, guacamole, sour cream, and pico de gallo.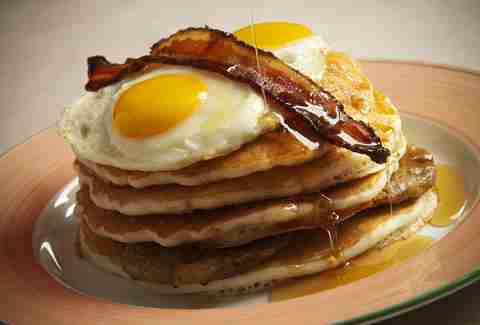 The Pancake Tower
The Coffee Shop (address and info)
Treasure Island
The Pancake Tower is a skyscraper of carbs, protein, and sweet maple syrup. It's four pancakes, three sausages, two fried eggs, and one slice of bacon.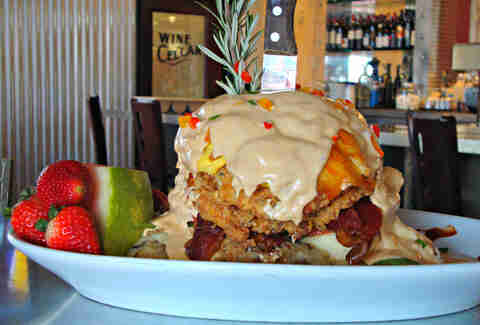 Andy's Sage Fried Chicken Benedict
Hash House A Go Go (address and info)
Various locations
How much food can you fit on one plate? Andy's Sage Fried Chicken Benedict is served with a maple reduction, two eggs, bacon, mashed potatoes, and a homemade split biscuit, so at least that much, apparently.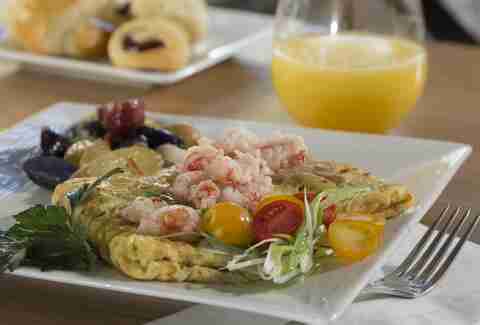 The Langostino Omelette
Jacques Cafe (address and info)
Summerlin
The Langostino Omelette is the best bite of breakfast you can get for just $10. The serving of organic eggs comes with diced lobster tail, spinach, and tomato covered in hollandaise sauce.
Lobster Tempura Benedict
Market Café (address and info)
Vdara
You might normally find crunchy lobster tempura on a sushi roll, but now you can also have it for the first meal of the day. The Lobster Tempura Benedict at the Market Café comes with sautéed spinach and smoked bacon.
Pancakes with chicken apple sausage
EAT (address and info)
Downtown
EAT is quickly earning a reputation as possibly the best place to grab a morning meal thanks to simple recipes made from local and sustainable ingredients. The pancakes with chicken apple sausage are almost as sweet as the made-to-order beignets.
The Duck Confit Cinnamon Roll
Comme Ca (address and info)
The Cosmopolitan
The Duck Confit Cinnamon Roll comes with smoked bacon frosting and raspberry compote. It's the perfect breakfast for the French foodie who has already seen it all.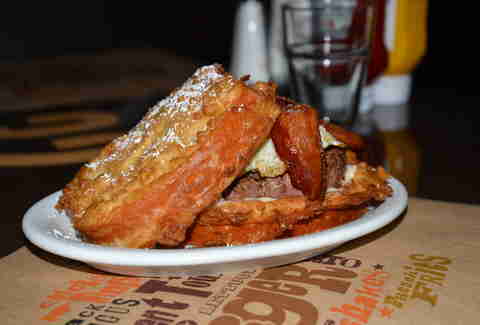 The French Toast Burger
BLT Burger (address and info)
The Mirage
Why wait until lunch for a burger? Especially when said burger is sandwiched between two thick French toast slices and topped with maple cream, sausage, bacon, and a fried egg.
Pulled Pork and Waffles
Pot Liquor (address and info)
Town Square
The Pulled Pork and Waffles comes with with spiced apple compote and bourbon barrel aged maple syrup for a Southern BBQ twist on brunch. Oh, and it comes with an endless Bellinis, mimosas, or Bloody Marys for $19.98, too.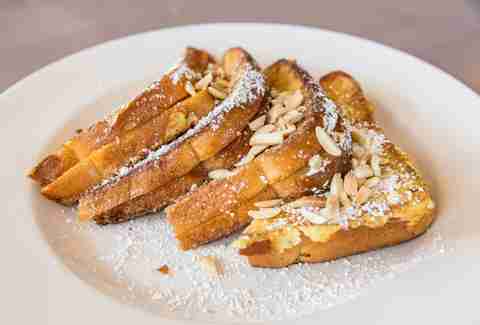 Brioche French Toast
Sammy's (address and info)
Henderson
The Brioche French Toast is filled with Orange di Stefano Mascarpone and topped with almonds, whipped butter, and maple syrup. It's the perfect excuse to carbo-load while you enjoy the breeze from the floor-to-ceiling windows that open up for the weekend brunch.  
Duck & Waffles
Hearthstone Kitchen & Cellar (address and info)
Red Rock Resort
The Duck & Waffles is among the creative bites on the new brunch menu. The whole wheat and rye waffles come topped with crispy duck confit and maple bourbon syrup. Wash it down with a Bellini fueled with sparkling wine and peach cider or a choose-you-own concoction from the Bloody Mary cart.
The King
Mr. Lucky's (address and info)
The Hard Rock
A breakfast that Elvis himself would appreciate: The King is a giant stack of 14 fluffy banana pancakes, 14 strips of crispy bacon, a drizzle of creamy peanut butter glaze, and maple syrup.
Handcrafted donuts
Pantry (address and info)
The Mirage
These house-made donuts are soft, sweet, and served warm. They come with chocolate, vanilla bean, and berry dipping sauces to fully maximize your caloric intake.
The Blue Crab Benedict
Della's Kitchen (address and info)
The Delano
A familiar breakfast staple comes with a seafood twist. The Blue Crab Benedict layers homemade brioche with farm-fresh spinach, roasted tomatoes, crab meat, and a perfectly poached egg… followed by Mornay and brie sauce.
 
Dragon's Breath Chili Cornbread Benedict
Guy Fieri's Vegas Kitchen & Bar (address and info)
The LINQ Hotel
In a stroke of genius where creativity meets indulgence, the Dragon's Breath Chili Cornbread Benedict features sweet cornbread topped with Dragon's Breath Chili, house white cheddar cheese sauce, scallions, and two soft poached eggs.
Sign up here for our daily Vegas email and be the first to get all the food/drink/fun in town.