9 Essential Black-Owned Restaurants You Should Know in Las Vegas
From soul food spots to Caribbean cuisine and more.
Once limited to the Historic Westside, Las Vegas' Black-owned food scene has evolved in recent years. For a long time, the practice of redlining was a hurdle for Black-owned businesses that sought to expand beyond what's colloquially known as the "Black Strip." Those that did exist often reflected the flavors and techniques of Black Southern cuisine, with many of those Black restaurant owners belonging to the Great Migration and seeking to bring flavors to Sin City that reminded them of home.
In recent years, pro-business incentives, relatively affordable housing, and a favorable tax climate have attracted a new wave of Black residents to the city, as well as immigrants hailing from Ethiopia, Eritrea, Nigeria, Jamaica, Belize, and across the globe. As Las Vegas' food scene expanded to offer Spago, Nobu, and Alain Ducasse's haute French cuisine, so too have the culinary offerings and imaginings of the African Diaspora.
Like the rest of the country, Las Vegas remains a far cry from equity. We still don't have a fully Black-owned and operated fine dining establishment on the Strip. Thankfully, this has not stopped the community from finding opportunities to showcase their culinary talents. Chances are that wherever you are in Las Vegas, there is at least one Black-owned restaurant that's worthy of your attention.
Don't just limit your support to Black History Month in February—the following Black-owned restaurants encompass soul food, Caribbean cuisine, gastropubs, and more, and are some of the most impressive in the city.
DW's hidden space in the Gramercy is tucked away in the courtyard, which makes the al fresco dining experience that much more enjoyable. The menu features a mix of Southwestern and Jamaican flavors that are inspired by chef Dalton Wilson's roots, like Jerk Chicken and Waffles with lemon syrup and a New Mexico Green Chile Mac and Cheese. DW Bistro gets packed on the weekends for brunch, but dinner and their recently introduced weekday breakfast are also worthy of a trip. So too are the cocktails like the DW Bloody Mary. The layered carrot cake that's crafted in-house is big enough to serve two to three people.
How to order: Reservations are recommended, but walk-ins are accepted. Call 702-527-5200 for takeout and delivery via GrubHub.
House of Dutch Pot's owner and chef Oneil Smith believes in a cardinal rule for his restaurant: the food, as well as the vibe, have to be immaculate. That's why he imports spices from Jamaica and makes everything from scratch. Smith started in Queens, NY making jerk chicken and fish outside of his garage as something to do on Fridays, but as demand soon grew, he decided to head to Las Vegas to open his House of Dutch Pot. Try the steamed whole fish with okra and Jamaican water crackers with a side of fried bammy, a flatbread made from yucca. Notable House of Dutch Pot's items are the Oxtail Mac and Cheese and Jerk Pan Chicken.
How to order: Walk-ins only for dine-in. Call 702-485-3500 or order online for pickup. Delivery from UberEats, Doordash, and Grubhub.
Nataly Young is one of the chef-entrepreneurs who benefited from the heavy investment in Downtown Las Vegas. Young runs eat. Downtown and Old Soul in the World Market Center. eat. is open for breakfast and lunch and there's a heartwarming story behind the famous deviled eggs which weren't always offered on the menu. In 2018, the CW's My Last Days documented the story of Kat Lazo, a gastric cancer patient. She wanted to learn how to make eat.'s deviled eggs. Young, whose own mother died from stomach cancer, showed Kat how to make them. Thankfully, Kat survived her diagnosis and Young kept the popular dish on the menu. Besides the Le'Kat Deviled Eggs, tuck into hearty plates like house-made cinnamon rolls, Chicken Fried Steak, and a Shrimp Po'Boy Sandwich served on ciabatta bread.
How to order: Reservations are preferred, but walk-ins welcomed. Order via Toast for takeout.
As far as gastropubs go, 18Bin's cozy location in the heart of the Las Vegas' Arts District makes you feel as if you stumbled through a secret backdoor. That's part of what originally attracted co-owner Abraham "Abe" Taylor to the indoor/outdoor space. After putting in time with Hakkasan, Taylor and his partners knew how to balance dining with entertainment. Besides 18Bin's weekend brunch, the weekly Wine'd Up Wednesdays and Taco Tuesday comedy night are popular ongoing events, and the pub even hosts live djs on Friday and Saturday nights. 18Bin also offers a vegan menu that doesn't feel like an afterthought, with dishes like Vegan Street Tacos that are filled with seasoned portobello mushroom and a refreshing Vegan Sashimi Salad with delicately sliced beet and vegan feta cheese. The grilled cheese with roasted tomato marmalade is also a good bet. The original artwork by Downtown Las Vegas artists creates good conversation starters while serving as a brilliant backdrop as you sip on wines, local craft brews, and specialty cocktails.
How to order: Reservations are recommended for weekends and events, especially brunch. Order takeout online.
Trina Jiles made history as the first Black woman firefighter of Clark County in 1996. She later went on to be an arson investigator. It was during this time that the idea of opening a restaurant came to her. Her sister owned a cosmetology school and space was available next door—leading to the opening of Gritz Cafe in 2008. The restaurant is so beloved for its soul food staples that it frequently attracts politicians passing through town, including former President Barack Obama, former Secretary of State Hilary Rodham-Clinton, and Vice President Kamala Harris. But people don't go there to glimpse city leaders or national politicians—they go for the grits, which come with your choice of meat (bacon, hot links, catfish, shrimp, and more), toppings (eggs, cheese, grilled veggies), and your choice of bread (English muffin, biscuit, cornbread). Gritz Cafes also offers Southern soul food specialties, like Arkansas-style crispy Chicken Fried Steak and Georgia-style fried or grilled pork chops.
How to order: Walk-ins only. Order online or call 702-255-4748.for takeout.
Soul Foo Young is clever in that it mixes soul food with urban Chinese-American cooking. Run by Ms. Georgia Harvey, her daughter, and son-in-law, this few-frills restaurant is foundational to the culinary offerings on the Historic Westside. The Bruce Leroy is a signature dish that pairs fried rice with chicken wings. There's also smothered chicken, BBQ, Caribbean cabbage, and a variety of Chinese-American plates. Even as Soul Foo Young faces down economic hardship brought by the pandemic, they continue to innovate, recently introducing peach cobbler egg rolls. Other notable desserts include Ms. Georgia's peach cobbler and banana pudding. The unabashed appreciation of Black culture makes Soul Foo Young a favorite stop for people across the city.
How to order: Call 702-539-0333 or order online for takeout and delivery. Takeout and delivery are also available via Postmates and GrubHub.
Smoked beef brisket

| Andrei Iakhniuk/Shutterstock
Quanware and Dedrich Daniels' grandparents passed down a love of barbecue that they both felt inspired to share, leading them to opening up this wholesome restaurant that specializes in barbecue and Southern staples five years ago. Dry rubs like the lemon pepper and Louisiana hot rub can be added to any of the meats, but their signature dish is the BBQ loaded fries. The natural-cut fries are made to order and topped with brisket or other meats of choice.
How to order: Walk in. Pickup and delivery available from UberEats and Postmates.
Chef Boizie Milner hails from Ohio and his wife, Mi Sun, from Seoul, South Korea. When they decided to open Buldogis in August 2011, they knew an all-beef hot dog with Korean flavors would be a hit. Ordering at the restaurant or food truck should be guided by your tolerance of spice. Anything named angry means it's pretty spicy. The Bi Bum Rice bowls are pretty divine, with the choice of slow-roasted pork belly, marinated spicy pork, or bulgogi beef.
How to order: Walk in, or order pickup and delivery through their website.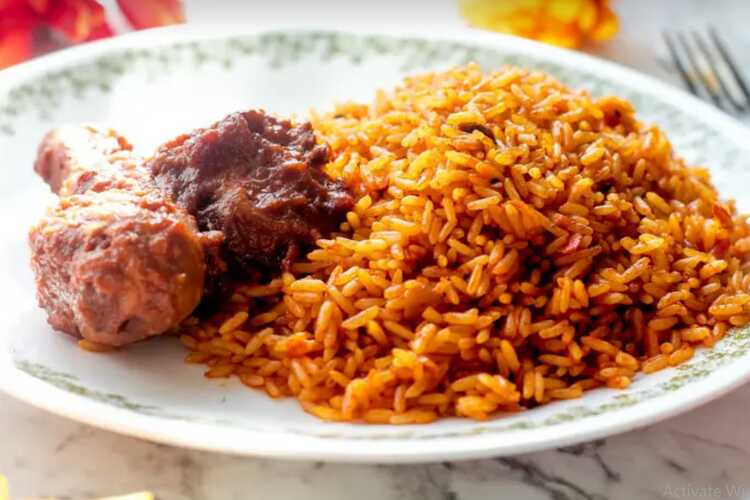 Jollof rice

| Moses Ekanem/Flickr
Owner Maduka "MJ" Joseph had the idea to launch his Nigerian restaurant when Nigerian dignitaries refused to visit him in Las Vegas, citing the dearth of Nigerian restaurants in the city. Joseph saw this as an opportunity and in 2015, opened Nigerian Cuisine by MJ, across from the University of Nevada, Las Vegas campus. Now homesick students and digintaries have a place to enjoy authentic fufu and egusi soup, plus jollof rice, plantains, and other Nigerian staples.
How to order: Walk in or order takeout and delivery online.
Soni Brown (
@neonscrawl
) is a freelance writer and editor. Her educational background in art, gastronomy, and journalism has given her a broad base from which to approach many topics.