Owned and operated by the Morton Group, La Comida is a tequilas and tacos joint slid into a former downtown laundromat, now equipped with more than 100 Mexican spirits [scary ghost noises!!], ranging from a $30 Herradura Seleccion to a $235 El Millonario flight featuring Gran Patron Bordeaux, Don Julio REAL, and Herradura Seleccion Suprema. Despite a giant sign out front, the entrance is actually through this small back alley. Inside, the main dining room seats 80 and structurally mixes reclaimed Mexican floor tiles, church pews, and stained glass. In addition to the 100 tequilas (and one Jesus with... uh... um... oh they're rosary beads)... ... they've also got margs featuring on-point fresh fruit purees, like prickly pear (!), guava, and pomegranate. Executive chef Pablo Sanchez-Ortiz hails from Mexico City and uses techniques he learned from his abuelita to create dishes like this Puerco Ahumado (mesquite-smoked pork shoulder). The Sea Bass Frito A La Baja doesn't actually have Fritos in it [perturbed construction worker emoji], but does have housemade slaw, Crema de Chipotle, and pickled radish. And then there's their Huarache, which takes beef, refried beans, oven-roasted and pobano peppers, and homemade salsa, and pops them all on top of a fried, oblong masa base you'll definitely want to share with your boo.
Recommended Video
This Nacho Mountain Destroys All Other Nachos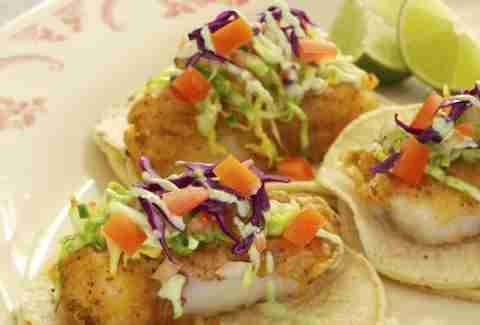 Previous Venue
Next Venue
Venue Description
1. La Comida
106 S 6th St, Las Vegas, NV 89101
Not only does LC have 100 different tequilas, they've also got a $235 flight wtih Gran Patron Bordeaux, Don Julio REAL, and Herradura Seleccion Suprema. Pair that with delicious & authentic eats, and you're golden.