It's time to skip the Strip. In addition to being the place to track down that winking neon cowboy, Downtown Vegas is also home to an explosion of new restaurants, that, alongside a few well-worn favorites, are serving up some of the best food in Sin City. Here's a look at the joints you need to check out in between tipping dollar bills to the oddball performers on Fremont St.
Fremont East District
A former dollar store that was gutted out and renovated, Therapy is one of the best spots to bring a date or group of friends. Most of the plates are designed for sharing, especially the "In the Gnudi" baked ricotta with honey and almonds, which may be the best appetizer you'll find Downtown. On the weekends, the restaurant turns into a lounge with DJs and live entertainment, but if you just want to chill by the bar, there's more than 40 craft beers to keep you busy.
The Plaza
Named after former mayor and mob attorney Oscar Goodman, the restaurant's full name is "Oscar's Beef, Booze & Broads," which shows that once you're done running for office, you can be as politically incorrect as you want to be. Most people show up for the dry martinis and aged steaks cooked over a 600-degree grill, but don't overlook Johnny Quinn's crab cake, made with fresh lump crabmeat and no filler. The iconic glass dome that surrounds the main dining room offers a great view of Fremont St and was featured in the movie Casino.
Carson Ave
The loss of Kerry Simon was felt especially hard in Las Vegas, but his final restaurant is one of the strongest additions to the late chef's legacy. Carson Kitchen remains the standard by which all other Downtown restaurants are judged and is usually the first dining choice for people who don't often visit Downtown. Whether you grab a seat indoors or upstairs on the rooftop patio, know that the restaurant is in good hands. Recent additions like the alligator gumbo flatbread, wild boar Sloppy Joe, and bone-in pork belly show that Carson Kitchen isn't just resting on its reputation, but making a point to stay competitive with the other new dining spots popping up around it.
Downtown Container Park
If you're showing out-of-towners around Vegas, chances are you're making a stop at the Container Park. Yes, it's a tourist trap, but the landscape of renovated shipping containers also features the second-floor Perch as its first sit-down restaurant. The weekend brunch is among the best in the area with a cappuccino brioche French toast, sticky-sweet monkey bread, and your choice of $15 bottomless mimosas, Bloody Marys, or bellinis.
Downtown 3rd Block
A neighborhood spot that prides itself for being a power-lunch destination for dudes in suits, Triple George Grill features three distinct dining rooms, including high booths around the main bar that are perfect for some privacy for comparing off-white business cards. The menu features everything from pasta to pork chops but your first visit isn't complete without the porcini-crusted ribeye. And if you need a conversation piece to impress whoever it is across the table from you, the name of the restaurant is an homage to the original three owners.
Fremont East District
Walk around the corner from Commonwealth, look for the 9ft neon monkey hanging from the roof, and head down the alley and through a side entrance for a modern twist on traditional Mexican food. With more than 100 selections to choose from, there is more tequila than seats in the restaurant, making it the perfect spot to sip on a margarita while figuring out which of the three salsas goes best with your chips and savoring the puerco ahumado (smoked pork).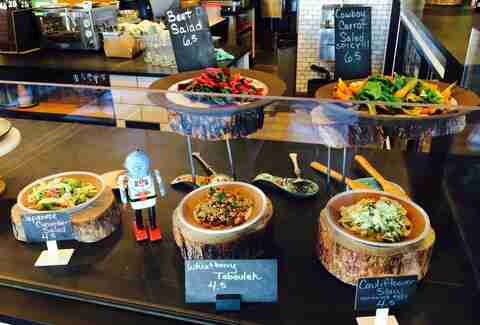 Fremont East District
It's on an area of Fremont St that people tend to avoid (and it's easy to miss while driving by), yet PublicUs is drawing in more and more fans by the day, including a Downtown lunch crowd looking for something new. The adventurous coffee creations are the big draw, along with the grab-and-go sandwiches, pastries, and salads. The tree passing through your table only adds to the fun while the big, beautiful, and bizarre door to the bathroom may leave you scratching your head about exactly how this thing works.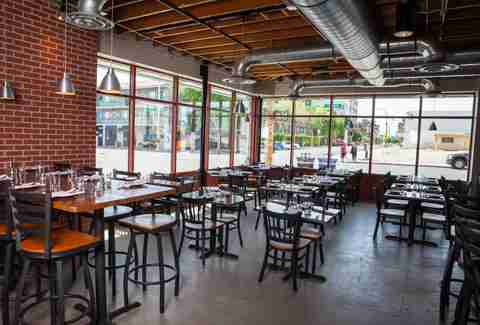 Carson Avenue
Despite the name, Glutton is more about execution than portion size, with a good chunk of its menu (from locally sourced veggies to fresh fish and meats) fired up in a wood-burning oven. Chefs Bradley Manchester and Joe Kudrak find a way to mix indulgent fare like the turkey and guanciale meatballs with lighter stuff like the shaved Brussels sprouts and kale salad but never sit still for too long, with an evolving menu that changes with the season. Sneak out the side door for some fresh air and check out the comfortable backyard.
Downtown 3rd Block
Ask around for the best pizza in Vegas these days, and you'll likely hear Pizza Rock come up more than any other answer. Award-winning pizza mastermind Tony Gemignani has invaded Las Vegas with a menu so diverse, it requires four different ovens to make it all. From a prosciutto & pear gourmet pie with goat cheese and arugula to a margherita carefully prepared with a perfectly charred crust, there's really something for everyone. Sit down next to the giant big-rig truck inside the dining room or grab a slice on the way home from the late-night to-go window.
The Ogden
Located on the ground floor of a condo highrise, Itsy Bitsy is a fun and lively spot to bring your friends, but isn't as loud and hectic as some of the Fremont East watering holes around the corner. Aside from the house-made ramen, most of the food is Asian-inspired small bites, including robata skewers, pot stickers, and Japanese hand rolls that come wrapped in color-coded rice paper. All great options when sampling more than a dozen whiskeys from around the world.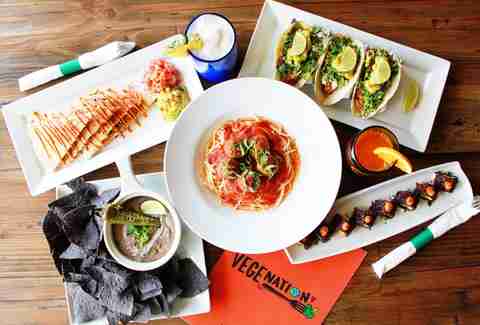 Carson Ave
After working at a number of restaurants in New York and on the Strip, Chef Donald Lemperle has come up with a strictly vegan restaurant that will appeal to meat lovers as much as hippies and hipsters. The menu is globally inspired with a 100% plant-based take on everything from tacos and pizza to sushi and pho. Even the restaurant itself is eco-friendly with furniture made out of reclaimed wood, a plant-covered wall, and numerous herbs growing on the patio. Get here for breakfast in the AM, when free coffee comes with your meal.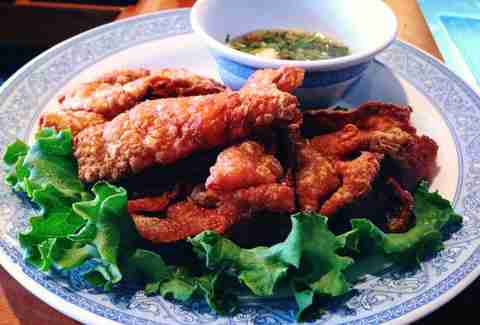 Fremont East District
Just finished up a long night at the bars and have a craving for heavy, delicious Thai food that you can shovel into your mouth? There's a place for that. Le Thai has been a late-night dining spot for years, with regulars raving about the pad Thai, chicken satay, and three-color curry. And if you're wondering what those three colors are... they're red, green, and yellow.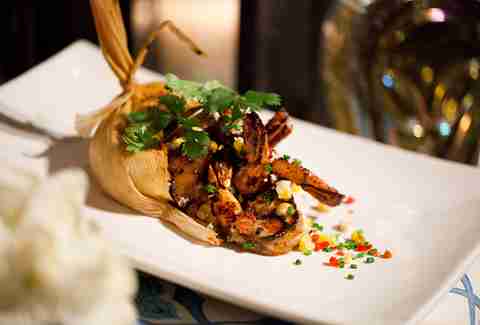 World Market Center
Mexican food is not just about tacos, burritos, and enchiladas. Mundo emphasizes the flavors of the Yucatan peninsula, featuring fresh citrus, exotic spices, and BBQ-style pit cooking. European and Caribbean influences can also be found in the region, leading to a distinct matching of flavors, including tamales that you won't find anywhere else in Mexico. The menu offers three versions, with glazed shrimp, short rib, and pulled chicken.
Golden Nugget
The first location was founded in Houston but this steakhouse offers an old-school atmosphere that fits in perfectly with vintage Vegas. Fans stuck around through the tough times of the recession not only for the prime steaks and extensive wine list, but also the maple-glazed quail and jumbo lump crab cake. This place was also offering lobster mac & cheese way before the trend took off.
Sign up here for our daily Vegas email and be the first to get all the food/drink/fun in town.
Rob Kachelriess will eat Downtown, on the Strip, or wherever parking is free. Follow him on Twitter: @rkachelriess.