Eat this: the best bar food in Las Vegas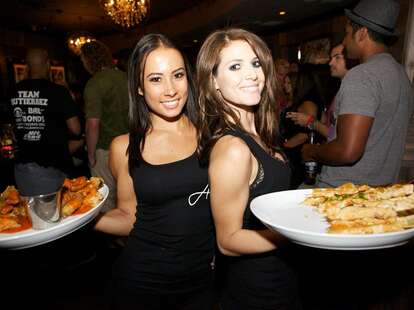 Here's what happens when you go out drinking in Vegas: not a single thing from the Hangover movies, AND you get, like, really hungry. Luckily, we've rounded up a list of Sin City bar foods good enough to eat even if you're missing an incisor, all from a selection of booze-slingers that'll totally impress that stripper with the heart of gold you will totally meet and marry at a 24hr wedding chapel! will not meet. Period.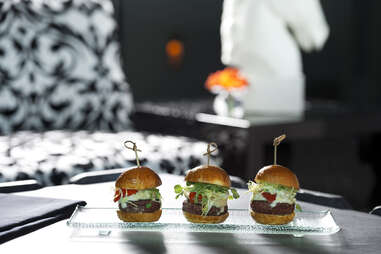 Best Sliders: Kobe Beef Sliders
Hyde Bellagio, The Bellagio Hotel
Screw the dancing and bottle service and show up early for these premium meat bites topped w/ aged sharp cheddar cheese, bacon jam, and grain mustard aioli.
Best Edible Identity Crisis: Philly Mac n' Cheesesteak
Park on Fremont, Downtown
Can't decide between a cheesesteak or mac n' cheese? This thinly sliced sirloin, onion & bell pepper sandwich topped w/ mac n' cheese lets you approach snacking the same way you approach figuring out what to do with your life: don't decide!
Most Addictive: Homemade Frickles
PUB1842,The MGM Grand Hotel and Casino
Michael Mina's unique bar menu boasts these crunchy pickles that're served with a special sauce and are prepared using the only thing that makes vegetables an acceptable snack: a deep fryer.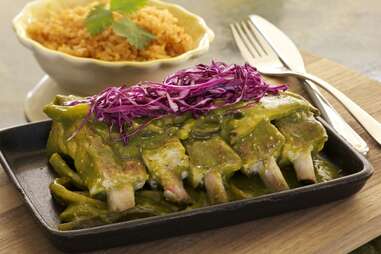 Best Barbeque Alternative: Costillas en Salsa Verde
La Comida, Downtown
Downtown's newest and best Mexican joint does these tangy, green tomato-sauce'd spare ribs called Costillas en Salsa Verde, which is Spanish for... something, presumably.
Best Tacos For After Drinking: Chorizo and Egg Breakfast Tacos
The Rockhouse, The Venetian
There's literally no reason to wait 'til you're hungover to score AM-style tacos smothered in pepper jack cheese & Pico de gallo. Unless that reason is you've already consumed so much of the stuff that'll make you hungover and you can't keep food down.
Best French Fry Substitute: Three French Devils
Comme Ca, The Cosmopolitan
From a constantly changing menu inspired by the gastro-bistro movement in Paris, these suckers are topped w/ Green Goddess dressing, smoked salmon, and harissa. And, thankfully, are nothing like how mom used to make 'em.
Best Use of Raw Meat: Steak Tartare
CUT by Wolfgang Puck, The Palazzo
Piled onto what people other than you are spending next door at Barney's (bread), this 60-seater's gloriously rare prime sirloin comes sans anything except a touch of herb aioli and mustard.
Most Cheesy Item: Wisconsin Cheese Curds
Big Dog's Café and Casino, Off Strip
These white cheddar cheese curds are goldenly fried, served with homemade dill horseradish sauce and ranch dressing, and prove that people in Wisconsin are good at more than just getting fat. They're also good at getting really, really fat.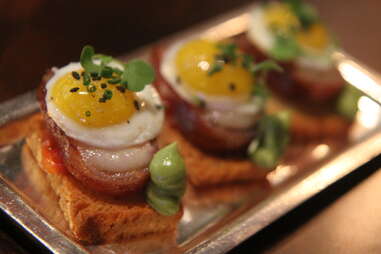 Best Breakfast at Night: Bacon-wrapped Bacon n' Egg
Rx Boiler Room, Mandalay Bay Resort & Casino
If you find yourself waking up around 6p, this bacon/quail egg/brioche toast combo w/ tomato jam is the perfect way to cure your hangover and start your... um, day?
Best Bar Pizza
The Tap House, Off Strip
This venerable sports hang keeps late hours, and keeps people coming back with their purportedly beer-crusted pizza, badass beer selection, and... um, what else do you need?!