Bye-Bye, Buffets: Food Halls Are Taking Over Las Vegas
COVID didn't kill the buffet, but it sped up the process.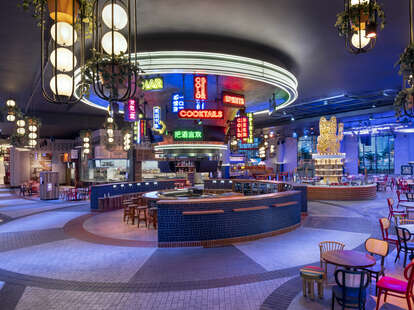 Photo courtesy of Resorts World Las Vegas
Photo courtesy of Resorts World Las Vegas
Think about it. When was the last time an all-new buffet opened in Las Vegas? Aside from a "rebranding" here and there, you'd have to go back 13 years to when the Cosmopolitan unleashed Wicked Spoon upon the Strip. Since then, all-you-can-eat dining has been an endangered species, with the shift in tone influenced not by customer demand but by budgets and logistics.
Buffets were originally an inexpensive enticement to keep Vegas visitors near casino floors. Over time, they turned into bucket list dining attractions in their own right (although others deserve the tag more), evolving from vacation value to a pricey indulgence with long lines out the door.
When COVID-19 came around, buffets were the first businesses to cease operation ahead of lockdowns. As life got back to normal, some reopened. Others didn't. The pandemic may not have killed off the buffet, but it abruptly forced the issue with a simple question. Are these things really worth keeping after all?
"Many buffets are loss leaders," according to Andre Filosi, general manager of the Fremont Hotel & Casino. "So we decided to not have one here, but still wanted a way to drive traffic into the building."
The Fremont became one of the latest resorts to welcome a food hall, a concept rapidly growing in popularity on and off the Strip. As Vegas becomes less dependent on gambling and more in line with expectations set by publicly traded companies, loss leaders that produce more food than can be physically consumed no longer make economic sense. COVID-19 didn't kill off the buffet, but it sped up the demise of a format that's been on life support for a while now.
It's easy to write off a food hall as a pay-as-you-go buffet or a glorified food court. Yet there are advantages—less waste, more variety, and flexibility to build a meal according to your budget with individually priced food and drinks. There are slight variations in presentation and format from one to another, but in general, most food halls are trying to outdo each other by introducing new brands to Vegas and shying away from the worn-out, familiar stuff.
"Opening up a food court and sticking a McDonald's and some sort of taco chain in there doesn't fly anymore in Vegas," Clique Hospitality's Andy Masi said when opening the Proper Eats Food Hall in January. "I think those days are done."
Some buffets are still worth your attention, especially Bacchanal Buffet at Caesars Palace, Wicked Spoon at the Cosmopolitan, The Buffet at Wynn, and if you want a good value, the Garden Buffet at South Point, but the future belongs to food halls in Sin City. More are on the way, including Eat Your Heart Out inside the upcoming Durango resort and Market Eatery at the pending Vegas debut of Korean grocery chain H Mart. For now, it's time to get familiar with eight food halls currently open and changing the way we eat in Las Vegas.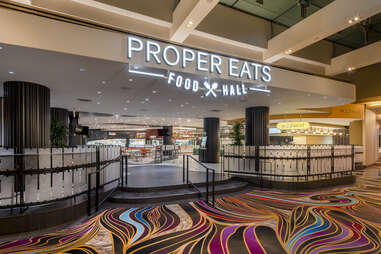 Aria
Proper Eats is the food hall that best represents the evolving landscape in Las Vegas because it was actually built within the space of Aria's shuttered buffet. It's a prime second-level location, close to the resort's convention space, with a cocktail lounge that's separate from the main seating area (and becomes a busy social spot when expos wrap for the day). A second bar, Easy's, is one of the best speakeasies in Vegas, hidden behind a doughnut counter with extravagant cocktail presentations and live music. When it comes to the food, some options steer clear from reinventing the wheel (Lola's Burgers, Temaki Bar for sushi, and Pizzaoki–pizza courtesy of DJ Steve Aoki), while others offer more intriguing on-the-go bites. Seoul Bird originated in London and serves a Korean spin on fried chicken. Portland's Shalom Y'All is a fast-casual version of Mediterranean cuisine featuring some of the best vegan recipes on the Strip. Begin with the spiced cauliflower and take it from there. Wexler's Deli is a Los Angeles import that makes its own bagels, lox, and pastrami in house–an especially welcome sight as Jewish delis tend to be underrepresented in Las Vegas. Most of the food can be ordered digitally on your phone to help skip the line. Proper Eats has taken things up a notch with special pop-up events with guest chefs and has $2 oysters at the bar during happy hour (Monday-Friday 4-6 pm).
UnCommons
The Sundry, founded by a hospitality group affiliated with Michael Mina, is the anchor tenant at UnCommons, a new mixed-use space in the booming Southwest Valley. Choose from a variety of concepts, including fresh fish from Kávos Coastal Greek Grill (by the team behind local favorites Meraki), pasta from Barzotto, Filipino bites from Petite Peso, and soon-to-come, smoked meats by Bruce Kalman's SoulBelly BBQ (one of the best in Vegas at slow-and-low cooking). Order through your phone (or a tablet provided if needed), and the food will come to your seat, identified by a QR code. It's easier than it sounds. Most of the food is made in one kitchen instead of individual stalls. While Vegas is full of casino oyster bars that essentially do the same thing, Bar Oysterette mixes things up with unique dishes, sliced imported meats, and some of the best-shucked and best-sourced oysters in Vegas (noticeably outpacing those served at a recent high-profile Stip opening). It's one of three full-service sit-down destinations within the Sundry that steal the show. The others are Mizunara (Japanese cuisine by Sho Kamio with an excellent whisky and sake selection) and Ray Garcia's B.S. Taqueria, where Mexican bites are served with house-pressed heirloom corn tortillas and spirits from one of the most intriguing tequila bars to open in years. Some of the prices approach Strip levels (and paid parking, although cheap, is a first for the area). Still, there's incredible value in the happy hour menu: $3 cheeseburger sliders, $9 spirits (good stuff), and $12 for a half-dozen of those awesome oysters (Monday-Thursday 4-6 pm).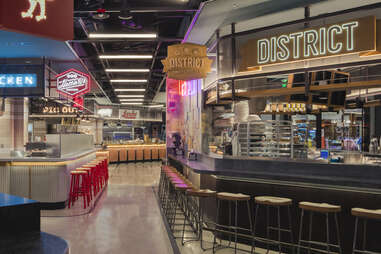 The Cosmopolitan
When Block 16 opened in 2018, it instantly made the Cosmopolitan a rare hotel with both a food hall and buffet (Wicked Spoon). Named after the original red light district in Las Vegas, Block 16 brings six dining concepts and Ghost Donkey (a speakeasy with agave spirits and gourmet nachos) together in a relatively tight 4,500-square-foot space. Tables fill up fast, but it's easy to find seats throughout other areas of the resort if you order your food to go. Portland's Lardo takes its time (which is a good thing), slicing porchetta to order, while Hattie B's got in early on the Nashville Hot Chicken train in Las Vegas with an inferno-level of spiciness for adventurous eaters. The hand-torched cinnamon rolls from New Orleans' District are more soothing on the taste buds. Tekka serves hand rolls at a rectangular sit-down sushi bar, and the U Wrap stuffed with spit-roasted pork from David Chang's Bang Bar may be one of the best cheap eats on the Vegas Strip. Well, "cheap" for the tourist crowd, anyway.
Fremont
The Food Hall at Fremont is basically a gateway drug for fast-casual dining, bridging familiar chains (Dunkin' and Steak 'n Shake) with regional imports that are more compelling than their menus initially suggest. Florida's Huey Magoo's has perfected the art of the chicken tender by sticking with tenderloins and going easy on the breading, Roli Roti serves the same free-range rotisserie chicken and pork that made the brand a huge hit as a San Francisco food truck, and Tomo Noodles hits the spot with SoCal-inspired ramen and dumplings. The Fremont team further proved their mettle by locking down a second location of CRAFTkitchen, a longtime Henderson favorite for fresh pastries and brunch dishes. Chef Jaret Blinn smartly modified the menu for Hawaiian regulars at the casino, serving a fantastic Loco Moco and ube bread pudding that's heated up on the spot. The Food Hall was built from scratch over a parking lot and has its own entrance and patio by 3rd Street, close to where free concerts occur at the Fremont Street Experience.
Caesars Palace
Despite the subtle name change, the former Forum Food Court still operates very much like one, yet deserves credit for helping usher in the "food hall" era, shying away from familiar chains and introducing lesser known regional brands over the years. No Sbarro here. Instead, you get DiFara Pizza, previously only available in New York. The slices are greasy, but double-size and you can order a beer or cheesecake on the side. Forum Food Hall was also the first to bring The Halal Guys' gyros to Vegas and has become an unofficial test incubator of sorts, hosting the debut of Bobby's Burgers by Bobby Flay, a grab and go counter by the celebrity chef that's rapidly expanding to other Caesars properties. The first-ever Chicken Guy in Las Vegas was recently launched for chicken tenders by Guy Fieri with a choice of 22 dipping sauces. Go with the Nashville Hot Honey and ask for fried pickles instead of French Fries. Stadia is a sports bar with a sophisticated side and a nice cocktail selection. It doesn't have its own food menu. Instead, you can order bites from any of the food court counters to be brought directly to your table. Tiger Wok & Ramen remains closed, but it wouldn't be a surprise to see it replaced by another Asian concept in the months ahead.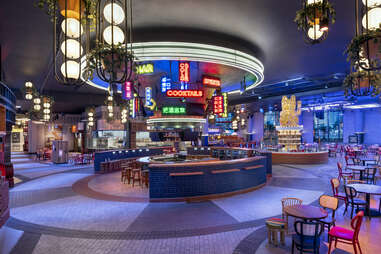 Resorts World
Famous Foods Street Eats seemed to get lost in the chaos when Resorts World opened in 2021. It can seem overwhelming, even by food hall standards, with 19 stalls and a digital kiosk ordering system (with tablets at individual counters as backup). Most of the food skews toward Asian cuisine with a few exceptions (Burger Barn and Han's Fish & Chips) and in the middle of it all, you'll discover some unexpected finds for quick eats. Boon Tong Kee (open only on weekends) serves a Hainan Chicken recipe that dates back to 1979, Char Kuey Teow charcoal-fires Malaysian noodles for a deep smoky flavor, and Pepita's Kitchen slices crispy pork straight off a whole pig on display. How often are you gonna see this stuff on the Strip? Dig further into the options and you'll see Streetbird fried chicken by James Beard and Top Chef winner Marcus Samuelsson and an Asian spin on Texas BBQ by Houston's Blood Bros. Even the Sweet Eats counter has White Rabbits and other imported Asian candies. The Center Bar provides self-service booze on tap, but the best cocktails are in the hidden Here Kitty Kitty Vice Den speakeasy. Look for a sign that says Fuhu Cha Chaan Teng and let a host guide you inside.
Harrah's
As long as you don't count casino employee commissaries, Fulton Street long enjoyed a run as the sole food hall in Vegas, owning the concept before it was cool. To be fair, it's a modest operation compared to more ambitious newcomers with less activity than in years past. Everything operates under one unified brand with the exception of a Bobby's Burgers counter that opened in late 2021. (Go with the Nacho Burger with pickled jalapenos.) At times, it feels like a glorified convenience store, but the pastries (croissants, danishes, muffins, cinnamon rolls, and more) over-deliver along with a few options by Vegas' own Wicked Donuts at the 24-hour coffee counter. The pizza is better than expected, working in tandem with a build-your-own pasta station. The Noodle Bar is pretty fun too with a variety of stir-fry, ramen, and rice dishes (plus a roast duck special), but is limited to evening hours (with lunch hours on weekends). A companion sushi bar is strictly weekends only.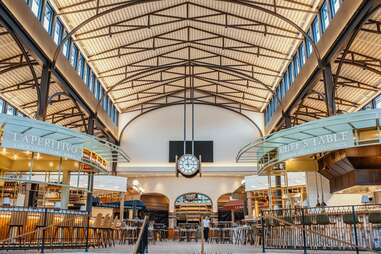 Park MGM
The Vegas version of Eataly doesn't bill itself as a food hall, but the description fits pretty well. Six service counters, collectively named Cucina del Mercato, are the heart of the 40,000-square-foot space, which models itself after an Old World Italian market with a few bars ready to put together a Spritz or pour a glass of wine. The on-site butcher shop, La Macelleria, serves sustainably sourced meat and is the only place in Vegas that sells cuts of Creekstone Farms beef on a retail basis. Other stations serve handmade pastas, fresh seafood, rotisserie meats, rectangular Roman-style pizzas, and hand-pulled mozzarella. La Salumeria serves more than 200 cheeses and 100 salumi varieties from Italy. Eataly has two sit-down restaurants as well: the formal Toscana for formal dining with meats grilled on an open flame and La Pizza e La Pasta, which specializes in Neapolitan pizzas and al dente pastas, using seasonal ingredients that outpace its appearance as a casual dining spot. In-house shopping areas serve a variety of Italian imports, including bottles of wine, chocolates, and dry pastas.
Rob Kachelriess
is a full-time freelance writer who covers travel, dining, entertainment, and other fun stuff for Thrillist. He's based in Las Vegas but enjoys exploring destinations throughout the world, especially in the Southwest United States. Otherwise, he's happy to hang out at home with his wife Mary and their family of doggies. Follow him on Twitter
@rkachelriess
.