Here's Where To Stop On The Ultimate Vegas Burger Tour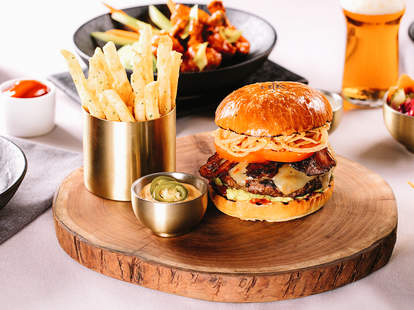 Courtesy of Caesars Palace
Las Vegas has always been a food destination. Celebrity chefs come from all over the world, building massive destination restaurants at local resorts, creating luxe dining options and upscale dishes all over the Strip… but what about when you want to drop the knife and fork? Well, luckily, there are plenty of options where you can get your hands dirty, too. We've partnered with Caesars Entertainment to go on the ultimate tour of Vegas burgers, from the experimental to the extravagant. Whether it's big-name chefs creating new iterations of a classic or an American institution serving old favorites in Sin City, these are the places you must try. Tuck your napkin into your collar and get ready.
Caesars Palace
The Burger: Hell's Kitchen Burger
Not content to have just one restaurant on the strip, Gordon Ramsay recently opened Hell's Kitchen at Caesars Palace, named after his hit TV show. Made to feel like you're in an actual Hell's Kitchen episode (minus, thankfully, ongoing competition between warring chefs), the restaurant covers a variety of culinary bases, offering things like chicken & waffles, beef Wellington, and wagyu meatballs. But ignore all that -- we're here for the Hell's Kitchen Burger. It's an appropriately named, spicy creation combining a Fresno pepper jam that packs the heat with better-grab-some-milk-hot ghost pepper jack cheese atop a burger with bacon and avocado. It's an order that one might affectionately describe as a "hot mess."
Courtesy of The LINQ Hotel & Casino
The LINQ
The Burger: Bacon Mac-n-Cheese Burger
The mayor of Flavortown himself has roots in Vegas, (having attended University of Nevada, Las Vegas) so he went all-out when planning his Guy Fieri's Vegas Kitchen + Bar. The massive 6,500 square-foot restaurant is designed to resemble Fieri's personal kitchen, plus some added decor touches like UNLV memorabilia and motifs of Fieri's "Kulinary Gangsta" tattoo. In true Fieri fashion, everything here is bananas, especially the burgers. Our first choice? The Bacon Mac-n-Cheese Burger. It's the cholesterol bomb it sounds like, with applewood bacon and six-cheese mac-n-cheese, plus some Super-Melty Cheese (SMC for short) --  a surprisingly complex combo of four MORE cheeses. Then, it's covered in a healthy dose of Guy's famous Donkey Sauce. You know, for good measure.
 
COURTESY OF PLANET HOLLYWOOD
Planet Hollywood
The Burgers: Turducken Burger, Pork Chop and Applesauce Burger
Vegas is the place to take risks, but not all of them happen on the casino floor. If you want to try some experimental burgers, Gordon Ramsay Burger is the destination. Sure, you could get a classic American from Britain's king of culinary snark, but why stop there? Instead, try out the Turducken Burger -- a creation fitting for Cajun royalty that involves a fried chicken egg and duck confit stacked on top of a turkey patty. Or perhaps you're feeling a Pork Chop and Applesauce Burger, with its melted Dubliner cheese and cabbage-apple slaw. It's a comfort food creation reminiscent of your mom's home cooking, making it the perfect burger risk to take when you're gearing up to face the sharks in poker.
Courtesy of Caesars Palace
Caesars Palace
The Burger: Green Chile Cheeseburger
Bobby Flay spent years crushing chef challengers on Beat Bobby Flay, so we're pretty sure he knows his way around a burger. His Southwestern restaurant, Mesa Grill, does that and more, with entrees like cornmeal-crusted chile rellenos or ancho chile-honey glazed salmon. Since any burger tour needs a stop in the Southwest, we recommend the Green Chile cheeseburger, dripping with queso sauce and topped with roasted poblanos, sure to conjure up images of riding through the desert on a horse with no name. (If not, well, it's still a great burger.)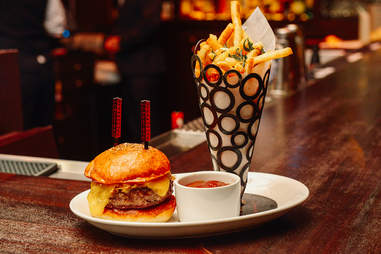 Courtesy of Caesars Palace
Caesars Palace
The Burger: Old Homestead Burger
When you're at a steakhouse, it's usually a cardinal sin to order a burger. On the other hand, this is Sin City. And this isn't just any steakhouse, it's Old Homestead, the New York landmark now transplanted to Vegas. Their namesake burger is a 10 ounce dry-aged burger seared in a cast-iron pan, featuring a brioche bun toasted with foie gras butter. Clearly they're not cutting any corners here. As if that weren't enough, it comes with a side of duck fat fries, legendary in their own right.
Courtesy of Paris Las Vegas
Paris, Las Vegas Hotel and Casino
The Burgers: Paris Burger, 777 Burger
The Paris Hotel's Burger Brasserie offers, as you might expect, a French interpretation of the classic American burger, complete with melty brie, sweet caramelized onion, and salty smoked bacon. But this is still Vegas, after all. Let's imagine for a second you just hit it big on the slots, or that 300-to-1 bet came through after all. Where do you go for the most extravagant reward possible? Look no further than Burger Brasserie's 777 Burger, named after its eye-popping price (yes, a $777 burger). Made with a kobe beef patty then topped with foie gras, a dash of 100-year-old aged balsamic vinegar, and a ton of Maine lobster, then served with a complimentary bottle of Dom Perignon. To top that off, the burger is hand delivered to you by the restaurant's chef. According to the restaurant, most people who order it just came off a big win at the casino, so it's a great way to show everyone you know how to pick an underdog -- and how to celebrate accordingly.
COURTESY OF HARRAH'S LAS VEGAS
Harrah's Las Vegas
The Burger: The "American Soldier"
Is there anything more American than a burger? Well, maybe Toby Keith. Since we've already featured French and British interpretations of the burger, it would be a sin to not include a truly classic, no-frills American version. Try the aptly-named "American Soldier" burger at Keith's "I Love This Bar & Grill," named after his 2003, Billboard chart-topping song. This is a completely stripped-down classic: lettuce, tomato, onion, cheese, patty, bun. What more could you want? How about live music playing 7 nights a week? They've got that, with country acts hand-selected by Toby Keith himself. Plus, you can finish off the meal with a less-refined but still truly American dessert: the fried Twinkie. U-S-A! U-S-A!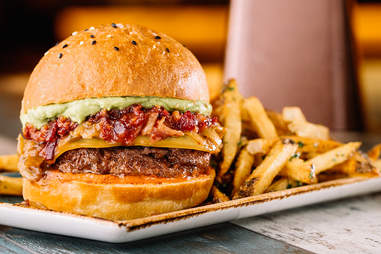 Courtesy of Caesars Palace
Caesars Palace
The Burger: Burgers
Sometimes a place can just title their burger "Burgers" and that's all they need to say. Former Top Chef finalist Brian Malarkey's burgers are so coveted, they only make 20 from scratch each day. That means fresh house-made buns, bacon jam (yes, bacon jam) and house-brined habanero pickles. Their motto is "Come Early, Stay Late," with the kitchen staying open 'til midnight certain nights, plus extended happy hours during certain events. Plan to have an early dinner though, especially if you're planning to hit up Searsucker on the weekend. According to restaurant staff, Burgers can sell out about an hour and half after the restaurant opens on Friday and Saturday, as well as Tuesdays -- the local industry night in Vegas. And trust us, you don't want to have to challenge an off-duty bouncer for the last burger of the batch.